Title: Why I haven't been painting miniatures lately
Ruhl - June 4, 2012 12:32 AM (GMT)
Had some bathroom issues (toilet was on a bit of a lean and getting worse as it slowly rotted through the floor) that caused me to have to completely gut the bathroom and replace the floor. Also decided to build my own bathroom vanity from scratch as I couldn't see paying up to $1000 for a vanity and sink I didn't even like. So a month later and it's finally done and I just felt the need to share some of the finished work.
Now here's hoping I can get to finishing up my bloodletters and hounds soon!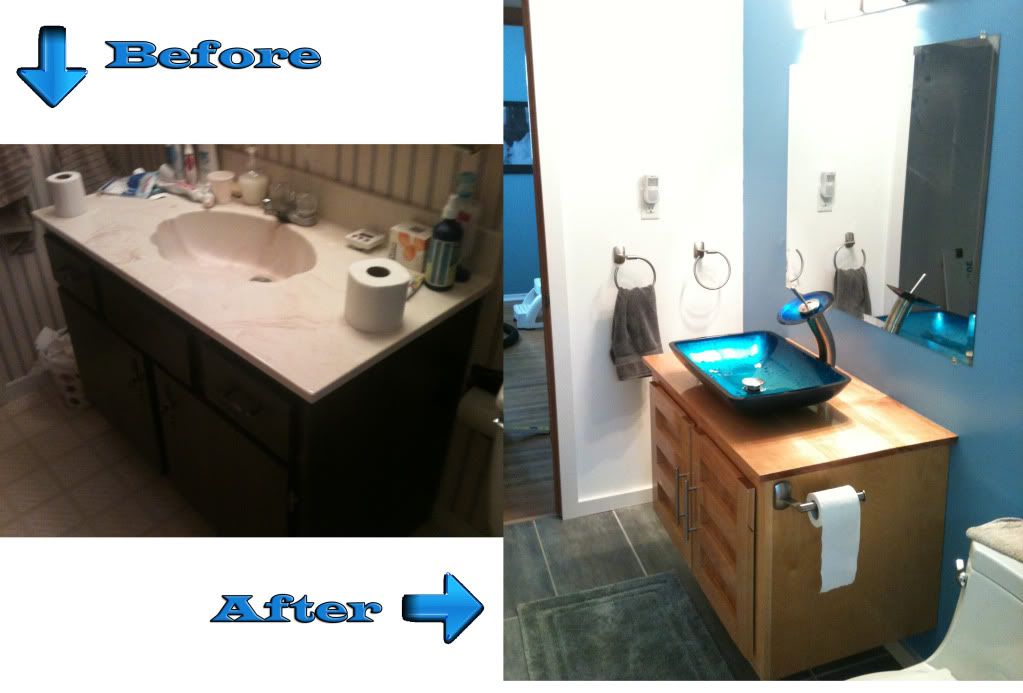 Noisy Assassin - June 4, 2012 02:55 AM (GMT)
squalie - June 4, 2012 04:22 AM (GMT)
Very impressive indeed! It's too bad that the bathroom is so nice now, you can't use it... ;)
DaemonReign - June 4, 2012 11:28 AM (GMT)
Impressive!
You obviously got some skills outside the realm of the hobby.. I wish I could say the same.
I've never seen a sink like that Before by the way, looks cool..
And hey, I actually learnt a whole new application of the Word 'vanity' from checking this thread too - so thanks for that!
.. and for sharing! :D
Ruhl - June 4, 2012 01:25 PM (GMT)
Thanks for the comments.

@squalie, I acutally told my wife I was going to install a sheet of plexiglass over the doorway so people can look but not enter :P
Hulabell - June 5, 2012 03:50 PM (GMT)
Lol love the opening of this post 'The reason I haven't been painting miniatures lately... because of bathroom issues.' That's quite some time to have issues eh! ;)

Lovely bathroom, that sink is awesome... I always get a little bit jealous over other's decorating (unless its pig awful!) I live in rented accomodation!