I quite like Flesh Hounds too, but I still don't end up using them that often.
Personally I'd prefer a Daemon engine flyer myself similar to the Tzeentch Doomwings that used to be in Epic. They were a bit like a cross between a Dark Eldar Razorwing and the new Ork Burna Bomma - a fighter that throws fireballs at enemy troops.
Came up with some rules for it a while ago that looked like this:
Tzeentch Doomwing – 105pts
BS3, FA: 10, SA: 10, RA: 10
Skimmer, Fast
Aerial Assault: May fire all its weapons if moving at cruising speed.
Supersonic: May move up to 36" if moving flat out.
Daemonic: Always deploys by Deep Strike, ignores stunned and shaken results.
Weapons: 2x Bolt of Change, Doomfire cannon (Rng 18", Str 5, AP 4, Heavy 1, Blast, ignores cover).
The FW Nurgle Blight Drones are also worth looking at. They are Land Speeder type fast skimmers rather than proper flyers but are heavily armed and look really cool.
I also recently made this for floating monster for Warhammer: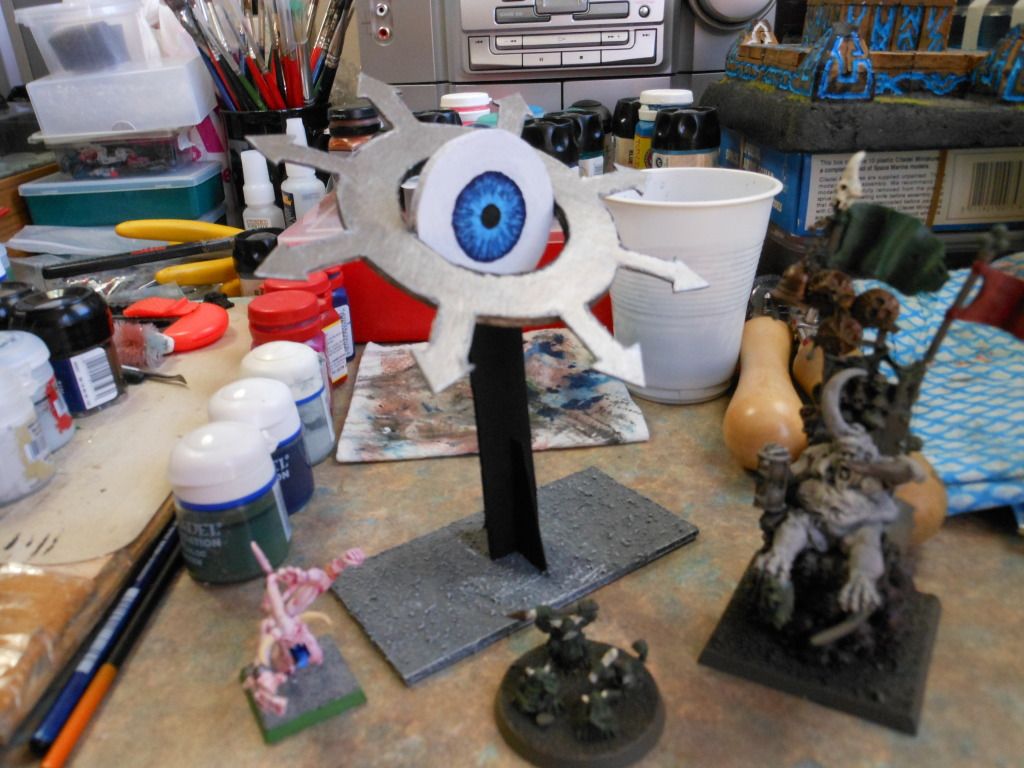 I haven't any immediate plans to try it out in 40k (its primarily for fantasy), but did come up with some rules in case I decide to do so:
HEAVY SUPPORT: Eye of Tzeentch – 140pts
WS3, BS4, S5, T5, W4, I3, A(D6+1), Ld10, Sv 4+
UNIT TYPE: Monstrous Creature
Unit size: 1
SPECIAL RULES: Daemonic.Whirling Blades:
When the Eye engages in close combat, its star–armour angles towards the enemy and starts spinning, slicing into the enemy ranks and slicing off heads and limbs. To represent this, any enemy model that rolls a 1 when rolling to hit the Eye takes an automatic Strength 5 hit.
DAEMONIC GIFTS: Warpfire, Bolt of Tzeentch, Iron Hide.
Options:
May take any of the following: Daemonic Gaze at +20pts; Master of Sorcery at +10pts; We are Legion at +40pts.
It's basically a very specialised type of Daemon Prince, but does seem to do some of the stuff Mr Grim would want it to. ;)