Title: Rageaholic's Daemonic Horde
Description: An army diary
Rageaholic - May 15, 2012 07:43 PM (GMT)
I decided as a break from painting rats I would start a DoC army.
My first models are the start of my Bloodletter unit.
They are about 90-95% done, there are a couple of "tattoos" that I have missed and a few bits I'm stuck with. I thought I would see if you guys could give me any feedback.
The eyes...glowing red is my go-to eye colour, so I'm really stuck here. Black? Gold? Ideas very welcome.
The bases. I'm not that happy how they've turned out. A wash of devlan mud to darkrn them up a bit? Any other ideas?
The lumpy bits, not sure what to call them, the little bumps they have on their heads and backs. Should I do them a different colour? If so what?
zhambah - May 15, 2012 08:06 PM (GMT)
I would go with white for the eyes... its the only colour that i think would make them pop

as for their bumps... i started the same thing with my bloodletters, red base coat with orange/yellow bumps... the problem is that you litterally have no idea how frustrating they get when your painting your third horde... and you just want to sand paper them off...

in retrospect i would use a few layers of a very watered down wash to highly the bumps, either red, or black, i dont think a brown would work with your colour scheme
Legion - May 15, 2012 08:27 PM (GMT)
For the eyes, you could do a really light green (think Necrons).

For the base, you could wash and then do a couple of drybrushes of consecutively lighter colors. So, if you wash w/ Devlan, you could then highlight w/ graveyard earth followed up by a highlight of commando khaki. Or just do khaki and then bleached bone. When I do my bases I use Vallejo Sepia Ink (it's pretty dark brown) then drybrush w/ Desert Yellow followed by Bleached Bone (or whatever the current comparative colors are).

As for the bumps ... I haven't done any of the new plastics so I can't help you there.
deathphoenix - May 16, 2012 06:33 AM (GMT)
I agree on the green for the eyes. It goes quite nice with red models. A brown wash with a light drybrush like Legion described would work really well also.

Very nice 'letters btw. :)
Scion_of_Despair - May 16, 2012 12:11 PM (GMT)
an alternative to the light green necronesque eyes would be ice blue, it hace nice constrast from the red and is not too far away from complimentary on the colour wheel, however the dark/black eyes would give a nice evil brooding look to teh figures
Noisy Assassin - May 16, 2012 01:46 PM (GMT)
Black eyes always look creey and evil. I also really like bright yellow to contrast with the red.

And the bumps aren't THAT obnoxious to paint. They are pretty annoying after the first 10-20 models though.
Rageaholic - May 16, 2012 07:23 PM (GMT)
I finished them off. I decided to go gold for the eyes after I did some test models, the bases (that you can barely see from this angle) are washed with Agrax Earth and drybrushed steel legion drab to perk them up a bit.
I decided to leave the bumps. I think doing something with them might be nice, but I'm going to have 50 of these to paint, so I'm leaving them for now.
Great clean one - May 16, 2012 07:27 PM (GMT)
Looks great, really like the Khorne mark on the banner. Freehand is a mother biatch.
Great clean one - May 16, 2012 07:31 PM (GMT)
Have 150 bletters, trust me, you would wish you owned a spray gun.... :D
DaemonReign - May 17, 2012 03:37 AM (GMT)
Lovely little 'Letters! Wish I could go back and redo mine!
Nicely done! Cool Icon as well.
Cheers!
Rageaholic - May 17, 2012 06:40 AM (GMT)
QUOTE (Great clean one @ May 16 2012, 08:31 PM)
Have 150 bletters, trust me, you would wish you owned a spray gun.... :D

Luckily I do. The base coat was airbrushed, the potential for airbrushing most of the models was a major factor in choosing daemons.
deathphoenix - May 17, 2012 07:10 AM (GMT)
Any chance of some close up pics?
Rageaholic - May 21, 2012 09:45 PM (GMT)
QUOTE (deathphoenix @ May 17 2012, 08:10 AM)
Any chance of some close up pics?
I'll see about getting some done tomorrow. Along with a better pic of the horrors I just finished.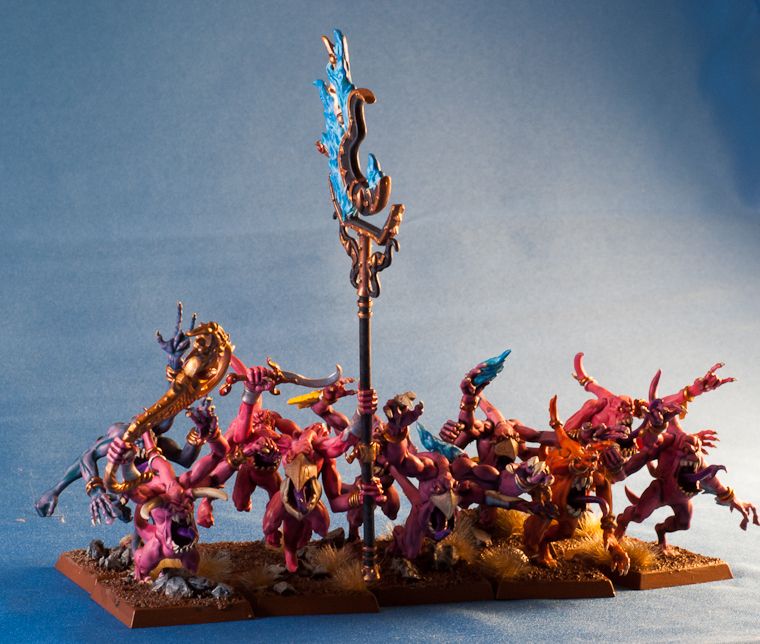 God of war - May 22, 2012 06:51 AM (GMT)
That's a really good looking unit of horrors!

For better lighting: I think it'd be better to put your light source behind your shoulder/head when taking pics. In that way you avoid darker spots!

Greetz, Bjorn.
DaemonReign - May 22, 2012 07:15 AM (GMT)
+1 for liking those Horrors!

In addition to what GoW said about light already, try to get at least two sources of light (one of which is 'behind' you, as it were).
Hulabell - May 23, 2012 08:25 PM (GMT)
Fantastic job on both of these units! Very solid, strong colours and executed well.

Like the others I'd like to see a bit more detail when you can post them, but tres impressed over here! :D
Grisnik - May 24, 2012 05:48 PM (GMT)
Very solid painting on these.. instant WOW factor on the bloodletters upon opening the thread.. congrats..
Rageaholic - June 21, 2012 04:21 PM (GMT)
New Daemons!
I've been really enjoying painting these. There aren't many models, but they all take a lot of painting compared to clanrats. Even the old metals are really nice models to paint though.
Here is a close-up on a Bloodletter that someone asked for.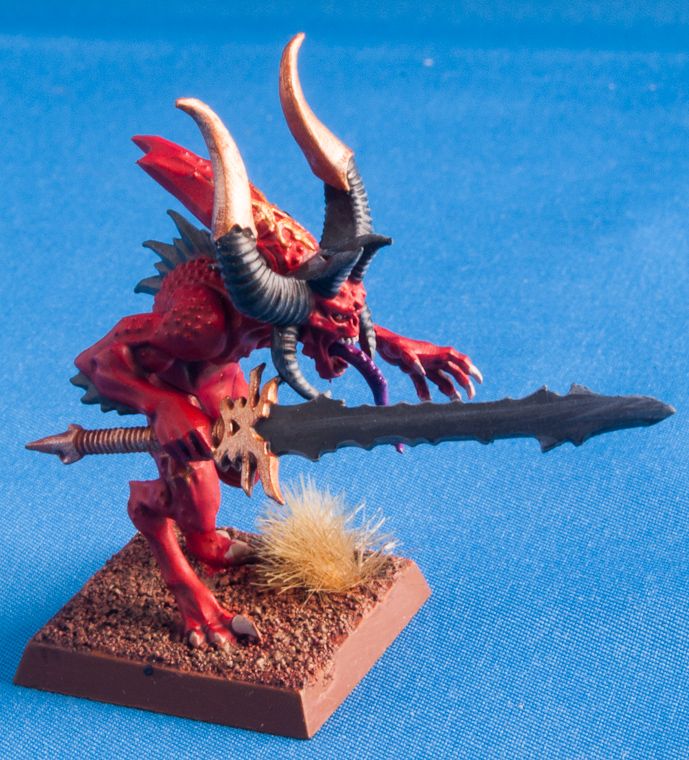 I got a unit of Furies done, loads of people don't seem to like the models. I guess new plastics would be nice but I am pretty pleased how these turned out. Of course there is no chance of ever ranking them up!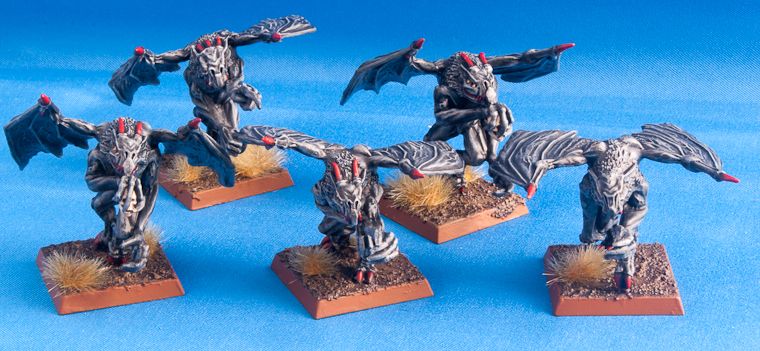 I also got my flamers done. I was really nervous going for a colour scheme so far off the GW approved one but I'm sinfully proud of how these turned out.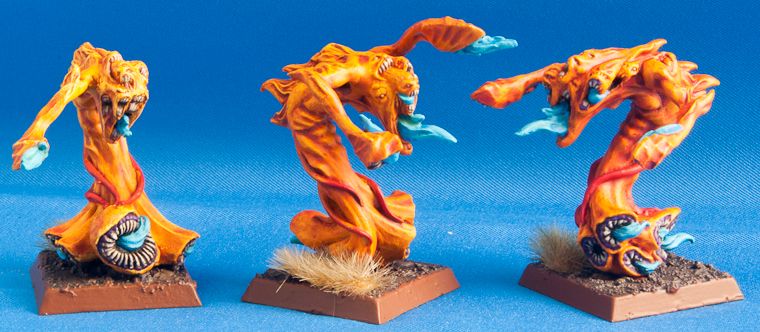 Noisy Assassin - June 21, 2012 04:30 PM (GMT)
Those. Flamers. Are. FANTASTIC!
Hulabell - June 21, 2012 07:04 PM (GMT)
QUOTE (Noisy Assassin @ Jun 21 2012, 05:30 PM)
Those. Flamers. Are. FANTASTIC!

I second that! They look hot like fire should! :D
Legion - June 21, 2012 07:21 PM (GMT)
Those flamers look GREAT! Nice transitions in the colors and the blue fire really pops against the skin tone.
DaemonReign - June 21, 2012 10:00 PM (GMT)
Sweet!
I think the furies are my favorites for some insane reason.. I guess it's just you don't see them that often in any plogs. :D

Flamers turned out great too! No shame what-so-ever in deviating from the official theme of course. The shading is very well done all over, my only concern is that spine-fires really ought to have been neon-blue just like the flames coming out of their extremities..
Grisnik - June 22, 2012 06:30 AM (GMT)
Really like the flamers there, and the furies are great also. Agreed that they will never rank up.. Both color schemes really pop on these guys.. good job!
the morbid angel - June 24, 2012 06:05 PM (GMT)
looks nice, like the horrors, very bright, as they should be imo.
flamers also very nice, keep up the painting, love to see more :D
Rageaholic - June 29, 2012 05:11 PM (GMT)
I got my first bloodletter horde finished. Only 30 for the moment, I have another 30 to paint so I'm sorted for my 1.5k list but I will probably need another 10 when I go up to 2.4k.
I also got my first two fiends done. Again I don't know why people don't like the model, I like these. OK they look a bit weird but I thought that was kind of the point.
Of course some plastics would be nice as they are £13.80 each, which is kind of extortionate. I'd like another 4 really, but I doubt I will justify the expense any time soon.
Hulabell - June 29, 2012 06:14 PM (GMT)
That horde looks fantastic. Paint mine please? :P

I think I would have done the banner in a darker colour to contrast against the red more. But that is just a personal preferance! Bases are quite simple, but work very, very well.

Those fiends are a beautiful colour, which blues are they? Is it wrong that I feel like I could hug them? haha. :lol:
Rageaholic - June 29, 2012 06:29 PM (GMT)
There is a plan for the banner. The fluff says they mark their banners with their victories, so everytime they break a unit in combat (or possibly every victorious battle, I haven't decided yet) I will mark the banner with the chaos rune for their defeated enemy. So hopefully it should become less plain with time.

The fiends are a bit of a mixture of colours. I think the one on the left was temple guard blue shaded with the same colour mixed with some old blue ink, and the one on the right was 50/50 temple guard blue and white shaded with temple guard blue. It is a lovely colour though and the fiends were a great excuse to use it.
zhambah - June 29, 2012 06:35 PM (GMT)
wow... fiends that i actually like the look of. I never thought I would see the day

Brilliant work Rage
Noisy Assassin - June 29, 2012 08:20 PM (GMT)
I agree with not seeing why so many people dislike the Fiend models. I'm personally quite partial to them. And the pastel blue is really a lovely color. They look a little monochrome, but that's not as bad a thing on these guys as I would normally think it is. Keep the pics coming!
DaemonReign - June 29, 2012 09:55 PM (GMT)
Excellent work on both accounts!
I agree with you too about Fiends. Those models could be made into FineCast and we'd be none-the-worse for it.

Of course, GW being GW, they'll make stuff like Spirit Hosts and Batswarms FineCast and probably give us a multiplastic kit for Fiends.. or something like that, wouldn't surprice me. :)


JonathanC - June 30, 2012 11:32 PM (GMT)
The Bloodletters look good and I really like the Fiends. I was trying to paint my Keeper in similar colours a while ago and it didn't come out nearly as well. I'm another person who also likes the current Fiend models and can't see why other people don't. If its because they are expensive and difficult to put together I'd understand, but aesthetically speaking I think they look really good. :)

If they finecast them I hope they become 3 to a box like many of the other models that size were, as they could actually end up with a price drop that way.
zhambah - July 1, 2012 04:24 PM (GMT)
as to why I don't like fiends, its the aesthetics for me JonathanC. their claws and well, just the overall look and feel of the models feel clumsy and don't look like the speed demons they are.

I guess its down to personal preference, we can't all like the same things after all
Aéquitas - July 1, 2012 07:13 PM (GMT)
I hate it's legs the most. The hind part seem to walk away from the front part.
Rageaholic - July 2, 2012 07:49 AM (GMT)
The back legs are backwards, it makes the model a bugger to assemble if you don't realise. And I can see why you might not like it.
I kind of think of them as "deceptively fast" like it moves really oddly and looks awkward, and you stand there captivated by working out what it's doing, then all of a sudden it's right top of you.

Rageaholic - July 2, 2012 07:49 AM (GMT)
My worry about them being redone as finecast is that they will become a single model for £15.50. I'm avoiding finecast as much as possible and I would much prefer they stay as metal if that was the option. I guess I could live with it if they became 3 for £30.

The best option that seems remotely likely is a 2 or 3 model plastic kit like the mournfang or bloodcrushers.
But I guess we will just have to wait and see.
Grisnik - July 2, 2012 08:05 AM (GMT)
Just not a fan of their look, let alone the style. The face is what throws me off on them.

That said, the way you painted them they look great!
Rageaholic - July 7, 2012 06:45 PM (GMT)
More stuff.
A second horde of bloodletters.

Skulltaker, this is a horrible model. I liked it at first glance but as I painted it I disliked it more and more, I need some conversion ideas so I don't have to use him.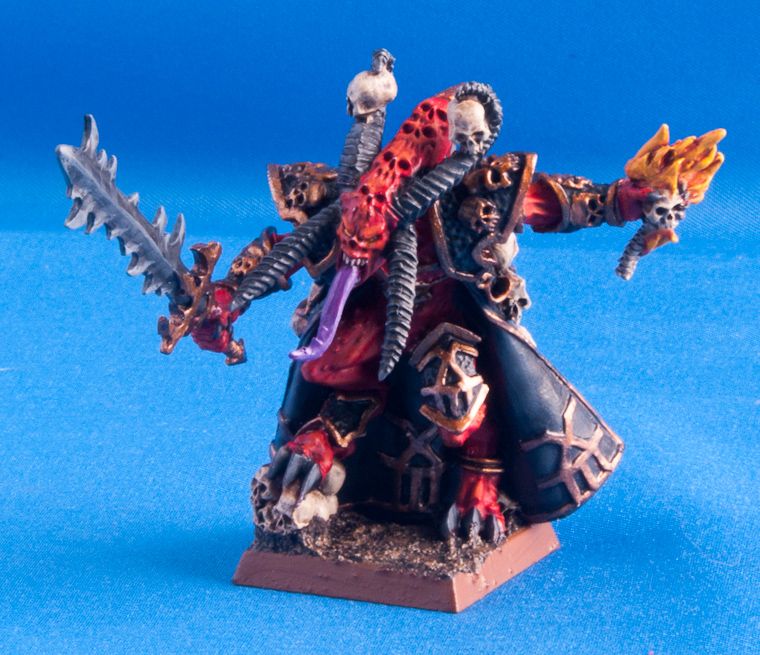 And my Tzerald conversion, I'm pretty pleased how this came out, I may give him a scenic base though to help him stand out more in the unit (if I bunker him with my horrors anyway).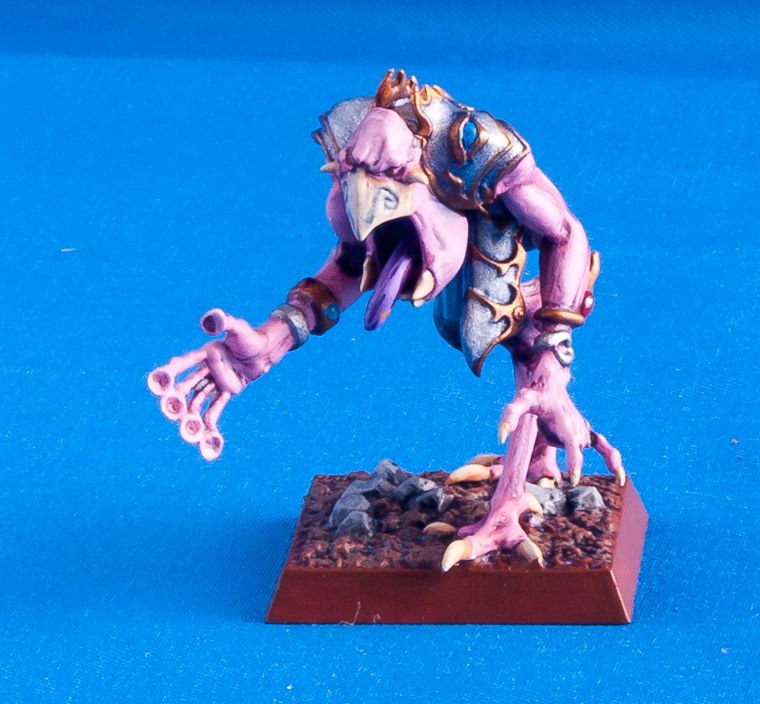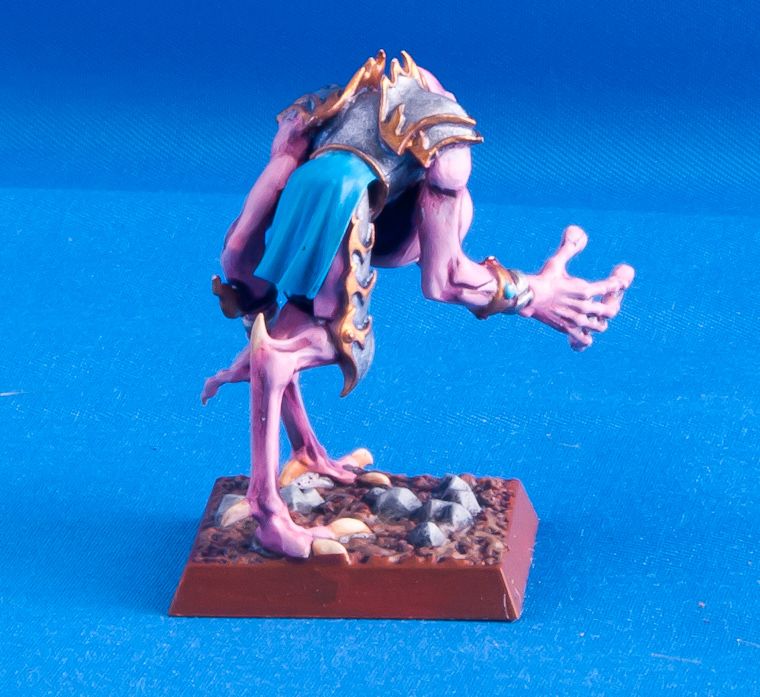 Taking the pics I noticed both heralds need some work on their bases as I haven't grassed them up yet.
Hulabell - July 7, 2012 08:34 PM (GMT)
Really awesome paint job on these guys again. Very neat and clean! I like the conversion a lot, I think he needs something more though to make him stand out, like you said. Wouldn't be able to tell you what though, haha :D
Legion - July 7, 2012 09:02 PM (GMT)
Great looking Skulltaker and HoT! Nice clean paint jobs and great detail!
zhambah - July 7, 2012 09:44 PM (GMT)
I know what you mean about skulltaker, he's a bit bulky, the best part of him is his head... which you could quiet easily use for a normal bloodletter body.

I've got a converted skulltaker on Juggernaut, what I used was the skulltaker head, normal bloodletter body, some CSM shoulder pads (Khornate) and a ton of skulls to make the cloak... i think it works better because hes a lot less bulkier than the other... he tends to fit right in... and looks a lot more dynamic than the static model