Title: Cobra's Scratch Built Nurgle Army (Pic Heavy)
Description: And maybe a few other things.
CobraCommander - April 26, 2012 05:18 PM (GMT)
So, thanks to the wonderful help from the users on here I was able to build a 2.5k army and battle against my roommate using proxies for everything. Sadly I was firmly beaten into the ground, but that didn't detour me! I've set my sights on playing a Mono Nurgle army (Or maybe even Nurgle themed, I've yet to decide) and have begun scratch building a GUO (Why not start big, eh?) and will eventually move on to Plaguebearers and the like. My opinions of the current Nurgle range is a little low, so I think everything Nurgle like will be built by myself. I recently picked up a few mini boxes of milliput at the suggestion of a few of the forum members and have begun to work! This is my first attempt at anything of this magnitude, mostly just doing a few touch up jobs with some greenstuff, but nothing this serious. All of the pictures will more then likely be taken simply with my phone, so apologies on quality. I'm still fiddling around with photobucket to crop out a majority of the useless parts for the sake of other members with slower connections, but it doesn't want to link the cropped versions of the pictures. Halp? Also, apologies.
Image!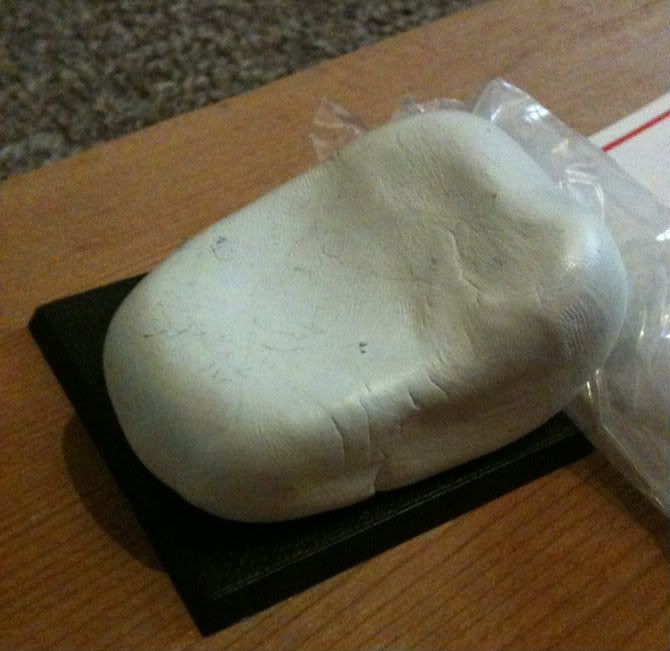 A torso!
This used up a good half of a box of milliput to make, which makes sense. He's going to be big. I'm going off the fact that the Forgeworld GUO is like 4-4.5 inches tall, and I'm trying to preportion everything correctly. Which I have no real way of knowing if I'm doing it right. I'm mainly going Torso = 2", Legs = 1.5" Head = .5". The funny thing is that I didn't expect for it to take this long. I guess I might just be impatient with excitement, but it's like:
"Build Torso."
"Wait 3 hours for torso to harden."
"Build leg."
"Wait 3 hours for leg to harden."
And yes, I've made quite a bit of progress yesterday. Finishing up to this point.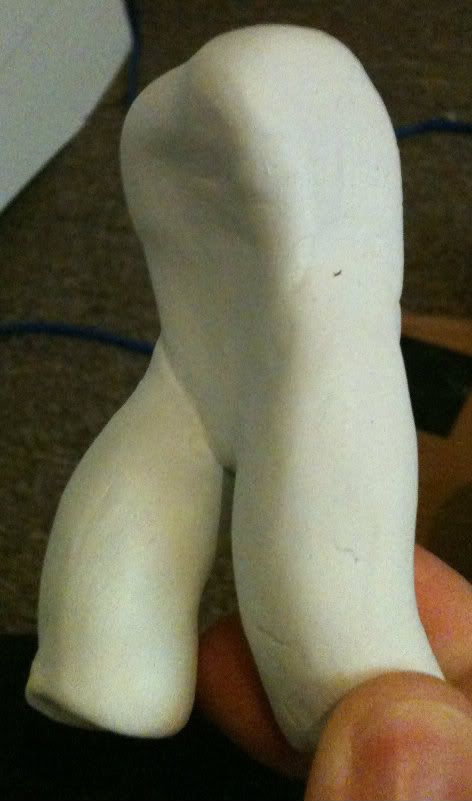 (Still not giving me my cropped photos -.-)
It was surprisingly hard thinking up a pose for him, and the overall posture that he would take preforming this action. I'm going for a slightly hunched body posture, while he's moving forward. The right leg is taking the leading step, while the left leg is just about to pick itself up to continue the motion. Because of this, the gut (which I haven't constructed yet) is going to be slightly pressed up against the right thigh, and swinging to the left because of lack of resistance. I can tell I'm going to have to keep adding onto the model as I get the overall posture down, as of right now he is minus an ass which I'll have to... Greenstuff (shudder) at a later date.
Finally if anyone wishes to request different angles, or if any of the more experienced sculptors wish to empart some kind of pearl of wisdom, I'm all ears. Again, sorry for the photo size, I'll try and figure out how to not make it so big next time. Suggestions on that topic?
Thanks
COOOBBBRRRAAA!!!
Vaguely Sane - April 26, 2012 08:49 PM (GMT)
this sounds like an awsome idea :P when i saw that pic though i had the state puff marsmallow man pop into my head from ghostbusters :P

LAV-Kitsune- - April 26, 2012 08:53 PM (GMT)
When the milliput is hardened you can sculpt it with knife and file to make some muscle structure and bloated stomach for example. Do small marks with pen on where to cut and then carve big lines first and then start olishing the details to the model. Sadly I cannot offer any guides on this, as all I know are on finnish or just pictures of finished models/bases.
Talonz - April 26, 2012 11:17 PM (GMT)
rah!!!!!!!
:P GL!
CobraCommander - April 27, 2012 12:23 AM (GMT)
Yeah, I can easily see how it could resemble it. It's pretty funny now that I think about it. A few things I've been thinking about so far:

Musings

One of the things I'm kind of stumped on is how I'm going to attach the feet. As you can see in the one picture I have a slight dip in the center of the bottoms of the legs. What I'm wondering is how I'm going to make it realistically look like the foot is attached. Now, I really wanted to make this GUO look good, since he's probably going to be a centerpiece model for this army, so I did a lot of research into that kind of body type, and other details I'll be adding to him once his body is more or less complete. The usually stuff really, stitch marks, bloated areas, flesh partially eaten away. This was a surprisingly hard one for me. I went for about an hour or so looking for "good" images of stomach surgery stitching, and scarring with surprisingly little amounts of uncomfortableness. When I had to look up things like gang green, or frost bite... Forget about it, I saved a few of the lesser disgusting images, and just went about searching for the other catagories I was planning on finding. I thought it was a little interesting.

Back to the original topic though, since for the most part a GUO is obese to the extreme and just a towering humanoid figure (I'm going off the assumption that he would stand about 20ft tall or so and his weight would be around a few tonnes, I'm trying to get that across as much as I can, hence his roll-like legs. What I'm wondering is how exactly I'm going to attach the foot to the bottom of the leg, and at the same time make it look as realistic as I can. Do I make it look like he just has huge cankles? (For those who are unfamiliar it's when the lower leg and the foot, just connect, without any visible sign of an ankle. Like someone just cut that section out and attached the foot back to the...I'm going to go with "shin area") Or do I emphesize(sp?) his obese frame, and have his rolls spill over as it were, onto his foot. Then, if I did that, how would I connect the foot so it looks proper? Would I connect the heel to the back of the calf, so it only spills over on the sides and front? Or do I connect the foot to the center of the leg, so the rolls hang over everywhere and make it look like a muffin top? Thoughts?

The second thing I've been rolling around in my head is how to attach the gut and still make it look good. What I have thought of so far, is to just roll a pretty decent sized ball of milliput and then press it against the lower part of the torso (duh). Before I let the torso harden I bent -what would be the upper torso- slightly forward to both remind me that he is going to have a hunched appearence, and to make it easier for his -for all intents and purposes- man boobs to more easily be able to hang over and rest onto his huge stomach. What I'm wondering is how to reasonably attach the thing, while at the same time still giving the impression that he is carrying a huge load infront of him. I'm thinking I might gently begin to flatten it out around the outer most areas and rub them into the torso to create a seamless...joint, bind...Connecter thing... around the majority of the outside/upper torso area, but leave the bottom half of the stomach/gut hanging free. The best visual example I can think of would be... Those weird water sacks they put in a front pouch thing that they give to highschool students to simulate the weight of pregnency. Don't know if they still do that anymore but... Oh, or another (probably more easily visualized) cliche "front butt" look. So rolling that around in my head at the moment. I think I may try and do a little more work on him, but I kind of would like to hear some feedback before I dedicate time to anything.

Phew
COOOBBBRRRAAA!!!
Lord Tremendous - April 27, 2012 02:00 AM (GMT)
Well, just to make your head buzz a little more, I wish to remind you that while the big, fat, rotting demon is the usual for GUO's its by no means something you have to adhere to.

One of my favorite models of a GD was a Huge, fat, demon / stereotype computer nerd on on top of the GW 40k defiler legs. He had a computer mouse hanging from one hand and a big soda in the other. Both the soda and the mouse had a series of blades and spikes sticking out of it and the kid sitting on the legs had a black shirt on that had "KHORNE" written on it using well placed 1's and 0's. Great Blood thirster and no one at the tourney had any problem with buying into the fact it was a BT. (It may have had to do with the fact that guy was a terrible player. lol!)

My GUO is actually a kit bashed Trygon from the tyranid line of 40k models. In the fluff of our AB it states that GD's can fill any role such as Fighter, caster, leader, assassin, and so on. I went more the fighter / assassin route when creating my GUO and am quite pleased with the results. Hell my LoC is a carefully positioned and modified Chimera GW model. lol! He weilds a Demon prince's sword and wears a BT's loin cloth!

So don't think you HAVE to make your GUO a big fat rotting corpse of doom, if you don't want to. If you want to make him look like Nurgle's version of Blade (From the movies) or some sort of disease riddled super demon that has a gym membership (and uses it!) then no one could say you've done anything wrong.

However if you do wish to make him more towards the typical body type for GUO's (And there's nothing wrong with that! :) ) Then by all means do so! :) I have very little skill in scuplting but am following your threat closely because I'm curious to see what the end result is.

Looking forward to your next set of pics!

-Tremendous
CobraCommander - April 27, 2012 03:25 AM (GMT)
Ask and you shall receive!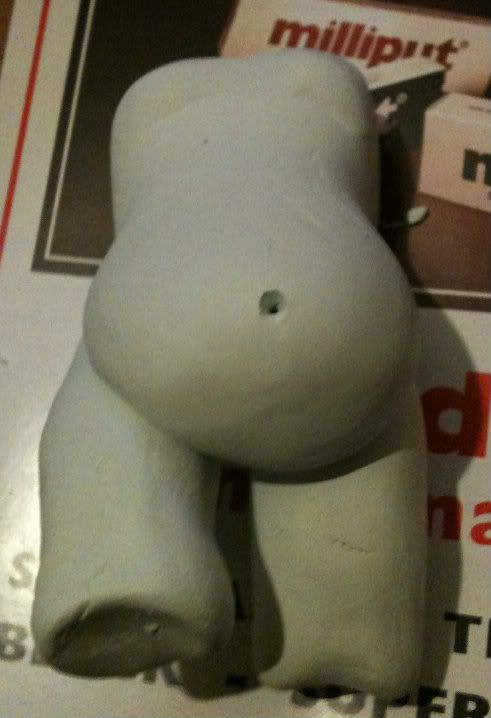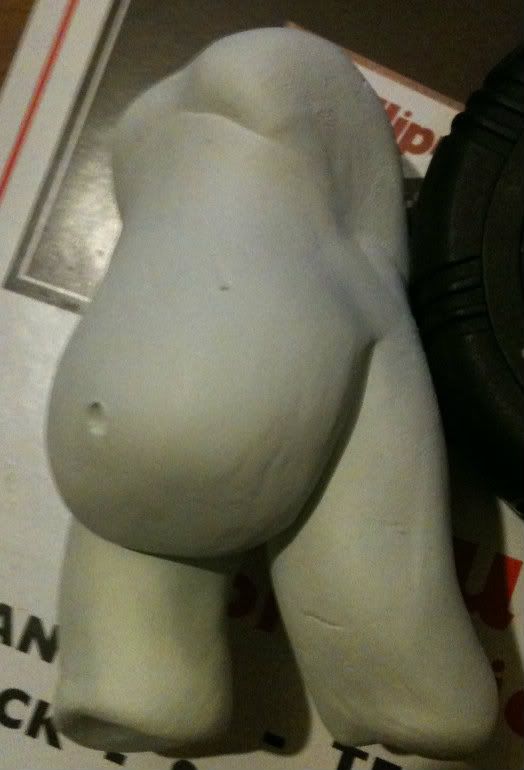 Congradulations!...Oh, my apologies...
I finished reading your post Lord Tremendous, and I was all "Well pft, someone's expecting stuff from me now. I can't just go and disappoint now can I?" and BAM rocked this out in a few minutes. So it still has to sit and harden for a little while. I must say I'm pretty pleased with it considering how fast I churned it out. I think the belly button is a little too deep though. I attacked it with a pin and my hands were trembling something awful. Excitement I suppose...Yeah, I'll go with excitement. I guess I'll fill a bit of it in with some greenstuff when I get to that phase. I must say though, I am quite pleased with milliput considering I have no experience with this kind of scale of sculpting, it is quite forgiving. I like the fact that you can just dip a finger tip in water, and just rub away the splits and seams. If done half assed you can get some pretty good "stretch marks" out of it as well. I may keep a few of them. What I really like is the fact that the "man boobs" *shudder* are almost already present, so that at least gives me a starting point when I finally sculpt them.
I took what you said LT to heart and I think I've got a dasterdly plan cooked up that I'll put in my back pocket for now. I never realized how much fun this would be, I was quite intimidated when I first decided to undertake this task. Now I just want to keep going! So possibly expect to see a mockup of a test Plaguebearer in the near future maybe... Also, while I seem to be gravitating the most towards the glorious Grandfather Nurgle, I'm not opposed to the other Gods, but I think I'd like to keep them all Nurgle themed to tie everything together. As of now I haven't given it too much thought since I'm mainly focused on this big guy right now. One thing I have half thought about is how I'd do say, Daemonettes in a Nurgle theme. The first thought that popped into my head was the obvious STD-ridden prostitutes, but that seems both unimaginative, and something I probably wouldn't want to google search... After mulling it over a little bit, I've come up with a slightly better idea. I'm thinking emaciated and malnurished daemons. They'd be quite "lithe" what with their puny limbs, and their bloated little stomach ponches tie into the whole nurgle theme. I really enphasize the "slightly" cause man, just writing that makes me hate myself a little. But that's what I got so far. I'm unsure if I'd want to keep the "claw hand" theme, so I may go with dual wielding small shivs of sorts. Something you'd see in say one of the "Silent Hill" videogames, or "Dante's Inferno". I shall ponder this... Thoughts/suggestions?
Thanks
COOOBBBRRRAAA!!!
CobraCommander - April 27, 2012 05:48 AM (GMT)
So I was looking over the big guy, the stomach is hardening well, so I think I may do a little more work right now. Again though, while I was looking over him I noticed this!
= Exactly what I was going for with the legs.
The only problem is (as you can tell from the picture from the other side) the other leg is quite smooth, so now I'm going to have to try and figure out how to emulate that effect onto the other leg. I guess it'll have to be Greenstuffed in the "detailling phase".
So a few things I've thought about over the last hour or so.
Musings
So I just realized I have a slight problem...How the hell am I going to get kneecaps on this guy? I think while I was making the legs, I was thinking "Oh, I'll just squeeze around that area, and form some kind of loose kneecap." but then totally forgot about it and after the fact, realized I may be in a spot of trouble. Any suggestions on how to fix?
So, like I mentioned I've been looking him over for the better part of an hour or so, and I keep thinking that maybe I sloped the stomach too much. I'm beginning to wonder if I maybe should add another little lay and "flatten" it out a little more, or at least decrease the curvature enough that when I construct the "man boobs" they wont hang too drastically, and instead have a nice "perch" to sit on before they make the descend down.
I'm also beginning to think I may have hunched him too far forward. It sucks because I can't really show you want I'm talking about since I don't really have a way to attach him to his base to show the "direction he's going" which for the most part is face first forward lol. Maybe I'll have to do some trickery when it comes time to make his feet. I'm still trying to figure out the best way to attach those as well... Thoughts?
Finally, I'd like to mention (and I'm sure maybe at least a few have noticed) most of the time I'm actually just sitting in this thread refreshing every once in a while as I'm working to see if someone has posted anything but I can assure you it's only slightly out of vanity. For the most part I'm "walking this road blind" so to speak, so I'm going to be using this thread to bounce ideas around, see what comes back, pick up a few pointers, and things like that. If you decide to check out my thread, by all means respond to anything you feel you may have an opinion on, I'd love to hear your input, even if it's a one liner or something. Also, I live in Canada, so I could be something like five hours ahead/behind of a vast majority of the forum users, so I don't expect everyone to be able to keep up with my quick succession of updates, I'm just too excited to sit around and wait for input. I think I'll call it quits on working on him for tonight and hit the hay. Or will I?!
Lurkmode reactivated
COOOBBBRRRAAA!!!
Grisnik - April 27, 2012 09:51 AM (GMT)
Looks good at the moment... but if you put a pastry hat on him, and a sailor collar he might resemble the state puff marshmellow man a bit ;)

As far as knee caps go.. try for the same as an elephant.. not so much a knee cap, but maybe just loose skin there..

I would also make the manboobs on him droop a bit more.. make them sit more on top of the belly and sag quite a bit.. right now it looks like he has had some work done on Dr 90210..

Looking good though and looking forward to how it progresses..
Lord Tremendous - April 27, 2012 12:04 PM (GMT)
Keep in mind that the "Cover up" approach works great to in these situations. Knee caps got ya down? Take a couple shields and place them like they're armor or possibly some poor bastard that got stuck inside of the demon itself. Takes care of your anatomy problem, distracts others from seeing it, AND it looks clever. :)

As for the belly, thats really up to you but another option would be to use the rounded curvature and low hangingness to have it bursting open and either nurglings / guts / candy comming out of it and maybe hanging out of the holes or something. Same with the boobs, although you need to be careful you don't cross the line from nurgle to slaanesh there... which is easy to do because boobs are awesome. lol!

Little suggestion for the boobs actually. Saw a guy that replaced the nipples with the icon for nurgle on each one. Thought it was clever and made sure those that are squeamish (Elf players) couldn't cry foul.

Again, these are all just suggestions and I wont be offended at all if you ignore them all or just roll your eyes and click past my posts. lol! I'm enjoying this project and really like the direction its going.

One last thing, (Sorry) With the way your GUO is leaning forward. Use some creative basing bud. Put a rock or corpse or nurgling under him to make it look like he's stomping / walking / squishing / standing on it and you can make him stand as straight or slouched as you wish. All without having to start over. :)

Ok, I'm done with telling you what to do.... FOR NOW! lol! Get back to work! :)

-Tremendous
CobraCommander - April 28, 2012 02:37 AM (GMT)
I'm hard at work (kinda...), so don't you worry LT. I've been wondering what to do about the stomach, since it takes up so much viewing space I really should do something with it. I'm kind of under the opinion that the whole "guts hanging out of a rip" thing is one of those things you mentally apply to something like a GUO, or nurgle units in general. I'm unsure if I really want to take that approach since its been done to death, but if I do, I want to do it in a way that will give it a new, or at the very least a fresh look to it since it has been that way for so very long. I was contemplating using the left arm to achieve this. Something like he's pressing his hand against a gapping opening to at least hold some of it in, a majority of it spilling around his hand, or hanging limply. Another more "characterful" way to do this was to have a long stitch going down the left side of the stomach, and a portion of the "seam" breaking. He would just use a single meaty ham finger to tuck in some pieces that have begun to spill out tieing in with a facial expression that says "Oh that? Nah, I'm not too worried about that." But at the same time, I kind of have other plans for the left arm at the same time. I have yet to decide, I'm still open to suggestions on that.
When you say "bursting open" are you suggesting like what I've stated above, or are you talking about right in the center of the gut and have like, a mutated mouth or something there snapping up Nurglings and its own intestines or something? Also, I think I'll refrain from having anything "bursting" from the things boobs, that just screams a little too much like Slaanesh to me. I'm not uncomfortable with making it "realistic", but I have no plans on crafting genitalia on him or any model I plan on making. Not that I'm opposed to it, I just don't wanna be sitting there sculpting wangs and viginas for hours or something. Plus Nurgle and genitalia together just screams censorship.
I like your suggestion with the base though, I never considered that. I just have to think of something awesome to make him trudging over. Taking suggestions.
On the topic of the kneecap though, I think I would like it to be apparent. I feel it would add something to the model, more so if you tried to hide the fact it wasn't there, although I could see the counter arguement if it was done in a very clever way.
@Grisnik
Unfortunately I don't think I'm going to be making this a "joke" piece, more so going for a more serious tone. For some reason when I think about the Chaos Gods, Nurgle has always come to mind as some kind of "juvenile" aspect of the Big Four, in the same way some would consider Orks for 40k, humorous and something that should be taken lightly even considering the context. I would very much like to make my army feel very diabolical and evil, as if their very presence brings waves of despair (which, ironically Nurgle units generally do anyway). I do plan on doing a few more lighthearted things with the army though, the other night I had come up with a pretty good (in my opinion) idea to do with a Herald. I was literally snickering so much I couldn't fall asleep for some time. Nurglings come to mind as well.
As I stated before, the "man boobs" you saw earilier were just a building point, and formed almost naturally when I attached the belly to the beast. I did though, do some work involving the very topic.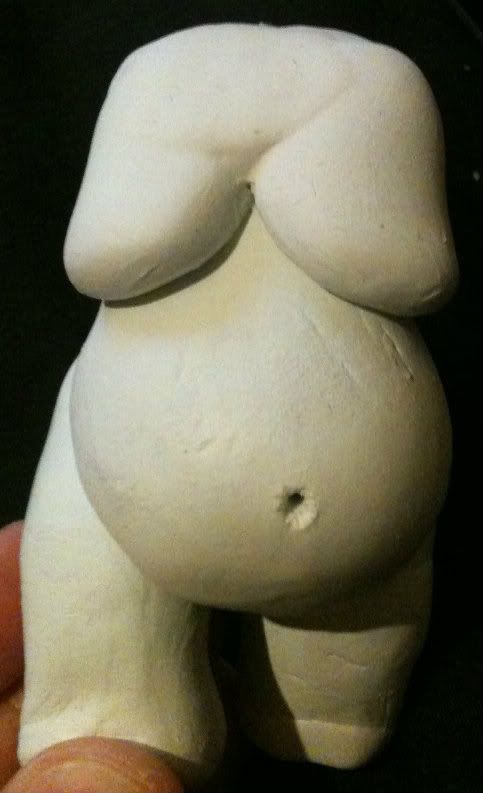 Bow chicka bow w-BLLLAAAAGHGAHGHG*vomits everywhere*
Sadly though, it isn't a trick of the light or camera, his left boob is in fact bigger then the right. It was obviously my fault, I started with the right one and it came out perfectly, but when I began construction on the left, I forgot to actually measure how much putty I used to construct the right, so it ended up quite a bit bigger. I ended up having to rip it off and take a little bit off before attempting again. It came out a little better the second time, but still apparent on close inspection. Finishing the construction left quite a visable "cleavage" between the two and it looked both "right" and "wrong" in more then one sense of the phrase. After some pondering and looking at it from a few other angles I finally decided to fill it in some and put that chunk to fill in the gap. After the deed was done, it again looked both "right" and "wrong" so I still don't know. You can notice visable crease lines, but that'll get buffered out in the sanding phase. Once again I did end up using a little too much but was smart enough to pull a big off before beginng work, and I was able to do some minor work on the more smoother left leg, putting in a roll near where a majority of the bulk "should" accumulate with that kind of motion. Also, I've begun minor work on the area around where the leg should bend, and have added more of a visible seperation between the two parts of the limb, instead of it looking more like one long sausage.
Phew
COOOBBBRRRAAA!!!
DaemonReign - April 28, 2012 03:29 AM (GMT)
QUOTE
Bow chicka bow w-BLLLAAAAGHGAHGHG*vomits everywhere*


*LOL* :rock: :lol:

And that's my cue for saying this is a cool step-by-step process to be following. I've been lurking around here but didn't really have much to say on your project because I'm a 'tard when it comes to sculpting really.. :)

Lord Tremendous - April 28, 2012 03:39 AM (GMT)
Still loving this thread! And as always, I have SO MANY SUGGESTIONS! lol!

With the Boobs not being even... who cares? Anyone who notices that during your games is clearly not paying attention to the battle so take advantage of it. Plus, its a Nurgle Greater Demon... semetry (sp?) isn't something he's known for. :)

Now for the gut, Like I said before I like the direction its going and by bursting I meant more like Tiny nurglings possibly falling out of it or "chewing" their way out of the GD. Going along with your idea of using his left hand you could model him possibly PULLING a Nurgling out of him with a sinister grin on his face like when a child is about to pelt an unsuspecting someone with a snowball or whatever. This leaves the right hand open to carry a very nasty flail / sword / blanket full of small pox. (WHAT!?!)

Other options for the belly is to add bumps all over it. Varing sizes of measels, chicken pox, hives, zits, etc... anything you can google a pic of that you wouldn't want on your face. Same with the boobs. This will nurgle it up, distract from the smooth curvature of the stomach, and makes for a relatively easy task considering the scope your taking on.

As for what he's stepping on with his base. Shoot, I'm all for him stepping on elves of any flavor. Take any elf models you have (If you need some I will send them to you! lol!) and cut their Arms, heads, and legs off. Then reattach them in unattural positions that will give them the look like they really are being crushed by a GD. I've done this before and it came out nice, I'd post a pic but I sold the damn thing years ago. Eh well...

Anyway, these are all just suggestions and in no way am I trying to take over your project. Like I've said, I'm really interested in seeing how your undertaking pans out because I may just copy it (Not your designs just the all miliput army idea) and try my own hand at this sculpting thing. :)

NOW GET BACK TO WORK! lol!

-Tremendous
CobraCommander - April 28, 2012 09:16 PM (GMT)
Yay suggestions! :)

You could be right about the boobs LT, I've been looking at them for some time, trying to think of a way I could fix it, and I'm beginning to think if I can pull off the arms in just the right way, it could look like he's twisting his upper body so it would make sense for that upper half of his body to be farther forward.

I've been mulling over how I could make this into a multiartwork piece by having small scenes happening throughout the model so wherever you look you would think that "something is always happening" on the model, to kind of tie in the fact that most Nurgle Daemons are hives of parasites and the like. I'm mainly thinking of using Nurglings to pull this off. Have a few huddled around a fairly large sore taking turns suckling on it, or having some trying to squeeze themselves out of a rather large fold they managed to get themselves caught in.

I've been wonder what to do about the smoothness of the model overall, and I've come to the same conclusion that having blistering sores over a majority of the body would be the right idea. Things like bloated sections, skin slopping off some areas, and Nurglings pulling themselves out of bigger wounds were some of the ideas I've thought of so far.

If you are willing to send me models to cut up and use for the bases I wont stop you lol. I actually don't have many "spare" fantasy models to do neat things like that with. One thing I'm just beginning to notice is that the 50mm base is just a little too small, the span of his legs just barely fitting onto the thing which leaves me little room to add personal touches. I'd like to find a way to tastefully give me more room to play with on the base without using say a chariot base or something to achieve this. I can't really see a GUO scaling a precarious shard of rock or something so that's out.

It's ok LT, I don't feel in any way that you're trying to take over my project. I find it very helpful with the ideas you're throwing around. Like I said previously, I mostly am using this thread as a way to throw around ideas and get feedback. And with that:

Musings

I'm very happy how this model is turning out, but I'm beginning to think it's largely due to dumb luck. When I first undertook this, I had a really general idea of what I wanted him to look like, and that's now changing daily. I'm very pleased with the fact Milliput is fairly forgiving because when I begin work on a body section I have the barest idea how to achieve the desired look and I end up mucking about for a little bit before it miraculously takes shape to almost how I wanted it to look. It's a nice feeling.

Like I mentioned previously, I'm wondering how to break up the smooth surface of the model, and yes boils and the like would do a great job, but for some reasion I keep trying to mentally picture the metal GUO and keep remembering that it has some kinds of lines or something running over a majority of the model and I'm wondering if that is a painting effect, or the actually texture of the model, and whether or not I'd want to try to replicate that effect on this model. Something to think about.

I just finished some more work on the model, half finishing his back/ass region. I still want to do a little more work on the...ass...*shudder* to make it look "good" in the...worst sense of the word I guess. As it stands (or...Hangs rather) the butt looks a little to...Firm I guess, it just doesn't look like it would belong to a heaping mass of fat and rot, and more like say, some kind of professional runner of sorts which a GUO is definately not. So that'll be my next post.

Lurkmode reactivate
COOOBBBRRRAAA!!!
CobraCommander - April 28, 2012 10:43 PM (GMT)
So, I finished some more work on the big guy.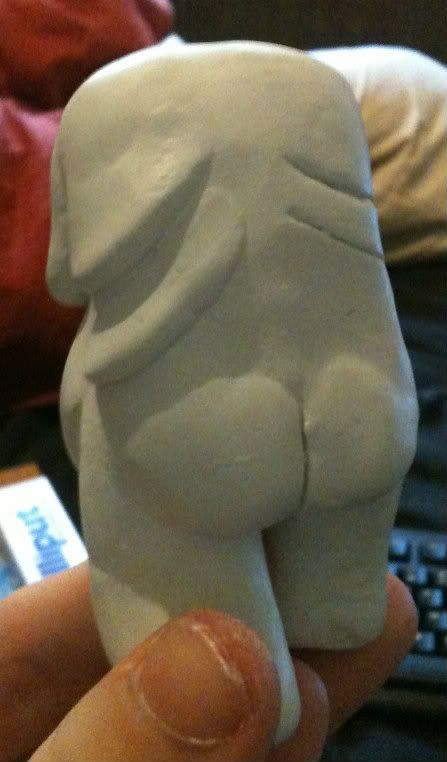 Too much junk inside that tru-BLLLAAAAGHGHGGFG *vomites everywhere again*
Oh god... So like I was mentioning before, I completed work on his back, but wanted to go back and work more on the ass. The flabby hanging parts were kind of an answer to a previous mistake. As you can see in the picture, those lines on the right side were originally supposed to be what the left side looked like. Only a messed up when putting them in. When I first did the back, I etched those lines in with my scuplting tool (read butter knife), but only after the fact did I realize where I messed up.
I had carved them in straight, instead of at an upward angle to both represent and remind me to that there were going to be folds there. After it was semi hardened I realized that they just looked like cut lines into his back that really served no purpose. Fortunately while I was working on the ass (which still isn't as droopy as I'd like, but whatever) I had some left over putty I didn't want to go to waste so I began half filling in the lines/adding the folds rather then imply they're there using natural lighting, or a paint trick. I'm not quite sure if I'm happy with them, they seem a little too prominent. It kind of looks like he'll just have boobs everywhere. Also it looks too seperated for my tastes. I feel like they should be closer together to give that repeated folding feeling. I may go over them with a file when it gets to that phase.
The photo is taken midwork, because I wanted to show everyone what I was talking about instead of trying to describe it after the fact. I'll wait for everything to fully harden before working on the other side. I noticed after completing the ass and moving onto the back folds, I would find myself holding the model rather firmly, but then realizing I was holding onto parts that weren't quite finished hardening, so would have to constantly stop what I was doing and fix the messes I made lol. Expect something in two hours or so, I'm going to make myself a sandwich.
Sandwichmode activate!
COOOBBBRRRAAA!!!
CobraCommander - April 29, 2012 12:51 AM (GMT)
So I finished up the back and blam!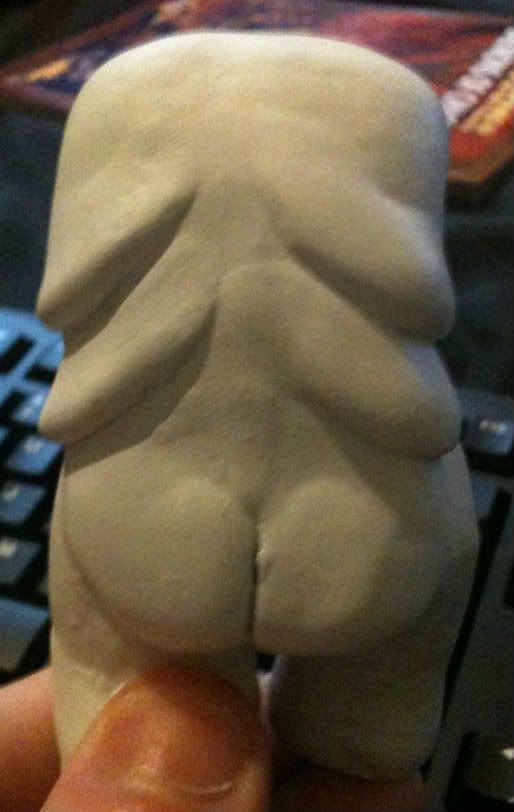 Strangest urge for a cinnamon bun right now...
As soon as I finished it, I was immediately aware that something was "wrong" with it. At first I thought I messed up on the right side, but after asking a few of my roommates on which one looked better, they all pointed to the right side being the better of the two. Which affirmed my believe that the right side looked "right" and it was just the fact that the left side was "wrong" which made it look wrong in the first place. Now with the left side pretty much hardened, I have to now figure out what to do about the left side to bring it on par with the right...I kind of dread the fact I may have to file it all off, which would take quite some time if I was careful, and if I went too fast I run the risk of nicking which I'll then have to fix afterwards...
FUUUUUUU...
COOOBBBRRRAAA!!!
Lord Tremendous - April 29, 2012 04:26 PM (GMT)
Bah, Again we come back to the symetry of a Nurgle model! Nurgle is about as un-symetrical as they come AND with the left side a little off that makes for a perfect place to put a large gash, a slumbering nurgling, maybe some poor souls arm and leg hanging out of him or "stuck in the fat rolls" if you will. The options are endless.

In my opinion, its the "mistakes" that are going to add to the "Nurgle-esque-ness" of this GD.

Personally I'm still loving this project and look forward to more progress! :D

-Tremendous
zhambah - April 29, 2012 05:35 PM (GMT)
that bum needs some cottage cheese... which you will probably do with green stuff... but just saying
CobraCommander - April 29, 2012 06:13 PM (GMT)
Indeed Zhambah, I too think it could use more "cottage cheese", that's what I was hoping to achieve with the initial sculpting but it seems I am going to have to try for it in the greenstuff phase.

I would agree with you LT that symetry can be a little relaxed when it comes to something like Nurgle, but it doesn't mean I want the model to suffer for doing a half assed job in some areas. I think the back folds would have just bothered me too much if I didn't do something about it. Which is why I kind of went a little overboard last night.

So I attempted to "cheat" in order to fix the left side back folds. Rather then removing them and restarting I tried to just add more in hopes of mimicking the other side... Which failed horribly, and I only achieved making it look worse. In a fit of ire I took sculpting tool (again read butter knife) to the folds and began carving them off. I'm happy to mention I was still careful enough to not hurt the model over all, and I was sweating bullets a majority of the time, but like pulling off a bandaid it was quick and painless. Now I must locate some sandpaper and remove the remainder of what is left over and start anew. Will post pictures when I'm finished.

COOOBBBRRRAAA!!!
CobraCommander - April 29, 2012 11:32 PM (GMT)
So... I "fixed" the problem.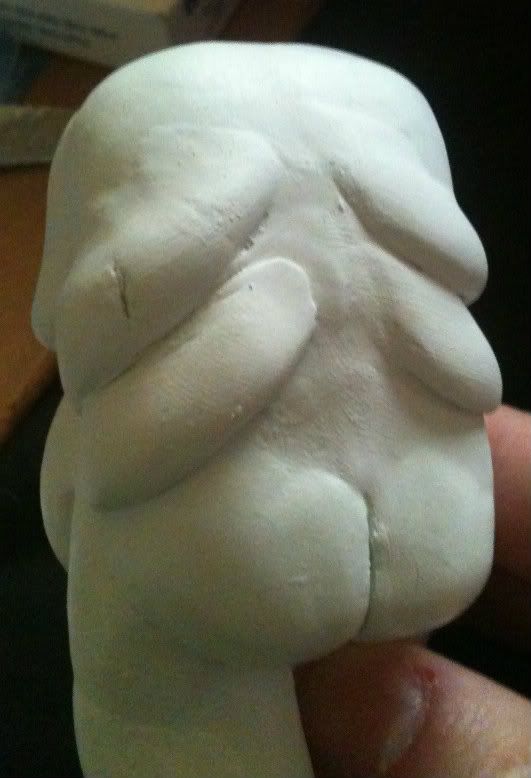 Still feeling that urge for a cinnamon bun...
I use "fixed" rather loosely. It somehow got a little more chunkier then I would have liked, but I feel it is at least closer to appearence to the right side then previously, so I shall keep it for now. I'll probably have to do more work on in when it comes time to smooth everything out, so until then I shall leave it. I'm also flirting with the idea to maybe hang a piece of cloth over it in an attempt to cleverly hide the glaring difference between the two, maybe the remainder of some robe he once wore or something.
And with that I think I may take a little break for today. Maybe play some Minecraft or something. Next step? I'm not sure. Like I've mentioned before I've been avoiding work on the feet/arms mostly because I'm not sure how I'm going to tackle them. Sadly I may have to just bite the bullet and begin construction, in which case it'll probably be the feet, which will also probably be contructed using Greenstuff. When I finally begin work on the arms, I hope I can hide some of the more glaring flaws with the left back folds with the arm, since I've come to the decision that the left arm will be hanging casually, while the right arm will be outstretched, or raised into the air probably holding some kind of flail or staff me thinks. Anywho.
Minecraftmode activate!
COOOBBBRRRAAA!!!
CobraCommander - May 4, 2012 06:12 AM (GMT)
I have returned with avengence!
And a foot...
[vanity]A cookie for whomever notices something neat...[/vanity]
And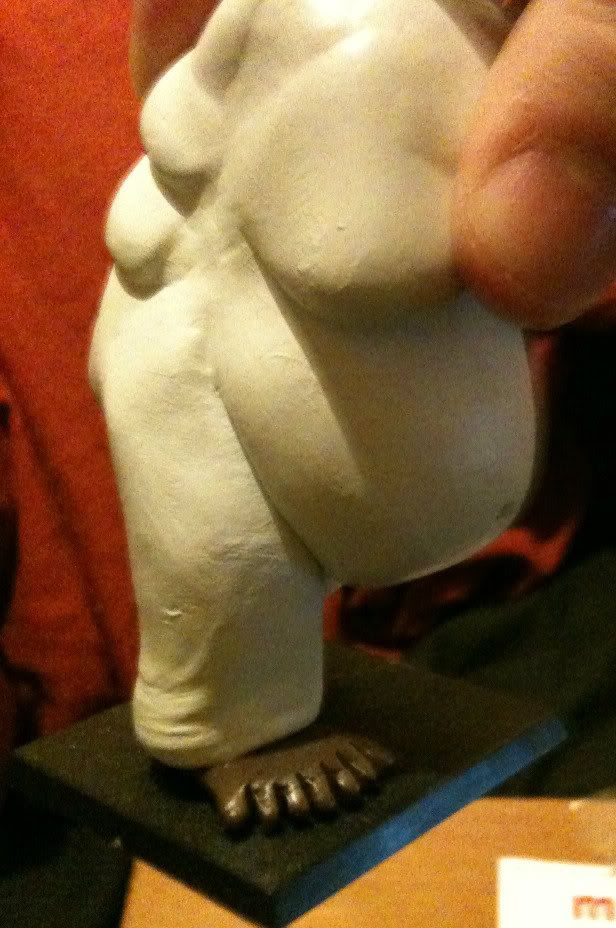 This is how much space I have to work with...
Well, it looks... Alright I guess. A little earlier, it kind of looked like he had some kind of weird duck foot, mostly I think because his...I dunno "upper foot area"? stuck out quite far from the base of the leg, even after I trimmed quite a bit off of the tip before beginning work on the toes (Kind of like clipping one giant toenail).
How To
I began constructing the toes by making a general foot shaped blob (look at your foot and imagine it without any toes. That's what I made) and stuck it to the bottom of the shin, and pulled the Greenstuff (or rather Brownstuff I guess) back and up over the calf area, and then began melding the sides of the foot into the base of the lower leg. It did take some time for me to get it "just right" considering the more I tried to make it look like a seamless merge between the foot and the calf, the less of a heel I had to work with when I was finally finished, so I was forced to add a little bit more Brownstuff (read used "giant toenail clippings") back to the heel once finished. Afterwards I began construction on the toes.
Now, my original idea was to just craft each once individually so I could get them to look just right. Unfortunately that whole "duck foot" look came to bite me in the ass and I realized it'll look too outstretched if I tacked on some toes to it as well. So with this little problem I went and checked out the Forgeworld GUO and came to a slight breakthrough. (It also would have helped if I actually had had any kind of "sculpting a foot" tutorial infront of me when I began working) So I went and got a hold of a hairclip (I believe that's what they're called) and, using a pair of modeling clippers, seperated a portion of the... Again I'm going with "upper foot area"... And then used the hairclip (after I bent it into a kind of a V shape) to fully seperate it from the whole and began poking and shifting until I had an individual toe. Rinse and repeat, getting a little bigger as you get towards the big toe.
Again, I'm plagued with what to do about the base. He isn't actually attached to the base, I stuck him on it for two reasons. One, was to see how much room I'd actually be able to work with if I did just stick him right to the base (although, I think I would shift him so his foot is almost on the edge of the base instead of where it is on the picture). And two, was to be able to flatten/curl the toes so it would look more natural given his posture. Unfortunately I still can't think of a way to give me more real estate to work with. Anybody have any suggestions they'd like to thorw out? I'm all ears.
Phew
COOOBBBRRRAAA!!!
holtkmoq - May 4, 2012 07:04 AM (GMT)
I have been holding out for more pictures here and I was quite excited when I saw the little red icon next to this thread :P

With the foot, I feel like maybe it should be a little "fatter" looking. I would maybe make the foot a bit higher as it feels a bit flat at the moment, helping get rid of that duck look. Looks like you have gotten rid of that anyway.

As for the base, I would go along with whatever you had in mind for the rest of the army, if you had gotten that far yet. I really have no ideas about it sorry :P

O and that something neat... is it that your thumb looks very similar to your GUOs boobs? or that 7 toes is going with Nurgles number of 7? Taking a bit of a risk saying that but I'm sure I remember reading something about chaos gods numbers years ago.
God of war - May 4, 2012 07:48 AM (GMT)
Hi there Cobra!

Nice work up to now. Only thing, for the moment , is that the foot looks indeed a bit flat and the leg just above it, looks like a pants. My suggestion, if I may (I'm a total newb when it comes to sculpting) is too fatten the foot and blend it into the heel.

On the base: I wouldn't go to elaborate as the position and size will give you problems otherwise. Perhaps a puddle of filfth with some yellowish bubbles, some dead grass, a tree trunk or some nurglings?

Hope that helps!
God of war - May 4, 2012 08:02 AM (GMT)
Hi there Cobra!

Nice work up to now. Only thing, for the moment , is that the foot looks indeed a bit flat and the leg just above it, looks like a pants. My suggestion, if I may (I'm a total newb when it comes to sculpting) is too fatten the foot and blend it into the heel.

On the base: I wouldn't go to elaborate as the position and size will give you problems otherwise. Perhaps a puddle of filfth with some yellowish bubbles, some dead grass, a tree trunk or some nurglings?

Hope that helps!
CobraCommander - May 4, 2012 12:26 PM (GMT)
A few things.

@holtkmoq

Oh you made me laugh! I literally burst out laughing when I read the thing about the thumb. Just, I don't know, struck a cord. It's so true! Which, I guess could say something about my sculpting ability. :P

You did in fact hit the nail on the head though with your later comment. I was hoping with something as...Important? Connected to? the Chaos God Nurgle as a greater daemon is, I figured representing His favored number would be appropriate.

@God of War

I will agree that the foot looks rather "flat" at the moment. Although the "leg looks like pants" comment is slightly lost on me. I mean, I double checked and tried to see what you were speaking of, and the only conclusion I came to was that the front of the leg (the area directly touching the...Again I'm going to have to go with "upper foot area") does look a little "flat" as well, with less structure, and curvature then say, the right side of it, as shown in the first new picture I've posted. Fear not! For that is simply work that has yet to be completed. Over the little while I've examined the new foot and wondered what I could do about it, the better idea I've come up with would be to add to the top of the "upper foot" while at the same time adding creases onto the top of the foot where the...I don't know. Muscles? Tendons? would be? Basically, take off your sock and look at your foot. Then point your toes upwards and you'll notice things pronounce themselves out of the foot. I'm going to try to create that hopefully.

The only problem I can see this causing would be the fact that the leg fat is supposed to be folding over, onto the foot. By adding another layer to the existing foot, I may make the foot "sit higher" then the rolling fat, which would just look weird.

Musings

So I may or may not have come to the conclusion that the base may have to just be left alone. I would like to add something to it, to tie it into the model as a whole, but if it comes down to it, and I have to sacrifice "awesome detail" on the base, for overall ease of working with the model, I may have to, and I'm fine with this. What I would like to add to it, either something like a stagnent pool of liquid, or maybe some Nurglings dragging down a victim (if I have the room) would be fine. I was hoping for something like, climbing over a chariot, or some section of building he's managed to bust in to, or even stomping over a shield wall. But I don't think I'll be able to pull that off unless I would have built the model specifically to portray that scene to begin with. Also, if anybody ever wants a picture at a different angle, I'm totally willing to oblige, just say the word.

I'll just have to sleep on it I guess. It's about 5:30am, and I should probably go to bed. I will try and fix the foot the next time I work on it, and I look forward to reading replies when I wake up. Thanks everyone. The positive comments really help move the project forward.

Bedtime engage!
COOOBBBRRRAAA!!!
God of war - May 4, 2012 07:56 PM (GMT)
Good night and keep up the good work. I'm anxious to see how you progress!

Greetz, Bjorn.
CobraCommander - May 7, 2012 05:20 PM (GMT)
Hey guys, just a little update for now.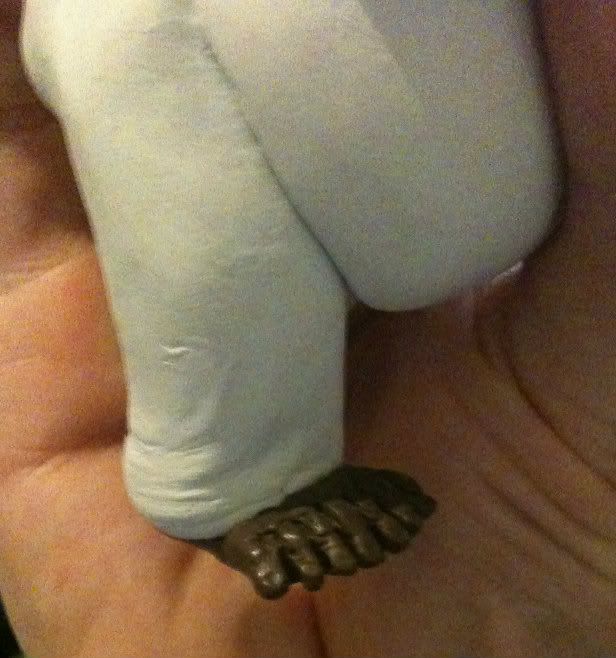 And this little piggy went!...Wait, what?
A few comments came up on the flatness of the foot, which I agreed with. Like usual I sat and stared at it for a while trying to figure out what to do about it, and I came up with this. The picture could be a little misleading I suppose, again all of my pictures are taken simply with my phone. Surpisingly they turn out well most of the time. I attempted to fix the problem by rolling up some very small sausage shapes and adding them just behind each toe. Again, if you look at your foot and point the toes upwards a little you'll notice tendon... Muscle... Things pop out, and that was what I was going for. After finishing those, I took another long piece and stretched it out over top of the sausages and merged the strip with either side of the foot, then using a tool (read hairclip) gingerly pressed the strip down inbetween each sausage. It looks a lot better then before.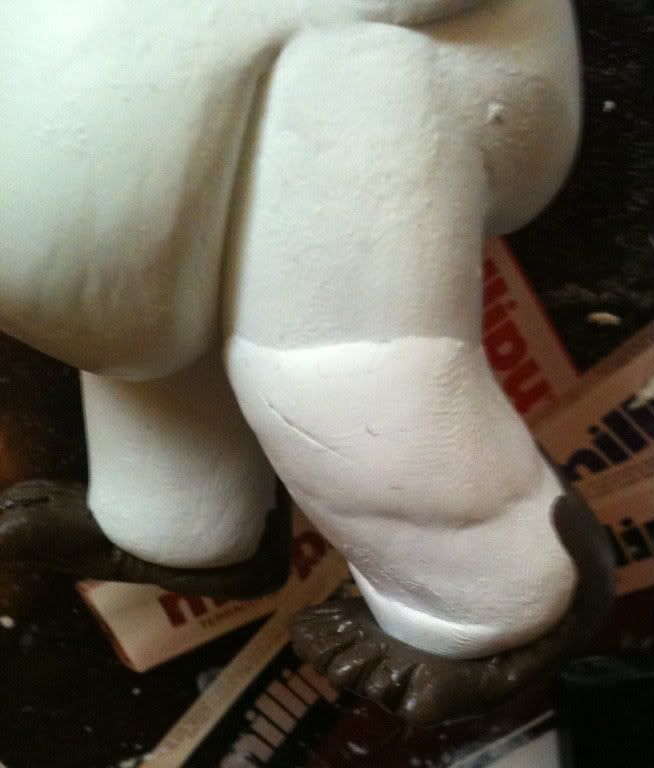 I guess he can't claim disability anymore... Also, this picture looks bad. I'll try to upload a better one next update.
After finishing up the first foot, I figured what the heck and finished up the second, so now for the most part I can position him on the base at least. This foot is only in the first phase, so will probably be getting the same treatment once it's hardened. Not quite sure how I feel about the look of the foot overall. I was going for as if he was picking up his foot to take another step. I kind of feel the bend should be a little sharper, but he is a big fat rotting daemon, so maybe it's just me. Also I'm not sure about the heel. It was smaller before, but I added a more to that area once I noticed. Still not sure if it looks right.
Now all that's left is to let it harden and finish the foot. Then?! I'm not sure. I think I may start the head, since it'll be easier for me to work in that area without arms and shoulders getting in the way. I imagine I may have to take maybe a dremel to the neck area to give the head somewhere to sit once it's finished, and I'll probably give the head a little bulb at the bottom to be able to sit in there easy enough. I kind of want to give him a bit of a hunch, but that may be too much what with his hunched posture already.
Also! A member of my gaming group was kind enough to "donate" his "Screaming Peasent" from the plastic Giant kit. He stands about to the big guys knee, which is a good proportion I think. I've got an idea in mind for this guy. Welp, I guess I'll sit and watch a movie waiting for my foot to harden.
couchmode activate!
COOOBBBRRRAAA!!!
holtkmoq - June 7, 2012 07:27 PM (GMT)
That foot looks much better now that it doesn't look flat at all. Any updates since May 7th?
Hulabell - June 8, 2012 10:00 PM (GMT)
Superb modelling skills here!

I could be waflfing here... but I hope it helps you!

I think that you are having trouble with the foot, because it seems to be lacking some porportions. :) He needs an arch in his foot, especially so if he is picking his foot up to walk, his toes onto the ground for support. Being as heavy as he is, he may also have a bulge on the top of his foot, which can help give a perspective of supporting the foot.

If I had my wacom set up I'd sketch over to explain better, unfortunately I don't. And feet are nasty... I am no way looking for images of them!! ;)

CobraCommander - August 20, 2012 03:33 PM (GMT)
What?! Random spontaneous update? Sort of. So for the past little while I've been settling into my new place, having "recently" moved from my previous. Unfortunately during the packing process I wasn't able to bring everything I wanted with me so I had to leave various things with friends, one of those parcels being
all
of my loose Warhammer, so the only things I have in my possession are my army carrying cases, which is unfortunate. Although, in a turn of fortune, one of the little boxes I brought with me contained the glorious GUO, so there's at least that. But without any of my sculpting material in hand, he's pretty much a half constructed paper weight until then.
Good news though, so this isn't entirely just a necro attempt on my part, I did do some more work on him and took pictures before said move took place.
He's gettin to be a pretty big boy...
Sadly this is the only picture I took before I had to pack him away. It doesn't show off the arm as much as I would like, so I may snap another picture to really show off what I did, this just seems more like a size comparison now that I look at it. Hah, sadly there isn't much to say about the arm. As of right now it mearly looks like a sausage connected to the things torso. I think I may or may not have messed up putting in the "hinge" between the two arm sections. Looking at it from the side, it just appears that it doesn't have enough depth to really portray an arm, mostly I think because of a lack of a visable elbow. I will have to rectify that later on.
So I read over my last few posts before I went into blackout mode, and I kind of just facepalmed when I had ignored my previous statement of working on the head so
QUOTE
"it'll be easier for me to work in that area without arms and shoulders getting in the way."
And now I have a shoulder and arm getting in the way... Oh well. I will try to update when I begin working on this guy again, this was more of a "Hey, just letting you know, I'm not dead or anything" type of thing. Not that anyone should care or something, I don't know. I just thought it was a polite thing to do.

Lastly, I randomly checked the GW website and noticed all the new plastic Daemon kits and all that, and the only thing I could really think was "Oh, of course. When I decide to undertake some big project, they plastic kit them..." I like the look of the new Plaguebearers, but I guess I've just been building this image of them up in my head that these new kits just don't fit, so I'm going to continue scratch building my line infantry when I finally get to that stage. I've only seen the picture flipping through the book, but there's one picture in the 40k Daemons codex where there are Plaguebearers fighting against Imperial guardsmen. That's the picture I'm going to try and base my Plaguebearers from. It might be a good idea to locate that picture before I actually start work on them so I at least have a point of reference. Anyway, just thought I'd pipe up again, where I'm currently living, I have next to no real life outside work, so I can't help but feel I may just trap myself in my house and work on this project when I finally get all of my materials together. At least I'll get a "beautiful" army out of the deal I suppose.

Signing out, for now
COOOBBBRRRAAA!!!