Initial Notations
:
1 - I forgot to include 'Beasts of Nurgle' in my list and didn't release this until after we had set up terrain. This is really hilarious. I can't believe I forgot to field my Beasts - which I have never done - now that I finally was fielding a Mono Nurgle List.
2 - Since it is winter we have to play indoors, which means the game size is smaller than usual and the pictures are also a little bit too dark.
3 - My friend's are rather antisocial and have little sympathy for stopping the game every phase to take a bunch of pictures. Usually I just ignore their discontent, essentially putting
your
entertainment over that of my friends (!) - but in this particular game I did go a bit easy on the pics so this report will not be 'all-inclusive'.
4 - We don't play the No1 spell of the Daemon Lores as 'Signature' so that will explain the rather daft set-up of spells I got since I couldn't 'pick' Miasma for any of my Heralds.
******************************************************************************
A quick review of the two Lists:
Dwarves
Dwarf Lord
General
with Sheildbearers (Rune of Preservation, Rune of Stone)
Dwarf Lord (Rune of Fire, Rune of Snorri Spangelhelm, Rune of Stone)
Thane
BSB
(Rune of Fire, Rune of Stone)
Runesmith (Rune of Stone, Rune of Spellbreaking)
Runesmith (Rune of Stone, Rune of Spellbreaking, Rune of the Furnace)
40 Dwarf Warriors (Great Weapons)
40 Dwarf Warriors (Great Weapons)
40 Iron Breakers (Rune of Determination)
Gyrocopter
Cannon (Engineer, Rune of Burning)
Cannon (Rune of Burning, Rune of Forging)
20 Slayers (3 Giant Slayers)
Organ Gun
Organ Gun
Daemons
34 Plaguebearers (Seeping Decay)
34 Plaguebearers (Eternal Virulance)
6 Nurglings
6 Nurglings
8 Nurglings
Herald of Nurgle (Palanquin, Stream of Bile, *Rancid Visitation)
Herald of Nurgle
BSB
(Palanquin, Stream of Bile, Standard of Chaos Glory, *Shrivelling Pox)
Great Unclean One
General
(Trappings, Stream, Pestilent Mucus, LvL 4)
6 Furies
The GameScenario:
Meeting Engagement
DEPLOYMENT:
You see his Slayers diagonally behind the house, on the left of them you can just about see an Encampment of Order with an Elven Waystone - I had my 8 Nurglings here but they are not seen in the pic.
Below the Encampment of Order you see a Forrest and just outside of this shot I had another 6 Nurglings.
He had his IronBreakers just next to the Building infront of that wall, and the two Warrior-units next to that. Then you see the 2 cannons sitting on that hill (Skree Slope). On the left end of the field there was another building (behind which I had 6 more Nurglings) and bottom right is a Temple of Skulls (behind which I deployed my Furies).
As you can see the rest of my army is deployed in the center.
My opponant did get to deploy first and also got first turn, however, his two Organ Guns, one of his Runesmiths and also his General ended up in 'Reserves' and had to walk on the field in his first turn.
None of my units ended up in reserve.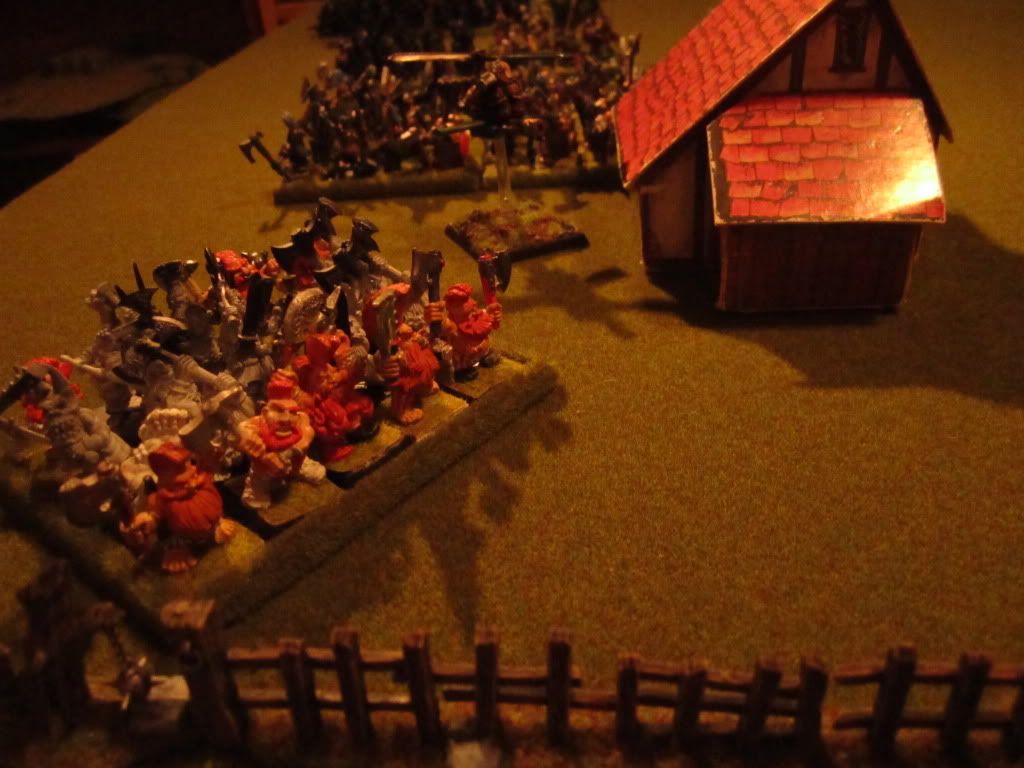 Detail of Dwarf deployment: The Slayers' position behind the house, we see the IronBreakers behind them in this picture.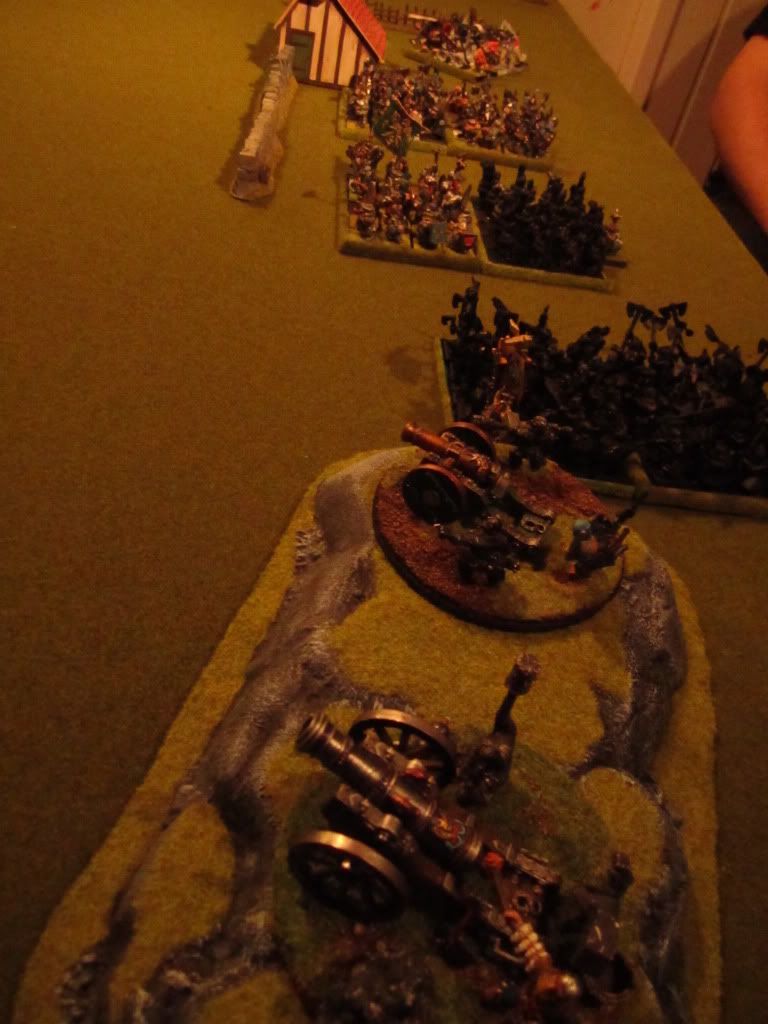 Detail of Dwarf deployment: The Cannons on the Skree Slope.
In this picture we see how my 8 Nurglings threatened the flank of the Slayers.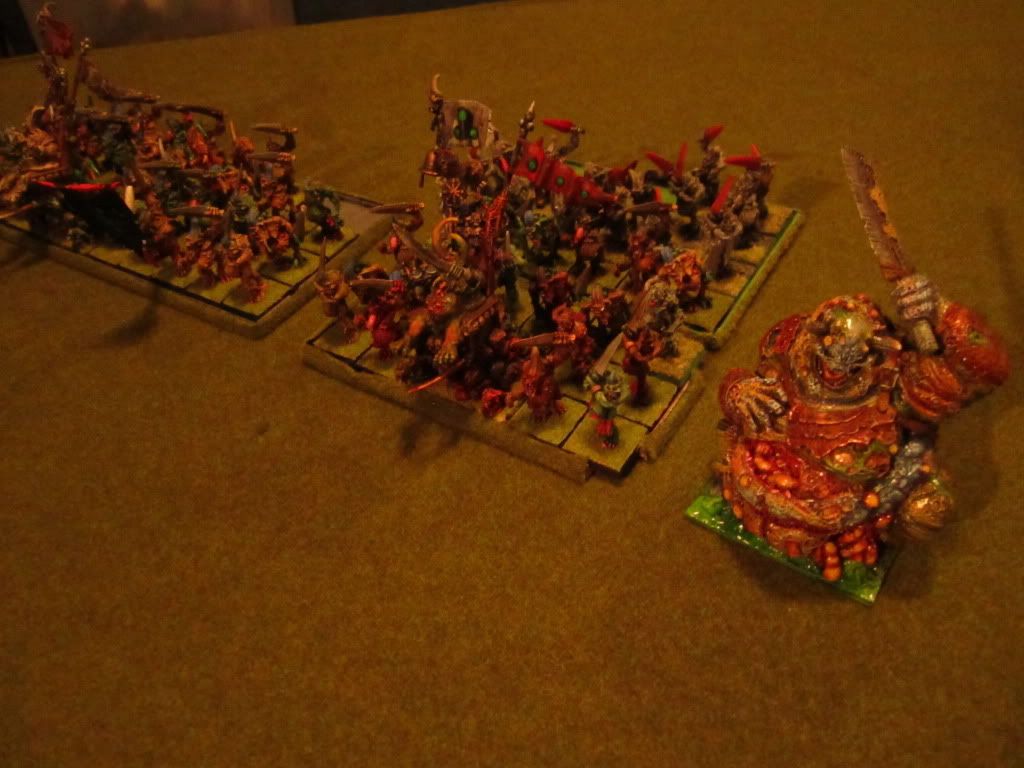 An obscenely unnecessary picture of my center-court deployment.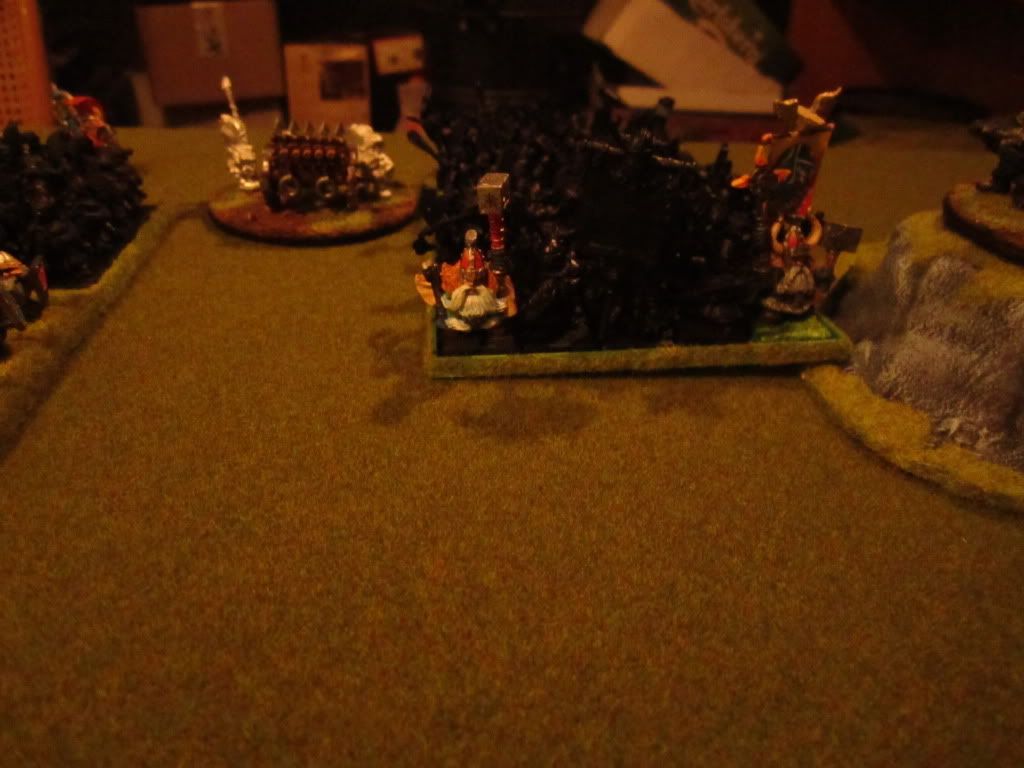 Dwarves Turn 1: Here we see one of the Organ Guns stepping onto the battlefield. The Dwarf with the white beard also popped into the Warrior-unit, this was the Runesmith that was in reserves.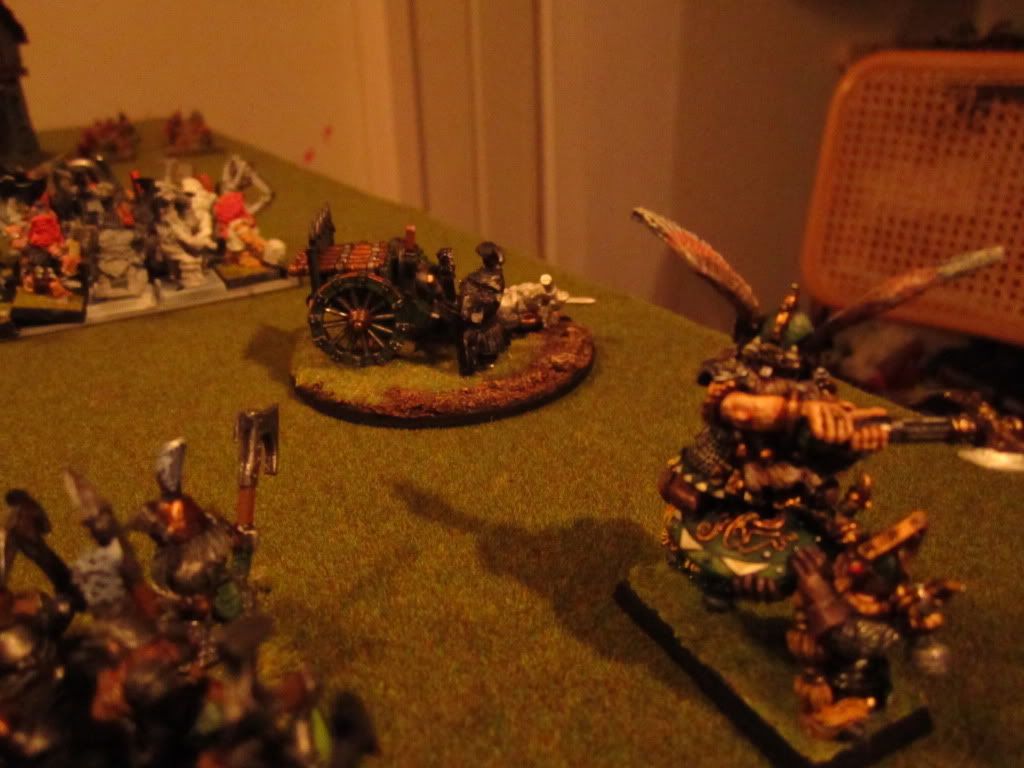 Dwarves Turn 1: His general and the other Organ Gun also walked their measly 3" onto the battlefield.
End of Turn 1: I reformed my Nurglings so that they were 3 wide. He turned his Slayers to face the Nurglings and moved his Gyrocopter so that it would catch them if they walked out around the corner of the house.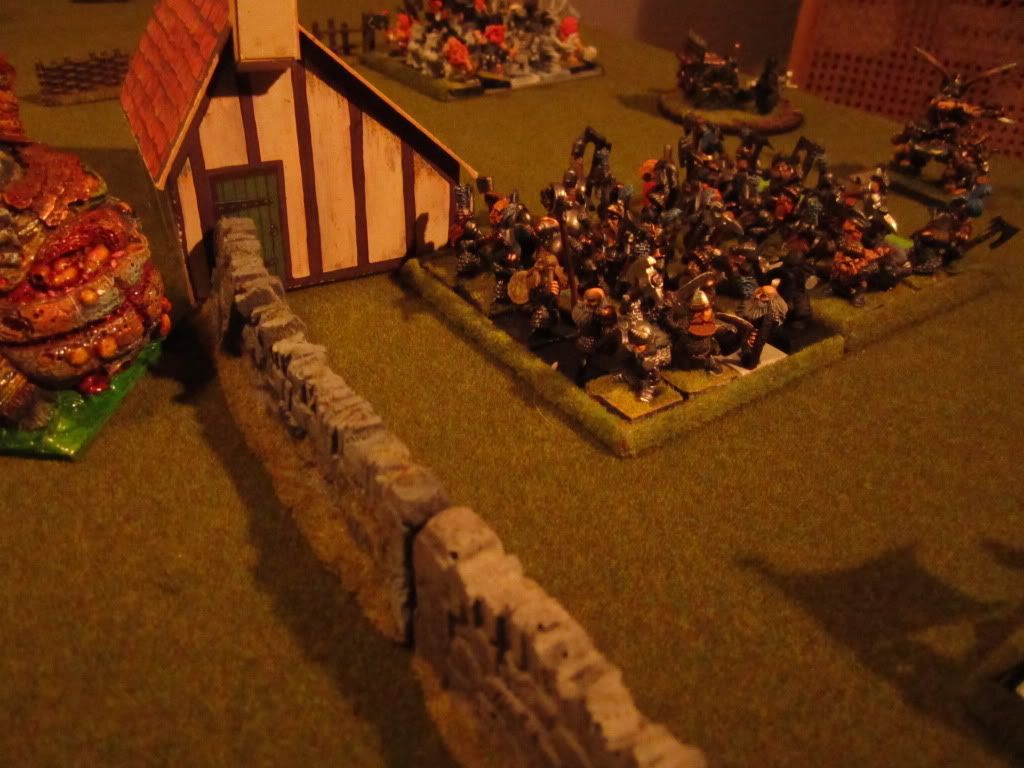 End of Turn 1: My General walked up and killed a couple of IronBreakers with Stream of Bile. It's also worth noting that the two cannons had both fired on my General but the first one failed to wound and I passed my Wardsave for the second one.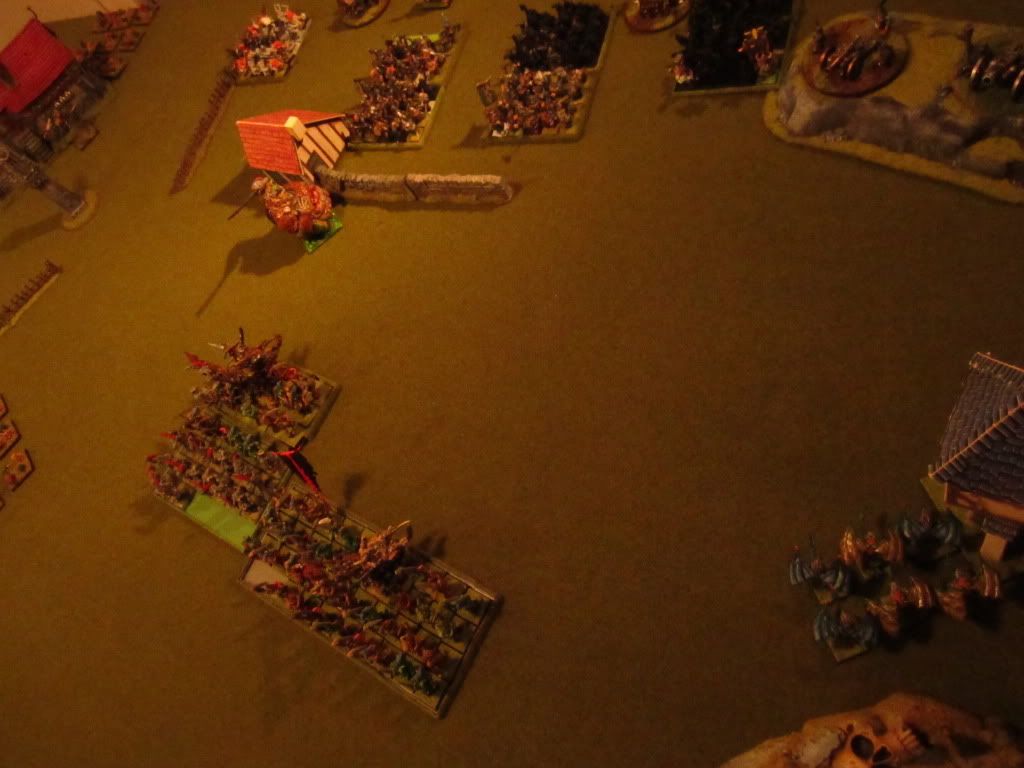 Overview at the end of turn 1. My 6 Nurglings had charged one of the cannons on the hill, my Furies had moved up by the house on the left, and my PBs just moved forward a little bit.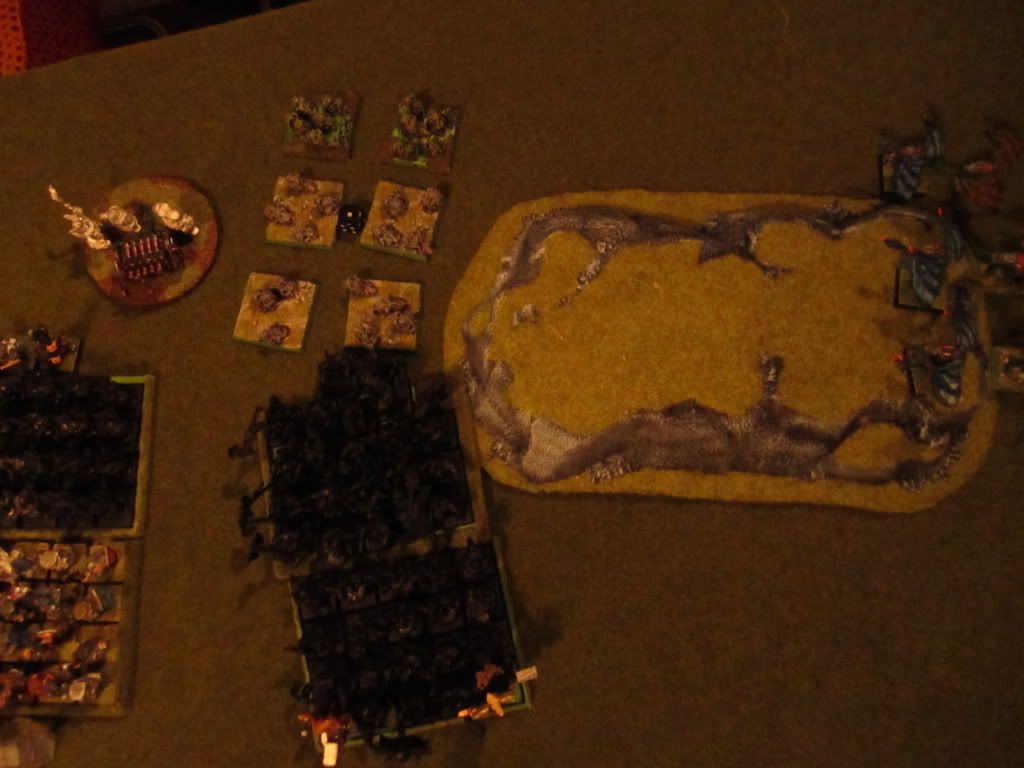 A few combat phases later my 6 Nurglings had killed both the cannons on the hill, taking one wound in the process. The Organ Gun right in front of them in this picture was next to be 'owned' and the other Organ Gun actually missfired and blew up! One of the cannons also got to shoot one more time at my general but I passed my Wardsave again.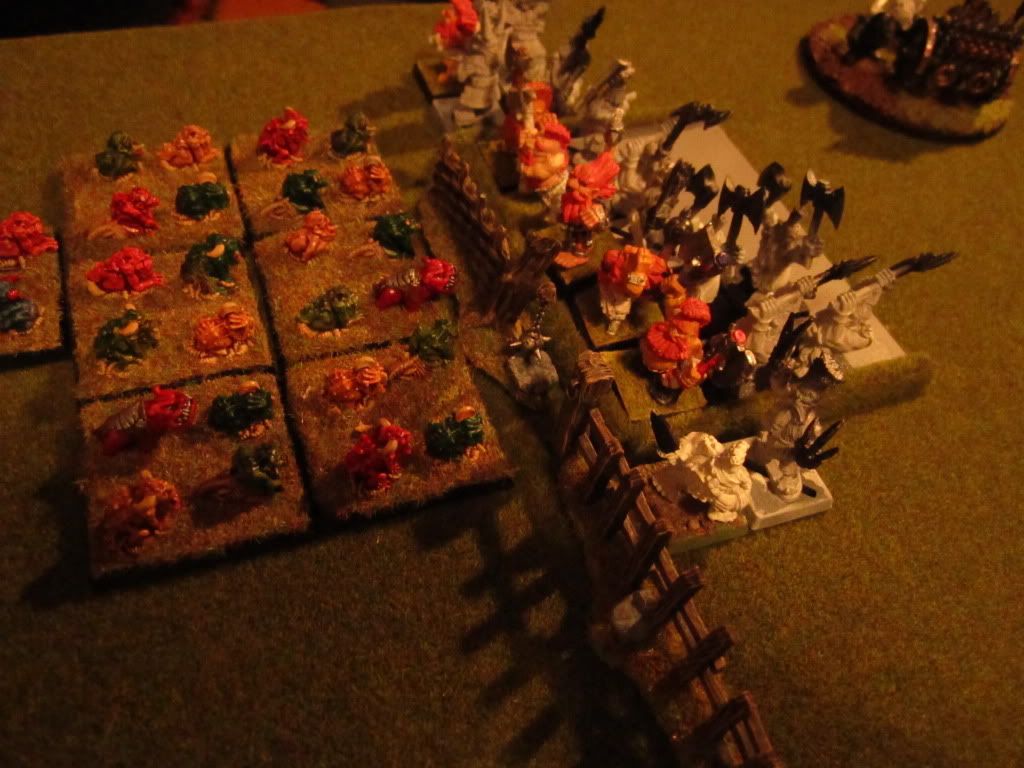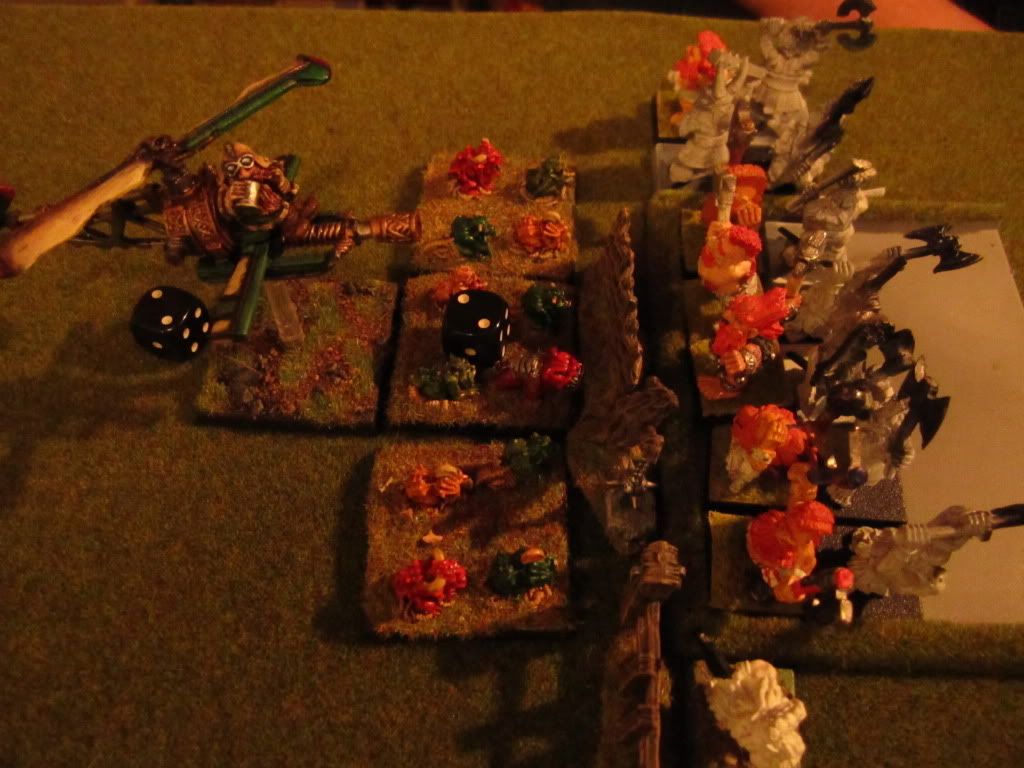 These two pics show in sequence how my 8 Nurglings charged the Slayers and were slowly grinded down, the Gyrocopter made a rear-charge and helped finnishing them off too. I did inflict 2 wounds on the Gyrocopter, and killed all the Giant Slayers too - but there are limits to what Nurglings can accomplish..
Main Fight Summary
: This is probably the start of Turn 4.
- We see that the Nurglings have now killed the Organ Gun and I opted to over-run in order to cover some ground, but ended up running off the table instead. My completely redundant Furies are trying to keep up.
- Interesting things happened in the middle. My General ended up charging the Iron Breakers by himself, and in the next turn I had charge the two Warrior blocks with my PB's as well. What happened was first of all that I managed to kill the Dwarf BSB in one of the Warrior-blocks (so he lost his damn re-rolls) and then I used 6 dice to cast Miasma with my general (since I had no other spells I could cast now that all my chars were in combat), and since my opponant had 8 dispel dice he decided not to use his remaining Dispel Rune. He failed to dispel Miasma and the Iron Breakers fled from combat despite being Steadfast, running off the table.
- My Plaguebearers were also doing quite well, despite not having any Regen to fall back on thanks to those Flaming attacks. I challanged one of his Runesmiths with a champion and finally managed to kill it, and my BSB even managed to kill the Dwarf lord on sheild-bearers (much thanks to his breathe-weapon I might add).
Over all, it was really friggin awesome to have the Standard of Chaos Glory in this fight because it meant I could send in my General by his lonesome and not have to worry about static combat rez.
In this picture we also see my other unit of 6 Nurglings, who are making their way up toward the Gyrocopter and the Slayers.
The Slayers and the Gyrocopter managed to finally kill off my 8 Nurglings, but just after this combat was finnished my other 6 Nurglings charged (and killed) the Gyrocopter, my meaningless Furies also lined up to flank-charge the Slayers.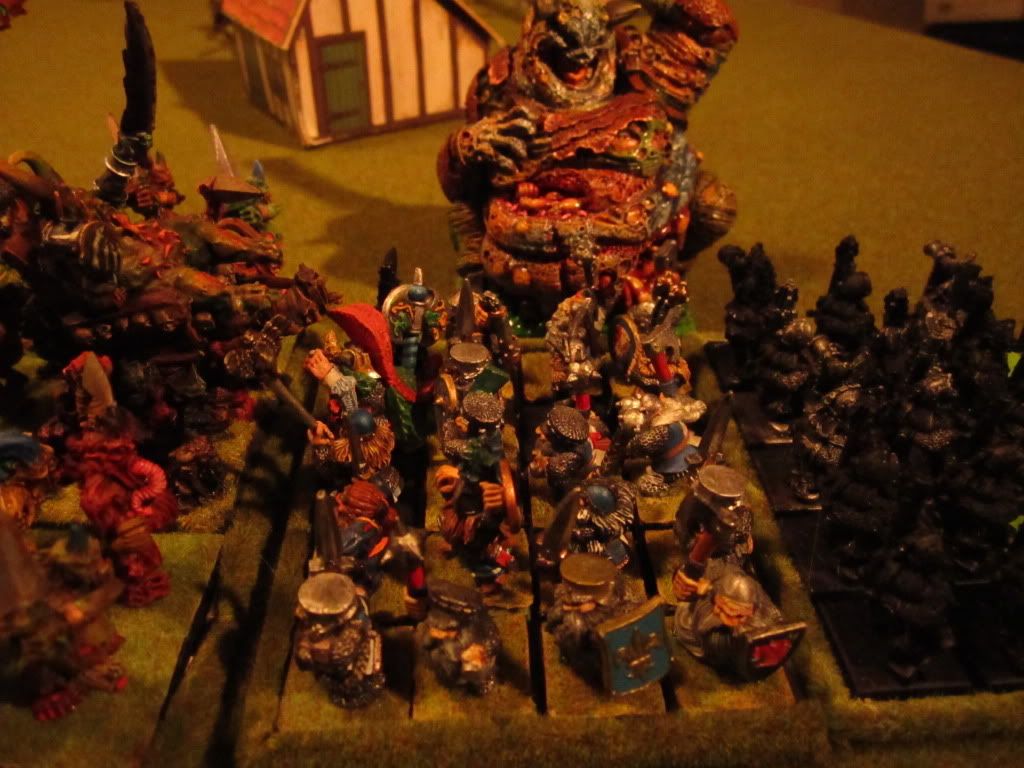 After my general had chased off the IronBreakers he naturally flanked-charge into the Warriors that were fighting my BSB. Things were starting to look surpricingly bleak for the Dwarves.
The Slayers did some reforming in order to face the new Nurgling unit bearing down on them..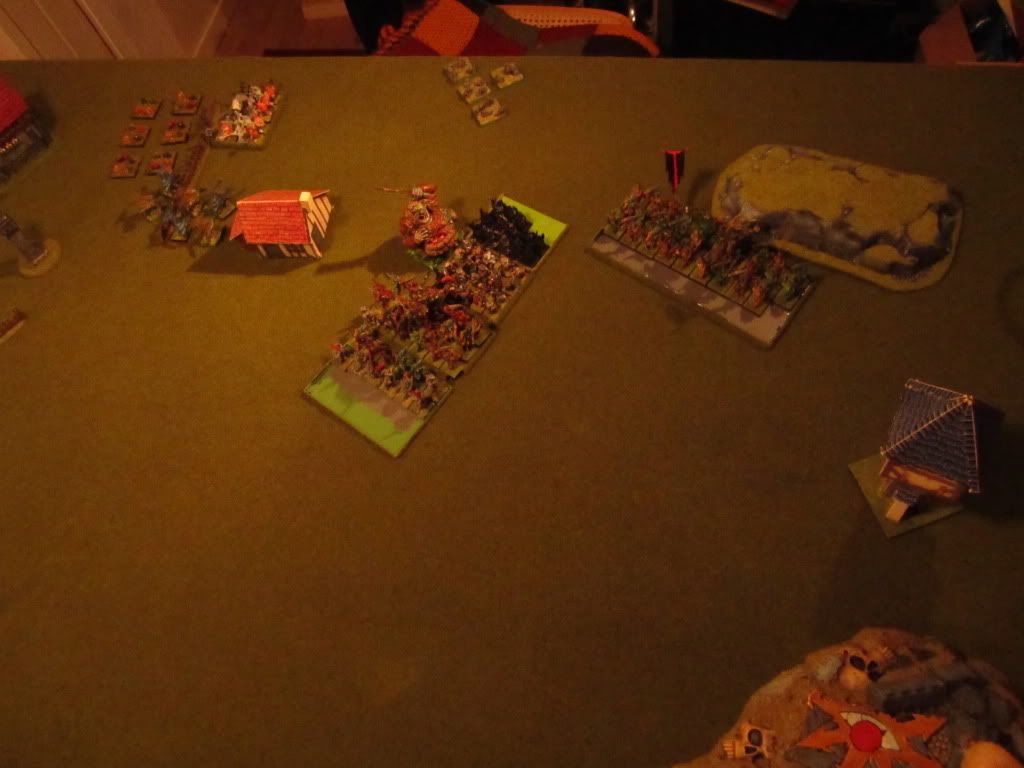 END GAME
Well my friend gave up at this point because the Warriors that had been fighting my Horde-unit had been run down, so he only had a hopelessly outnumbered block of Warriors left (with my General in their flank), and then of course his unit of Slayers who had
more
Nurglings to fight. I have to admit it seemed rather pointless to continue.
Analysis:
:
Well this certainly went better than I could ever have expected. It actually turned out to be a blessing that I forgot to include my Beasts of Nurgle (honest mistake! *lol*) but on the other hand I should have skipped those Furies because they were totally meaningless.
My opponant had some gruesome bad luck with his Warmachines, that is above all where he lost the game I think. He had flaming cannonballs and I passed 3 consecutive wardsaves on my general, he had two Organ Guns and
both
ended up being in Reserve.
It was also insanely lucky of me to kill his BSB with a couple of measly rank&file-attacks.
It was also funny that I rolled 6 dice a couple of times on Plaguewind, but he of course dispelled them all. Then I roll 6 dice on Miasma (like an idiot!) and manage to get it through
without
casting Irresistable. Quite damn lucky.
All right, now I can cross off "Mono Nurgle" from my list of MonoGod games I plan on playing over the coming months. I would have liked for this to be a 4k game, but we didn't have a whole lot of time and my friend's usually want to play
smaller
(normal?) games so I compromised with the game-size this time around. Next time, when it's time for MonoSlaanesh, it's gonna have to be a bigger game though because I have
alot
more Slaanesh stuff than I have Nurgle..
Hope you enjoyed this, despite it being a sort of erratic report I'm afraid. Like I said, I wanted to be nice to my friend for a change and not bother him with too much time spent on taking pictures. :)