Tak awoke with blurry eyes a few moments later, in no pain, which he found odd. He expected to feel a sting or something from a cure spell's unnatural healing. He sat up on his now human rump, and scratched the back of his ear with his foot. Something felt different however.....
He looked down at his feet.... to find them in human form! He gasped and looked around the room, stomping his feet on the ground to see if he was dreaming or something. No, this was no dream, he could feel the dried matt on his toes. He looked at his hands, which he found also to be human.
Okay.... I'm sitting here.... human...
he looked down to find himself unrobed as most humans often appeared
and naked.... so.... this is my body?!?! What the hell happened?!?!
Esperanza then entered, opened the door and closed it quickly, and Tak stood on all fours and charged at the old man, standing up on his human feet and pinning the old man to the wall.
" What the hell did you do to me? " he growled in an almost primal way. The young Mithran Samurai laughed and smiled warmly despite the ferocity towards her.
" What a nice way to treat someone who saved your life. Here tiger, brought you something. "
Tak stepped backwards, and the girl held out some clothing she'd brought the still naked Tak. Tak raised a brow and just looked at the clothing, and then looked at the floor.
" Oh, you don't know how to put on clothing.... Let me help you. "
Five minutes later of shuffling, and Esperanza was finally able to clothe the guy. She sighed and then laughed.
" Welll now..... that was .....That was a chore, wasn't it? "
TK blushed and laughed too. He'd never worn clothes before, having no need due to his fur, but it felt nice and warm. He liked it. Esperanza also handed TK a shield, and demonstrated how to strap it on his arm.
He copied her, and admired the decently sized shield. It was made out of fine Ebony, very strong wood with two metal circles reinforcing the shield. The lambda symbol was clearly printed in bright Crimson on the front. TK almost asked why she gave him such a nice shield, and where she'd gotten the clothing, but Esperanza spoke up faster than he could question.
" The old man outside made that armor of yours out of your previous form's fur. Odd how it didn't change with ya, but I guess it's a good thing. It's pretty damn resistant to fire too, and strong as hell. Oh, and the shield is just something I'd left here a while ago. Let's get the hell out of here. "
While they exited, TK saw himself in a mirror.......
<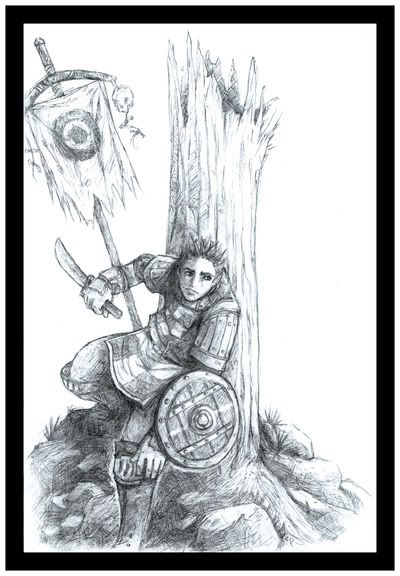 >
Not too shabby for a human
. He chuckled inwardly and followed the girl out the large stone doors of the temple.