[dohtml]<center>
<P><BR><div style="align-text: justify; font-family: arial narrow; font-size: 40px; letter-spacing: -2px; color: 8ba7b0;"> WILLIAM LOGAN OLIVER</div>
<div style="width: 425px; height: 5px; background-color: 8ba7b0;">-</div>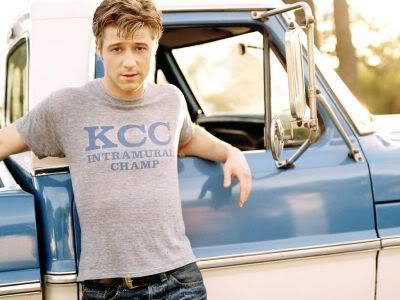 <div style="width: 425px; height: 15px; background-color: 8ba7b0; color: fff; font-family: arial; font-size: 14px; line-height: 100%; text-transform: uppercase; letter-spacing: -1px;">LIAM • TWENTYFOUR • MECHANIC/COP • RETURNEE • BEN MCKENZIE.</div><P>
<div style="width: 413px; font-family: arial; color: 000; text-align: justify; font-size: 10px; border: 3px solid #8ba7b0; padding: 3px;">
Dear Liam;
<br></br>
I'm sorry you had to find out like this. I'm sorry I wasn't strong enough to stick it out. I know you haven't been gone long—and I know I should have tried harder. It's so cliché, but really, it's me—not you. I really thought I could deal with you being overseas, I thought my friends and family would be able to get me through. But I really don't think I can do it. I'm just really sorry.
<br></br>
Love forever and ever;
Lara
<br></br>
Dear Liam;
<br></br>
I'm not sure how to say this... I'm not sure that you'll even read this, so does it matter how I say it? Probably not. Just know that I did love you, and I probably will always love you. I didn't leave you to be spiteful, and I certainly didn't leave you because I wanted to hurt you. I just... left.
<br></br>
And now, I'm back. Or will be. And I have news. You have a daughter. I named her Honora. She was born the same day you got your service medal, I thought it just fit. Honora Isabella Oliver. I gave her your last name, I knew you wouldn't mind.
<br></br>
I'm sorry it's been so long. She'll be two soon. We'll be home soon.
<br></br>
Love;
Lara
<br></br>
Dear Liam;
<br></br>
Well, I'm not sure what else to say other then I tried. I tried so hard, baby, I'm not sure you'll ever understand. You likely won't as I probably won't ever get a chance to explain. Just like I was too weak to stay committed to you, I'm too weak to stay here with you and Honora. I'm just too weak. I saw you today with Honora, just before I left. I had to see her with you, to know I did the right thing. And now, I know I did. Love her, for both of us.
<br></br>
This is goodbye.
<br></br>
Lara.
<br></br>
Liam sat in the backyard, feeding his bonfire with notes from his ex-fiancée, Lara. His daughter, his gorgeous, two and half year old daughter, Nor, was sleeping soundly inside. His daughter, who, up until six months ago he had no idea existed. She had quickly stolen his heart though, so he'd done what was right. So, he picked up and moved back to his roots, the one place he'd ran from, but the only place familiar enough to raise his child. His child, what a foreign concept.
.</div><P>
<div style="width: 425px; height: 15px; background-color: 8ba7b0; color: fff; font-family: arial; font-size: 14px; line-height: 100%; text-transform: uppercase; letter-spacing: 3px;">SCY• EST • SIX+.</div><P>
<DIV STYLE="text-align: justify; width: 425px; font-family: arial; font-size: 10px;"> Aly was standing around on the quad while people greated each other happily. She looked around for someone familiar, and not seeing anyone, she grabbed one of her duffle bags, and wandered over to the sign-in table. Taking her packages, she flipped through it to find her cabin assignment.
" hmmm...cabin one"
, she said allowed, then quickly looked around to make sure no one had heard her.
She'd been in cabin one last year, but as her eyes checked the list of this years cabinmates, she noticed that none of them we're from last year. And thankgoodness for that. Last year's cabin mates had been horrific. She hoped for better ones this year, but really, anything was better then last year.
Aly pulled her sunglasses off the top of her blonde hair and placed them perfectly on her face. She tossed her hair over her shoulder, hiked up her bag, and began walking the familiar path to cabin one. As she walked, she became more and more excited about the prospect of being at camp. Her home friends didn't understand-- summer was the only time she got to spend with them, as they went to schools on opposite ends of the country, but she couldn't spend her entire summer at home. Not when Camp Heather was an option.
She arrived at the doorstep of cabin one and threw open the door. Looking only to the right, she noted that the bunk she had last year was still available. She moved quickly towards it, and through her duffle on the top bunk, happy to not have to sleep on the bottom. Aly was pretty tall, and the bunks we're not built for her... she was constantly hitting her head, over and over and over again.
Aly sighed deeply, breathing in the familiar air. Content, She stood on the bottom bunk and unzipped her duffle, taking some thinks out and heading over to the dresser that belonged with her bed. After putting away some t-shirts, she turned around and let out a small shriek as she noticed the other girl for the first time. Putting her hand to her chest she siad
"oh my god, you scared me! make some noise lady!"
. Aly had clearly been in her own world.
</div><P><BR>
<center>
BREE @ CAUTION 2.0
</CENTER>
</center>[/dohtml]