Skin created by cloudx. Find more great skins at the IF Skin Zone.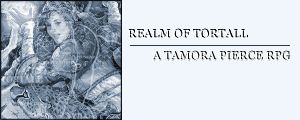 Welcome to Realm Of Tortall. We hope you enjoy your visit.


You're currently viewing our forum as a guest. This means you are limited to certain areas of the board and there are some features you can't use. If you join our community, you'll be able to access member-only sections, and use many member-only features such as customizing your profile, sending personal messages, and voting in polls. Registration is simple, fast, and completely free.


Join our community!


If you're already a member please log in to your account to access all of our features:


---
Forum
Topics
Replies
Last Post Info
Practice Grounds
Pages, squires, and knights that are in need of practice train in weapons here. The practice courts are equipped with padded armor and wooden practice weapons. Squires and knights may come here to practice; pages have daily lessons here.

11
167
Aug 21 2005, 11:19 PM
In: The Battle Axe
By: Antony of Torhelm
Palace Stables
The horses belonging to the royal palace and its denizens are located here. If your character is a page, squire, trainee, or rider, or in some other position to own a horse, you can write about them in this forum.

9
83
Aug 29 2005, 05:27 PM
In: Preparing to leave
By: Iskra Vorsonsra
Courtyards
All courtyard areas in the palace are located collectively in this forum. Perhaps your character just wants a breath of fresh air, or has some other purpose to be outside. In either case, they can come here.

12
159
Aug 22 2005, 02:20 PM
In: Antony takes a nap
By: Antony of Torhelm

Open Topic (new replies)

Open Topic (no new replies)

Hot Topic (new replies)

Hot Topic (no new replies)

Poll (new votes)

Poll (no new votes)
Locked Topic
Moved Topic
Bump Realm of Tortall in the InvisionFree directory!
Settings, characters, and all information pretaining to Tamora Pierce's books are (c) Tamora Pierce and her publishers and are not used for profit. Original characters (c) their creators. Realm of Tortall RPG (c) 2005 Sera.