Here with me
Chapter 2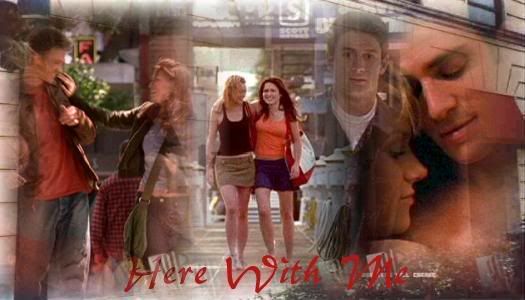 Whatever is not commonly seen is condemned as alien.
Iris Chang
Lucas drove the up the long empty road on his way back from dropping off the food. He was driving straight so he could turn around since it was a one way street.
Brook wandered around the party looking for Peyton. She was no where to be found.
Finally she came running up to Brooke. "My car is gone and I have a good idea as to who took it"
"He promised Pey!" whined Brooke mad at Nathan for never listening to them.
"Well if have to get there now! But we don't have a car!" said Peyton sighing running her hand through her curly blonde locks.
She scanned the room but none of the popular squad was around for borrowing their cars.
"I have an idea!" squealed Brooke sauntering over to Jake and Haley.
Haley's dinner had been awful and Jake's parents had given him the night off since Jenny was sleeping soundly. They looked really bored.
"Hey" said Brooke seductively. "You see my friend is stuck in the middle of no where with my car so I was wondering could you give me a lift up there?" Brooke slowly sat down on his knee and grinned.
Haley chuckled and looked away. "These popular people wanted whatever they could get!"
Peyton watched her friend amused. Brooke was the one you could always never expect to be an alien. She didn't want to be one either. She wanted a real boyfriend she could love and trust. But when you are like her you could trust no one.
"Fine" said Jake grinning at Brooke. "Do you know where no where is?"
"Follow me!" grinned Brooke back.
Jake watched her and Peyton start walking outside.
"Jake you are not leaving me here!! I am coming with!" said Haley grabbing her coat
"Fine but only because you are my best buddy" said Jake sighing. Haley clapped and giggled. They ran outside to follow Brooke to no where.
Lucas pulled in to the deserted army base and saw a familiar car. It was one he recognized to be Peyton Sawyer's car. He had always had a crush on her. He looked around and saw the one and only Nathan Scott.
"What the heck is he doing out here?" asked Lucas to himself. As much as he wanted to follow him he knew to mind is own business.
Nathan walked around the base trying to find any clues. Nothing. He threw a rock in defeat. He looked around. Something caught his eye. Behind a bush was a man in a suit watching him intently but who probably thought Nathan couldn't see him.
Nathan slowly turned his eyes all around and saw that behind all the bushes were these men. Where they following him? Where they from the FBI? He had to get out of here fast.
He back away but he felt arms snake around his waist form behind. "Your coming with us" hissed the man. Nathan struggled and licked. He managed to get away but he was surrounded. He was so far out from the main base that no one would ever no if he was kidnapped.
Why did he never listen to Peyton or Brooke. What if he exposed their secret. He saw a truck speed up and stop.
"Come on!" said the voice
Nathan had no idea who it was but got in anyway. The truck sped away as fast as it could.
Nathan looked over. It was that diner kid. The one Peyton liked. Larry?
"What are you doing following me?" asked Nathan harshly
"No I was delivering food to the other base and had to turn around I was just turning around in the field when I saw you surrounded. I didn't think you mean't for it to be like that" said Lucas.
"Whatever" said Nathan. "Mention this to anyone and you are a goner. You can drop me off at my jeep"
Lucas just nodded. Nathan looked over at him and saw something that surprised him but he knew what it was. His chest was glowing right where Peyton had healed him. The silver handprint must be there. Great going Peyton! Nathan was furious.
Lucas pulled up to Nathan's jeep and saw the whole gang was there. Weirdly so was Jake and Haley.
"Luke?" asked Haley confused but ran over and hugged him.
"You idiot!" yelped Brooke hitting him.
"It's no big deal!" said Nathan.
"We saw the FBI trucks" whispered Peyton. "We thought you were in there!"
"For trespassing?" asked Jake scared. "I hope they aren't coming for me.
"Peyton I am fine. It's not like you didn't make a mistake too" said Nathan coldly nodding towards Lucas. Only Peyton and Brooke understood. Peyton put her hands over her face.
"Is something going on her?" asked Haley
"None of your buissness goody good" mused Nathan
"Like your all that hot shot" said Haley right back at him. She rolled her eyes.
"Look let's just go now" said Jake smiling at Brooke and pulling Haley over to his car. But her and Nathan kept sending death glares to each other.
"That's my cue to leave too" said Lucas starting to walk away.
"N o you have to stay here" said Peyton quietly. The other just stood their looking mad knowing this had to be done.
Brooke looked over to the road making sure the other two were gone.
"Meet us at Nathan's apartment on elm street number six" said Peyton. "I need to see something"
Lucas was confused. "What did they want with him?"
Nathan started up the car and Brooke jumped into the back. Peyton got in to the passenger seat
They drove off in to the night leaving Lucas in his thoughts and alone.
Nathan stalked up the stairs and slammed his door.
"Thanks for holding it open" said Brooke angrily. She and Nathan were furious that Peyton was making them tell a mere stranger that they were aliens. He was sure to tell everyone.
Peyton slowly walked in. Nathan was pacing the room and Brooke was at the counter.
"Look I am sorry we have to do this but maybe this is for the best! He could help us it will be easier this way!" said Peyton.
"If that's what you need to tell yourself Peyton but I highly doubt this will help anything." Said Brooke
"We could get a better look at the handprint. We have only seen it a few times for a second" said Peyton.
There was a knock at the door.
Peyton walked over and answered the door. Lucas stood there looking nervous.
"Hey" she smiled. She opened the door and let him in.
"Take off your shirt" said Brooke not wanting to postpone anything.
"Uh what?" asked Lucas confused. What did they want him here. Brooke gave him a look so he just obliged.
He looked down at his chest and noticed the handprint for the first time. He was starting to freak out when he saw their expressions and they were more intrigued then anything else.
"Wow" said Brooke lightly touching the handprint causing it to glow even brighter.
"Take it off now Peyton" said Nathan with anger.
"Nathan! We need to look at it a while longer" said Peyton. "I am the leader here"
Lucas was seriously scared now. Leader? Handprints that glowed?
"I have to go" said Lucas grabbing his shirt and heading for the door. Nathan held up his hand and a white light blinded him.
"Nathan" hissed Brooke. This so wasn't happening!
Lucas turned around. "What is this? What's going on exactly?"
"Were um" said Peyton not knowing what to say.
"Not from around here" said Brooke trying to help her out.
"So where are you from?" asked Lucas in a whisper
They all looked at each other worried. It was now or never. They pointed up to the ceiling.
"Upstairs?" asked Lucas but then it hit him. "Oh" He started pacing. "So who else knows?"
"No one!" hissed Nathan he walked over to Lucas and pinned him to the wall. "You aren't to tell anyone understand?"
"Yeah" whispered Lucas. All of a sudden they heard a bang outside and Brooke went outside. There on the ground was Haley and Jake.
"Great! Now the whole world knows!" she yelled.
"We won't tell!" said Haley. "I guess you really know what it's like not to fit in"
"More then you will ever know" said Peyton. "Get in here" Haley and Jake obliged. Soon everyone was on the couch.
Everyone was quiet. Lucas was staring at the glowing handprint on this chest where he had been shot hours earlier.
Amazing really.
"So now I have to trust my life in these bozo's hands!" Nathan roared
"Excuse me!! I could help save your life!! I understand now about why you were worried about FBI! They are on to you!" said Haley
"I could also help in a weird sort of way" said Jake. "When my parents aren't looking after my daughter they are working at the FBI"
"Great! Now a spy knows!" said Brooke.
"They work in the department below but I know that they think there are aliens living here. I always thought it was crazy but I guess not. They have files of the ones who they think are aliens. They also have some horrible test they would try out" said Jake
"Are you trying to comfort us" asked Peyton with worry
"No I am saying I have access to keys and an access card. We could sneak in their sometime and retrive your files" said Jake
"That's not a bad idea" smiled Brooke. "Thanks"
Jake smiled back
"Enough of this gross love stuff" said Nathan gagging.
Sorry about him he is a jerk sometimes" said Peyton
"All the time actually" smirked Brooke.
Haley laughed and looked at her friend. Lucas had paled slightly and was looking like he was going to be sick.
"Luke are you okay?" asked Haley walking over to him.
"Yeah I think so" said Lucas. "Is this suppose to feel like it on fire?" As he pointed to the hand print.
"We don't really no anything about where we are from or the things are powers can do" said Peyton looking down.
"Try to heal it" said Brooke as she saw he was getting paler.
Peyton walked over to him and placed her hand just above his chest. She held it there for a long time nothing was happening.
"Maybe it heals it self. Like he just has to ride it out until it disappears" said Jake
"This isn't X-Files" deadpanned Nathan
"Where's the bathroom?" whispered Lucas. Peyton pointed to the left. Lucas got up and ran.
"Great going goldilocks you exposed our secret to three people and made one of them sick with the powers we can hardly control" said Nathan
"We can control ours just fine" said Brooke
"Maybe you two should go home so your parents don't worry and call his" said Peyton in a motherly tone.
"He lives at my house, parents aren't around so its fine" said Jake
"Will he be okay here?" asked Haley worried
"No I am going to kill him with my powers and eat him for breakfast" said Nathan angrily
Haley stared at him with tears in her eyes and stormed out.
"Thanks Jake" whispered Brooke as he walked out the door.
"No problem" said Jake. "We are here with you now. In this together"
Brooke closed the door.
"Should we stay here tonight?" asked Brooke to her sister.
"Uh" said Peyton kind of wanting to be there for Lucas. "If Nathan wants us to"
"What can you two do that I can't?" asked Nathan coldly. "Expose us? Make people sick?"
"Care" said Peyton. "Love"
"Feel compassion for people" said Brooke grabbing her purse. "My cell phone is on okay?" "I uh need to check something in the bathroom first"
Nathan looked confused. Peyton knew her sister all to well.
"She's going through his wallet for a picture of Jake so she can dream walk and see if he is vibin'" smiled Peyton
"You two are crazy" said Nathan drinking a glass of milk.
"Back!" squealed Brooke. "Later!"
Peyton shook her head and followed her sister out. She turned back
"Watch him okay?" asked Peyton quietly
Nathan sighed. Once they were gone Nathan slowly walked into his bathroom.
Lucas was hunched into a ball on the floor.
"Are you okay?" asked Nathan
"Yeah I am. I'll go now" said Lucas trying to stand up but falling.
"Alien powers are a different thing for humans completely" said Nathan. "It's probably too much for you. You're too weak. All humans are. You need to rest if you don't want to die" deadpanned Nathan. Who suddenly realized he was horrible at comforting.
Lucas just nodded and sunk back on the floor resting his eyes. Nathan shut off the light and left the door open.
This had been the longest day ever. It had been dangerous for not only him but now the three others involved in this. His Life. Brooke's Life. Peyton's life. Those were the only ones that mattered. The only ones he could care about.
So there you go! Chapter one! YAY! I don't own any thing one tree hill or Roswell!! It is totally the creators!! So enjoy and I hope you liked it!! So sorry everyone for not updating!!! Hope this was alright!!! Enjoy!! The reviews were fantastic and all made my day!!! Congrats to Kendall on her story Underneath the smiles!! It is so great!! Check it out! A must read!! Thanks! So Have a Wonderful Day!! Happy Wonderful Wednesday!!! Tons of smiles!!
Belle!