Is a landing board really necessary?
Well, after three days of hiving this swarm I watched in amazement at the organised chaos around the entrance of the hive.
It was my impression that a lot of bees appeared to be expending unneccesary energy on hovering around trying to pick their moment to return to the hive. I thought I could give them a little help by making a simple landing board, which I did and stapled it to the outside of the hive.
After further observation however, I've decided that the word landing board is a misnomer and it should be renamed. I'm therefore calling my appendage a launching board.
I have noticed that many of the exiting bees no longer block up the entrance holes and dither about whether to fly, but instead run out on to the launching board, then take to the air.
As a result, the flying bees that are returning to the hive, now seem not to excessively hover around the entrance because they have a clearer flight in.
Here's some before and after photos.
BEFORE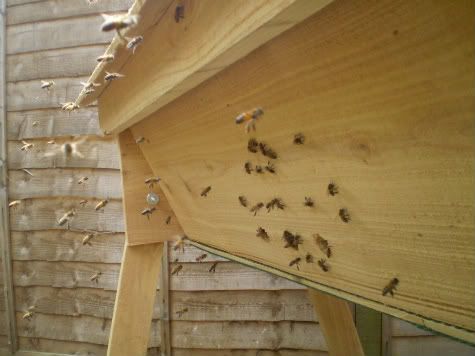 AFTER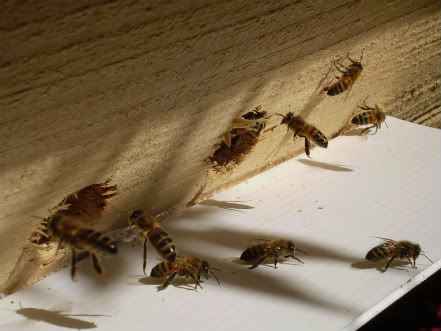 Probably not really necessary, just a bit of fun, however they use it and seem to like it. The three bees in the photo quickly exited, marched out to the edge and took off. Success!