Title: East Front Gate
Naruto Uzumaki - July 24, 2011 02:28 AM (GMT)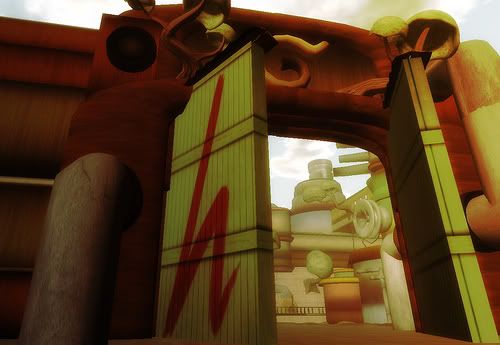 Lan Hayabusa - September 17, 2011 02:11 PM (GMT)
Late at night Lan was walking along the pathway quietly thinking of all the things he had done, he learned a new jutsu, he even gave the beautiful lno a dozen of specific flowers to state his feelings towards her even he haven't seen her since after that, it was okay though he tried his best anyway maybe she didn't feel the same for teen jounin. He wore a navy blue cloak with wild gray designs and a long matching headband making his way to escape to begin his own quest to learn more by himself alone.
Tiacaro Manato - September 23, 2011 07:13 PM (GMT)
The evening was dark and calm and seemed to be a perfect time to head out on a mission. The ANBU trainer found it odd that he was asked to accompany three Jonin and one chunin on a mission to the village hidden in the clouds.

He appeared behind Lan dressed in his normal tan cloak with the hood covering his head and the cat mask he wore proudly over his face. The purple eye remained out of sight hidden under that mask. Under his cloak was his normal black clothes and a green flak jacket.

Looking at the back of Lan, Tiacaro spoke in a soft tone "hello" he stated not sure what else to say as this jonin never had once looked for training so they didn't have much contact other than the day a cloud ninja entered the village without permission.
Inoichi Yamanaka - September 24, 2011 01:16 AM (GMT)
Inochi stood in the darkness of the shadows watching Lan and waiting for his daughter and his best friend to arive. This would be the first mission that his daughter would be on and he was actually looking forward to seeing her in action.

The night wasn't bad though he found it odd that five people would venture out in the late evening as most missions are started in the daylight and rest when they hit nightfall but he wasn't the one running this mission.

Inoichi wasn't going to say a word till he knew that the entire party was around and they were ready to start so he remained in the shadows hoping to remain unnoticed.
Ino Yamanaka - September 26, 2011 02:47 AM (GMT)
Ino walked down the dark path yawning, why didn't her dad wait on her? He could have carried her to the entrance and saved some of her energy. This was the first time she ever left for a mission at night and she wasn't happy at all. Walking up to the entrance she saw two shadows ahead seeing one was Lan and some anbu guy....girl? She never knew with them.

She jogged towards the two hoping they knew where her dad was so she could yell at him for going on ahead without her.

"Hey guys have you---Oof!" Before she knew it she had bumped into something and was flat on her butt. Looking up she saw her dad was being a creeper and lurking in the shadows. Already angry at him previously this caused her to go irate on him. "DAD WHAT THE HECK ARE YOU DOING HIDING IN THE DARK!"

There went her relaxed entrance.
Inoichi Yamanaka - September 26, 2011 03:06 AM (GMT)
"well hello there slow poke, I see you made it. Now we just need to wait for that lazy good for nothing best friend of mine to show up"
he said to Ino as he reached down to offer her a hand so she could stand up from the ground that her tiny butt had now been sitting on.
"I was simply waiting for everyone to show up. I was not hiding but now that everyone knows I am here I might as well step into the moon light"
he told her and the other two. Inoichi was now clearly visible with his normal red sleeveless vest covering his normal flack jacket and travel suit. His long blond hair was tied back into a tight ponytail.
"seems to be a good night even if its odd we are going to leave the village at night after hours"
He said and smiled at Lan giving him and Tiacaro a nod.
Shikaku Nara - September 26, 2011 03:41 AM (GMT)
"Oh man this is such a drag," Shikaku yawned as he approached the bickering father-daughter duo. He had known Inoichi since they were kids and knowing Ino since she was a baby he knew they were just alike; whiny and fussy. "The only thing that would make this any more of a drag is if my son came along. Good thing he has to stay home and tend to the deer." He yawned again not happy to be leaving during what was suppose to be his nap before bed.
Lan Hayabusa - September 27, 2011 05:10 PM (GMT)
Lan was standing a foot from the gate see a little bit of comotion from everyone Mr. Yamanaka which was kinda of a problem and last thing he wanted was him to expect and know of his feeling for Ino so the best thing to do is to clear from him, then he turned his attention to Ino who fell on her butt from bumping into her father he snickered silently trying not to laugh at her he clear his thought of who else is here. He turned to the ANBU the same guy that popped out when he was with Samui Lan lowered his eyes with a narrow look thinking of how to deal with this guy. Then he turned back to Ino and her father seeing Mr. Nara popping out he wasn't late or anything since it was...well late. Tightening his fists kinda he was getting annoyed for a second he was supposed to go alone "Um....you all know Im leaving the village right, and this is not a mission right?" he waved his fingers to them in a questionable matter "You all know Im doing this to my own accord to find myself, for better training right?" he asked explaining his quest
Tiacaro Manato - September 28, 2011 08:17 PM (GMT)
Tiacaro was quite offended that the man didn't address him and showed a lot of disrespect when he had said hello. He looked at the man as he examined the party that was assigned by Tsunade herself to into the land of lightning and the village hidden in the clouds.

"It does seem as someone doesn't know this is a mission!" Tiacaro spoke with his grimace hidden under his mask. Finally seeing how this pampas youthful man was disrespecting his elders in such a way. Each on of the Jonin who were on this mission were very high up in the top of the Leaf Village society and anyone would be honored to have one of them, let alone all of them accompany them.

"You do know that each of us has been assigned by Tsunade to go with you, don't you?" he spoke with a harsh tone. The man looked right at him through his different colored eyes. "You do know that if the four of us do not go than you will be considered a rouge ninja? he added.

Looking directly at Lan he added "and we have to hunt down and rogue ninja and bring them back to the village by any means necessary and if they survive would surely spend awhile incarcerated and questioned by Ibiki." Tiacaro said than folding his arms as if he was a Hyuga.

"Of course if you wish to go to the village hidden in the clouds by yourself in this late of night without any of the four who were assigned to you than by all means go. We don't need to leave with you." He told him as he knew that they would have to follow him but at least he could get a head start. "just say the word and all four of us will simply turn our backs and not see you leave" he added not happy with this young man and his poor attitude.
Inoichi Yamanaka - September 29, 2011 08:03 AM (GMT)
Iniochi the mind reading part of the same division that Ibiki was in and who all the ANBU turned to when they need his special skills looked at Lan as he told them he wanted to go off alone and not be part of this whole group that had been asked to go to the Land of lightning.
Iniochi knew full hand that there was a lot of trouble at this time. Akatsuki, missing Nin and supporters of all were on the rampage. Also with the war coming every single village was at tension and did not trust any outsiders so one guy from the leaf showing up would be almost certain to not even be allowed in. Especially after Sasuke attacked them and Killer Bee.
"Look Lan, you may not want any of us along for the ride but lets face reality, there is a war coming. It's very dangerous now and to be out alone with nobody to watch your back is not a very wise choice to make."
He told Lan as he thought about what Tiacaro had said. It was all very true and as much as it would suck to be out at this time with all that is going on and to trust that Tsunade after just waking up from a coma would allow two of her top generals to go on this mission was a surprise.
"We can't stop you if you want to go alone but we will catch you and Tiacaro is completely correct in what he said"
Inoichi said not sure what Lan wanted to do next or what he would say.
Ino Yamanaka - September 29, 2011 08:15 AM (GMT)
Accepting her dad's help she stood up and dusted the dirt off her tiny purple outfit. The wind blew and nipped at her. She should have thought about wearing something a little warmer leaving at night. She was about to complain that her dad should give up his jacket to her but seeing Shikaku walk up she thought it be a better idea to ask him for one. He was like an uncle to her and she knew he was so lazy he wouldn't even put up a fight.

Ino didn't even have a chance to ask him for it as Lan went on about this mission not being a mission. Hearing the obvious offense from her dad and the anbu operative she was almost afraid to speak up. She liked to whine and complain to her dad but when he took that kind of tone when working even she didn't mess with him.

Shikaku being the closest to her she whispered "Does this mean we can go home...?"
Shikaku Nara - September 29, 2011 08:52 AM (GMT)
Shikaku was standing off away from Tiacaro and Lan beside Ino with Inoichi beside her. He wasn't the type to get offended when young punks said things, he was one himself at a time. But he was usually not one to say his thoughts out loud. He had a million things to worry about with this war going on and him being the Head Jounin and the master mind behind the whole army's strategy when it came to their defense after the Pein Invasion. The last thing he was concerned about was this romantic mission of someone finding them self but he always did mission Lady Tsunade asked of him and would never think to turn any of her requests down.

Though he wasn't ready to jump the kid he was now wide awake staring at his long-time teammate and the highly respected anbu member Tiacaro. If you offended these two, you know you're doing something very wrong.

Shikaku almost laughed when Ino asked if they could go home, he appreciated she had a lazy side to her, probably rubbed off from hanging around Shikamaru over the years. "I don't know but I wouldn't object if this mission came to an abrupt end..." he trailed off thinking about the joy of sleeping in his bed.
Lan Hayabusa - September 29, 2011 03:29 PM (GMT)
Lan stared at everyone with his backpack he raised a eyebrow seeing these guys seem offended somehow which was "Look if you wanna sign me up for the missing ninja club thats fine by me and somewhat pointless at the same time I tend to go to other villages at somepoint but I don't know where....and plus this is too much company to have" he said talking to the ANBU showing him all the rest of the ninja near them. "I tend to go alone if you wanna follow be my guest but Im not responsible for your safety for whatever comes my way" he said as he pulled his headband strips tightly ready to roll out like he suppose to all he wanted was learn how to wield this so called senju latent power. "Now am I able to pass now?" he shrugged wondering if this ANBU guy was gonna be a problem.
Tiacaro Manato - September 29, 2011 05:11 PM (GMT)
Tiacaro tilted his head slightly to the left and look past Lan who seemed to now have his back to the half opened gate. With his eye, he could see well past the gate and deep into the forest. To the luck of the rest of them, there was no sign of any vagabonds or vagrants around.

"You are free to pass us but if you wish to leave the village you might want to turn around" Tiacaro said as he knew passing the party assigned to accompany this man in his mission would lead him to the heart of the village and not out of it.

"Basically I just want to know if you wish for us to leave with you or if we should go back home and get a goods night rest before we track down a missing nin." Tiacaro stated. He knew where Tsunade was at this point in the night and could feel her presents so if Lan wished to go, the others would go to bed and rest for the night and after he spoke with Tsunade they would head off in the morning. Tracking a ninja with his eye and training wouldn't take long if he didn't stay on the path he had wanted to travel.
Inoichi Yamanaka - September 29, 2011 05:26 PM (GMT)
Inoichi shook his head.
"You know it might have been wise to not request a party if you wanted to go on this mission alone. We are not expendable pawns. You have the ANBU trainer here! He could be used to train Genin, Chunin, and Jonin in new jutsu so they are better prepared for the war. You have the commander of our defenses here! He could be thinking up strategies for the war. You have one of the top medical students and the next in line to take over my position with the interrogation division. Then there is myself, I need to question and a new inmate and see what she knows of the whole Orochimaru and Akatsuki situation. I planned on bringing Ino along to learn as well so each of us have other things on our plate that could be a better use of our talents but we are here for you!"
he told him.
The man was not happy with Lan who got everyone out this late at night and now acts as if he didn't want them to come with him. He knew for a fact that Shikaku would have been sleeping and Ino had closed the shop early to catch a good rest for this mission. Nobody would be happy when they had to chase him down and drag him kicking and screaming back to the village. This nice peaceful mission was slowly turning into a long painful one.
Ino Yamanaka - September 29, 2011 05:35 PM (GMT)
Ino watched the events unfold in front of her. This was not a good first out-of-village mission with her dad. Hearing her father speak she agreed with him that she could be out learning more about her clan's techniques considering she would be taking over for him one day. Not to mention all the other members being very important people who had things to do. She felt bad all this trouble was being started and she hoped they could resolve something fast, whether it be going home and relaxing or setting out on this mission.
Shikaku Nara - September 29, 2011 09:16 PM (GMT)
Shikaku looked on in question. Was this kid really saying he wanted to go alone and was going to go without them? He didn't really want to chase down this punk tomorrow morning but then again that would be a lot shorter than going on the mission.

"Whatever you're gonna do kid, choose now so I can know whether to prepare for my nap or not." Shikaku shrugged. He knew he didn't have to intimidate this kid. His teammate and Tiacaro were doing a fine job on their own. He just hoped Ino didn't jump in and start yelling or cause a scene. She was known to be a bit of a loudmouth.
Lan Hayabusa - September 30, 2011 05:50 PM (GMT)
Lan walked slowly towards the gate sighing "Everybody go home, this is all mine and plus l rather do things my way anyway" he said as he didn't need lectures or orders from high class ninja from his own village. "Later..." he said walking through the slight opening of the gat heading up the dirt pathway to where ever he is headed into the night.
Tiacaro Manato - October 1, 2011 01:52 AM (GMT)
Tiacaro watched him go. It wasn't any of their responsibility to stop him and even if they tried would it really do any good? He made his own choices and with it he will have to lay in.

Turning to the group, he shrugged his shoulders. "I can see Tsunade and she is actually still coherent so I should talk to her soon" he told the group as he stood.
Inoichi Yamanaka - October 1, 2011 02:04 AM (GMT)
Watching the young man storm off and tell everyone to go home almost made Inoichi laugh but this was a serious situation and he couldn't let on how funny and immature the man was.
Listening to Tiacaro talk, Inoichi nodded.
"Well than go and talk to her before she gets her normal way"
he told him knowing well that she would soon be too drunk to care what Lan did.
Turning to the other two, he spoke as he took command of this part. He might not be the smartest but they had all the parts they needed for a perfect hunting group.
"well than let us all go home and have a good nights sleep. Unless Tiacaro comes to find you in the night, lets meet here say 10 am and start off after him. That should give him a good head start and we can make the most of this last trip out before the war starts. We have Tiacaro as the tracker, Ino as the medical and minus the Cho we have the best combo in the business"
he joked about the last part but he was confident in the whole Ino-shika-cho combo that had been working for years.
So with a smile on his face Inoichi added
"so than what I am saying is go home and get some sleep and see you in the morning"
he told them as he was ready for a good nights sleep and hoped his daughter would take up this chance as well and not start to fool around or sneak out again.
Ino Yamanaka - October 1, 2011 02:12 AM (GMT)
Watching Lan leave she sighed deeply not liking how this turned out. She hated tracking down missing nin, with Sasuke being one she remembers the bad memories it brought. Not to mention a missing nin killed her beloved sensei not too long ago. But orders were orders and after her father and Tiacaro had spoken it was decided. Even though a mission to the Cloud sounded long and tedious she had met the jounin before and he seemed like a really nice guy. Though she wondered if he didn't want to go because she and her father were there. She did drop his flowers and he refused to accept them...

Deciding to lighten up the mood she turned to her dad and held out her arms. "Carry me home." she deadpanned looking at him. If she wasted her night prepping herself for a mission she didn't even have to attend she better get a piggyback ride home to make up for it all.
Shikaku Nara - October 3, 2011 04:05 AM (GMT)
Shikaku nodded at the orders to go home and sleep (and to meet up the next morning but he wasn't as happy about that). He was definitely on that. His family would be wondering why he was crawling back home but it was better than staying gone for weeks on this mission. "Understood." he nodded to his teammate Inoichi and to Tiacaro. He yawned about to turn and head out when he heard Ino demanding her father carry her home. He laughed and turned walking away. For the sake of his sanity of being related to Inoichi and his son's he really hoped he never fooled around with her again. Shikamaru really needed a bossy woman that could lead him and enjoy it. Ino just wasn't the type. "That's what happens when you have a girl," he said out loud waving his hand bye.
Tiacaro Manato - October 3, 2011 06:36 AM (GMT)
Tiacaro nodded to the group and sank into the ground using the mayfly technique he had learned from a grass ninja, vanishing from sight. He reappeared outside of a bar and walked in causing almost everyone to look at him as he was still in his ANBU mask.

After speaking with Tsunade, they both agreed that Inoichi's plan was the best course of action to take. Tiacaro went back to his apartment and rested for a moment as he waited for morning to arrive.
Inoichi Yamanaka - October 4, 2011 01:30 PM (GMT)
Inoichi laughed at his daughter and the way she stood with her arms out.
"well aren't we bossy tonight?"
he said as he looked around and everyone had gone. He shrugged
"hop on but do expect this too much, my old back can't take it"
he told her. With her on board he started for home.
Shikaku Nara - October 6, 2011 05:23 PM (GMT)
Shikaku yawned walking up to the same spot as last night. As he moved closer and closer to the entrance he noticed no one was there. "I'm the first here, really?" he looked around. He sighed knowing he was right when his wife sent him out this early that he'd be the only one here. "Well, guess I'll just sit here and wait," he said to himself as he leaned his head on the back of the post closing his eyes.
Tiacaro Manato - October 6, 2011 06:16 PM (GMT)
Tiacaro arrived next. He was surprised to see Shikaku already there and ready to go. "Hello" Tiacaro said as he walked up to the gate.

He looked around for a second knowing that most of the party was on the way here and at not too far of a distance. "much better to travel in the morning than at night" he said as he stretched and heard his movable bones crack slightly.

After his conversation with Tsunade, she was not happy with Lan and ordered them to bring him back quickly and alive so she could have a private one on one talk with him. "Tsunade wants us to complete this mission quickly" he told him and actually felt bad for Lan knowing how the Hokage gets.
Inoichi Yamanaka - October 6, 2011 06:30 PM (GMT)
After waking his little princess from her slumber and getting ready again for the trip, Inoichi called for a hawk and wrote out a message to Zonzo who he knew was in the Cloud filing paper work at this time. After attaching the message firmly to the leg of the hawk, he sent it off and watched it fly in a more circular pattern before taking off in the direction of the land of lightning.
He than turned to look and see if his daughter was ready.
"come on we will be the last ones there"
he told her as he hurried out the door and down the street. If that lazy bum Shikaku beat him there, he knew he would never hear the end of it.
As the two came around the corner there stood both Tiacaro and Shikaku all ready to go. He frowned as he heard the part of the conversation about Tsunade and actually cringed a little at her wanting some one on one time. That was almost worse than Ibiki.
"sorry were late"
he told them as he waved feeling a little bead of sweat drip down his forehead.
"I sent word to Zonzo in the Cloud to watch for Lan so we can head off when everyone is ready"
he said as he stood now next to the others.
Ino Yamanaka - October 7, 2011 03:57 AM (GMT)
Ino yawned following behind her dad "I'm coming, there's no way Shikaku will beat us there." She said looking up ahead seeing Shikaku was already there asleep. "Oh..." she tear dropped walking up behind her dad. She nodded and paid attention as the senior ninja spoke with each other about the details of the mission. She stayed silent waiting for any specific orders of her.
Inoichi Yamanaka - October 7, 2011 10:14 PM (GMT)
Inoichi looks around and figures he needs to take command of the situation.
"Alright we move out now if everyone is ready! Tiacaro take the lead and track him. Shikaku should go second in the marching order with Ino and myself taking the rear. Shikaku think up a strategy for us to use when we do encounter Lan so that we can take him down with minimal effort. Ino simply watch and learn and also prepare for your medical training if anyone is hurt or needs attention. That is your first priority in this mission. So if we are ready lets go"
he told the group as he watched them get into line.
Tiacaro Manato - October 7, 2011 10:18 PM (GMT)
Tiacaro nodded and listened to what Inoichi had said. Looking through his eye he could see the path that Lan had travelled. With a quick summoning, a dog appeared in the smoke and took off in that direction. With the communication still linked through his eye to eye, Tiacaro could tell where it was going and he moved forward waiting for the others to follow.

"It will not be long before we find him" He told the group.
Ino Yamanaka - October 8, 2011 03:58 AM (GMT)
Ino nodded listening to her father as he took charge. She was ready to leave on their command.
Shikaku Nara - October 8, 2011 04:57 AM (GMT)
"You got it," Shikaku nodded along with everyone already thinking of different strategies on how to catch this rookie jounin. Though he had a feeling it wouldn't be that hard. "I have a feeling he's going to get himself into trouble before we can even catch up..." Shikaku added but thought on it no more, now turning his thoughts to the goal ahead.
Neji Hyuga - October 26, 2011 11:45 PM (GMT)
Strangely enough after he had released Lee and told him to get ready, Neji was expecting Lee and himself to be the last ones at the gate but he was the first one to arrive.

A recon mission to a cave that was abandon for maybe years and was on the land of fire wasn't far to travel so rations for a days worth should be all they need. Neji took along just what he needed for this trip.

Standing with his arms folded, he waited for the rest to arrive. He was simply dressed in his normal long off white robe with his long hair tied back and his headband covering his curse mark on his forehead. He was ready to go on this mission.


Tiacaro Manato - October 27, 2011 05:03 AM (GMT)
Tiacaro walked up to Neji handing him the scroll he was supposed to have before Naruto came busting in.
"here this is the scroll for the mission sorry I didn't give it too you sooner"
he told him.
Tiacaro knew that Naruto would show up soon and with that he would be in charge of protecting Naruto from harm and watching him. This was a task that wouldn't be easy to do.
Dressed in his normal hooded tan cloak and cat mask that covered his face, long dark hair and dark clothing, Tiacaro stood waiting for the other to go on this mission.
Rock Lee - October 27, 2011 05:13 AM (GMT)
Lee arrived in a very excited mood. He was going on a mission with Neji and with Naruto and he knew it would be full of excitement even if it was only a D or C ranked mission.
"Neji I am ready for this let us go and enjoy our youthful mission!"
Lee said as he was excited to be part of this. He stood with his normal vest that a chunin wore and his green spandex suit with his orange leg warmers. Nothing out of the ordinary for him as he was ready to go.
Naruto Uzumaki - October 27, 2011 08:42 AM (GMT)
It was a brilliant day with a nice warm sun and a few clouds of white color that showed no signs of rain in any form as the blond boy walked down the street in the direction of the east entrance.
With his hands folded behind his head, he wasn't sure how to feel as everyone praised him now and called him hero. He just was doing what he believed and following his own ninja way but now the people who once shunned him were calling his name and cheering for him as he walked down the street. Was it true now? Once Naruto the number one knuckle head ninja of the leaf is now Naruto the hero and savior of the leaf.
He chuckled to himself as he continued to walk and waved to the small children who called out to him. It was true but if he was going to be a hero than he had a lot more tasks to do and that main one was bringing back Sasuke Uchiha.
That word back didn't mean to the leaf but it meant from the darkness he had fallen. Walking around the corner he could smell the fresh baked breads and jams that were cooling for the day and the mouth watering small of the ramen. A smell and taste one would remember for the rest of their life.
Than now within sight stood the men he was about to meet. Rock Lee, Neji Hyuga and the ANBU Tiacaro all waiting for him and another. Again he placed his hands behind his head and walked.
Not feeling he needed much, Naruto only placed the few things he felt he would need and stuffed it all in his paessck. The boy was dressed in his current suit an orange one with black trim over the neck and shoulders and down the front of him. This is covered mostly by a long red robe with black flames on the bottom facing upward. He still carries his tape around his right leg as he approaches closer to the group he called to them.
"hey guys, what are we doing standing around lets get going"
he said in a calm manner as he walks up to everyone and stops. Looking around with a warm smile, Naruto is glad to be getting out for one more mission before he heads off to the land of lighting
Karaot Muzaki - October 27, 2011 09:40 AM (GMT)
" Hold it right there don't you seem to be forgetting I'm part of this mission too" A voice said coming from above the gate where Karaot Muzaki was standing folding his arms as he looked down at the group with a smirk on his face. " Jeez that Naruto is going to be a handful on this mission I really hope he doesn't screw up, Sure he maybe the hero of the leaf but his immature self-confidence will probaly s cost us this mission. But yet again I hope I'm wrong I really do" Karaot thought to himself before jumping down from the top of the gate Joining Neji Hyuga, Naruto Uzumaki, Rock Lee and Ticaro Manato. " So Neji is this the team or is there still others we have you wait for ?". Karaot asked in a curious tone.
Neji Hyuga - October 28, 2011 12:28 AM (GMT)
"We would not go with out you Karaot" Neji said as he watched Karaot land before the party. Looking over the group, he thought for a moment what would be a good strength for this team.

There was no Kiba or Shino to feel heighten senses and take the lead so he put thought into this. His eyes could see around almost completely around so it makes sense to be in the rear. Naruto had the senses they were needed but no need to waste it all on his limited new ability. Lee was a strong fighter but not the perceptive type and Karaot was not either as far as probing. The ANBU he didn't know much about as he never trained with him being a Jonin already and not needing to learn much more jutsu.

"Ok I got the order we will go in. Tiacaro you will take the lead. You should have more of a knowledge of where this cave is from the report, Lee you will follow him. Karaot behind Lee and Naruto behind Karaot with me taking up the rear. This give us the most protection as in case of attacks. We must not forget that the country is not at ease and bandits or worse are out in a mass at this current time." He said as he pointed to the forest before them.

"Now let us go so that we may report our findings" He added as he was sure this would be the best marching order for this mission.

***
Posting order for the forest our next stop:

1. Tiacaro
2. Lee
3. Karaot
4. Naruto
5. Neji

(if Kago joins we will switch things around when it happens and order will change in the cave)
Tiacaro Manato - October 28, 2011 07:42 PM (GMT)
Tiacaro nodded, he knew that he was actually a good choice to lead the way and if Naruto got too jumpy and ran ahead he would see it and halt it.

Turning and starting off, Tiacaro walked in front of the group as he took the lead in the direction of the forest.
Rock Lee - October 28, 2011 07:45 PM (GMT)
Rock Lee stands up straight as he listens to Neji talk about the mission. Lee was ready to go and as Tiacaro started off, Lee followed right behind him.