Title: Arie Tamarein
Description: Witch
Arie Tamarein - February 19, 2011 04:30 AM (GMT)
ARIE
TAMAREIN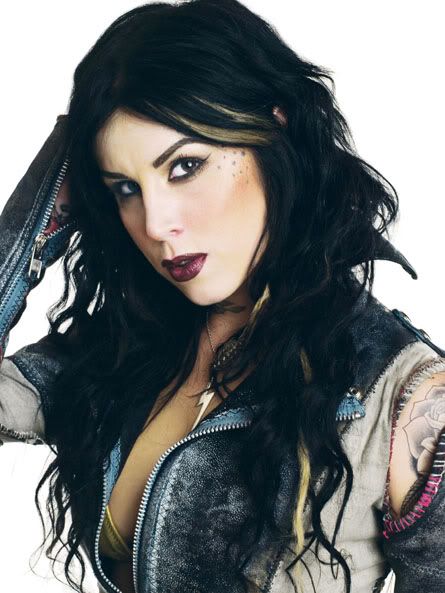 ' Eight words the Witches Rede fulfill:
If it Harms none, Do what Thou Will! '
We know a little about a lot of things
Just enough to make us dangerous
FULL NAME: Arie Tamarein
AGE: 35
NICKNAMES: Arie
RACE: White
SEXUALITY: Straight
MEMBER GROUP: Human
CANON OR ORIGINAL?: Original

No, they were doing our job
Only they don't know they suck at it
HEIGHT: 5'7"
WEIGHT: 140 lbs
BUILD: Athletic but not bulky
HAIR COLOUR: Black but it varies
EYE COLOUR: Hazel
TATTOOS & PIERCINGS: MANY tattoo's but only ears pierced
PLAY-BY: Kat Von D

You fudging touch me again
I'll fudging kill ya!
LIKES:
Kids
Animals
Coke
Vintage Dodge Pick up Trucks
DISLIKES:
Liars
People that hurt kids or animals
Demons
Cheats
STRENGTHS:
Arie can control the wind
Her never give in or give up attitude
Her Craft
WEAKNESSES:
Fire ~ She's afraid of it
Kids and animals
She tends to let her heart lead her more then her brain
FEARS:OTHER:
You better take care of that car
Or I swear, I'll haunt your ass

POWERS: Arie's element is Air. She has enough control to create an EF2 tornado. It takes all her energy to do so she only does it in an extreme emergency. She also has a dagger that was blessed by her High Priestess. It was given to her when she left her coven. The dagger will vibrate when demons or other negative Supernatural beings are near. It also keeps Arie's aim true when she uses it to defend herself or someone/something in danger.
MOTHER: Deceased
FATHER: Deceased
SIBLINGS: Deceased
PARTNER: None
CHILDREN: None
OTHER: None
OVERALL HISTORY: Arie was born into a typical middle class mid-western family in a small town in Wisconsin. Her mother stayed at home to raise her and her little sister Brigid. Her father worked in the saw mill in town and they lived on a small farm. Her life was pretty typical until Arie read a book about Witchcraft. Green witchcraft to be exact. She was hooked.

At the age of 17 her parents found out about Arie's interests and went ballistic. They took all her craft belongings and burned them in front of her and forbade her to practice again. With the blessings of her little sister, Arie ran away after she graduated high school and went to California and joined a small coven.

After 10 years she "graduated" and with the blessing of the High Priestess; Arie left to go home and show her parents that witchcraft was not bad. Upon returning home she found her parents and little sister dead in the house. All the doors and windows were locked from the inside. The police called it a burglary gone wrong but Arie knew better. She vowed then and there to find the Demon(s) who killed her family and send them back to Hell.

You know, I love the guy
But I swear, he writes like freaking Yoda
NICKNAME: Arie
AGE: Old enough to be your momma
DESIRED MEMBER TITLE: Hedge Witch
EXPERIENCE: 5 years online
HOW DID YOU FIND US?: Ad over at End of The Age
PASSWORD: Weekend At Bobby's
RP SAMPLE: 13 years.

That's how long it had been since she'd seen Sam Winchester. The day they'd buried Dean was the last time she'd laid eyes on him but, here he stood in her doorway looking just as lost and broken as he'd looked that day at the cemetery.

His head was bowed as he looked at her thru his shaggy bangs. "Arie….""

What do you want Sam." No hello, no how ya doing. She had no time or patience for him.

Swallowing several times, he lifted his head and looked her in the eye. "I…I need your help to bring Dean back. Please Arie. Please help me bring my brother back." His eyes were full of unshed tears. Arie stood rooted in place for a moment. "Are you kidding me? This is some kind of a joke right?" Shaking her head, Arie looked him in the eye. "Go away Sam."

Taking a step back, she started to close the door. Sam saw an opening and blocked the door with his boot. "No! Dayton and Alexis are hunting now. Ivy and Vi are trapped in hell and those kids won't stand a chance. Please Arie, I'm begging you. Please help me bring my brother back." Without a word, she stepped back and let him inside.

Looking around the room Sam noticed that if you didn't know what you were looking for, you never would have known that Arie was a witch. Moving to the couch, he spotted a small picture in a wooden frame with a devil's trap on the top and a pentacle on the bottom. Always the protector, even with Dean gone she was protecting him. It was a picture of Dean on the hood of his baby, the Impala. "I took that not long before…well….before." Arie sat down on the couch and tucked her legs up under her. "Sit down Sam. You look like Hell." She made no apologies for her words. She was not a huge fan of Sam Winchester.

Sitting in an arm chair across from Arie, Sam rested his arms on his knees and looked at the floor. "I thought I could do it alone. I tried and I can't do it. Not by myself. I need help your help Arie." He knew he was babbling but, if he stopped he'd fall apart and that was not the Winchester way.

"Sam….Sam!! Stop. Please." Taking a deep breath she locked eyes with him. "You want me to help you bring Dean back? Is that what you're saying? After everything that has happened. After all the people who have suffered and have been lost. You want me of all people to help YOU?!?!? Because of YOU he's gone Sam. Because of you and that stupid, Winchester, self sacrificial bullshit. You killed him Sam. As if you'd used your own hands. You killed him." She'd not really thought about it all these years, the pain of losing Dean. Of knowing he'd killed himself over Sam. For the longest time she'd felt as if she'd let him down. That she wasn't there for him. Arie blamed herself. "I have a life Sam. I have a family and I have Lucian. What you are asking is much more complicated then borrowing my car." Standing up, Arie began to pace the room. "It took me years to come to grips over what happened. Lucian helped me and I owe him so much. For you to come here after all this time and bring up the past like this is not fair Sam. It's not fair at all."

On the verge of tears, Sam stood up and shoved his hands in his pockets. "Arie. Please. I'm sorry but, you're the only one I can go to. You helped him, he trusted you, and he'll trust you again. He'll hear you and listen to you." At this point he didn't have anything to lose. "You loved him and I know he loved you."

Whirling around, Arie raised her left hand and a large crystal vase began to wobble on the hearth. One flick of her finger and it would slam into the back of Sam's head. "That was low Sam. Yes, I loved your brother and a part of me always will but, I have a new life that I've forged here. Besides, you're brother will not like my choice of partners now anyway and neither will you but, I have nothing to justify to either of you Winchester men."

James - February 19, 2011 11:30 PM (GMT)
* Hosted for free by InvisionFree