This is a map based on the Blessed Isle, the huge island at the centre of Creation in the White Wolf game Exalted. I thought it was a world that would lend itself well to Dominions, and the Isle is a reasonable size for a good map. This is 75 land + 11 water provinces. The water is very spread out, but there are several islands unaccessible from the mainlands for a water player to snaffle and avoid such a bad domkill risk. I've never played water nations though so I dunno how doable that is.
Let me know any comments you have or if you use the map, and
if
when you find broken province links &cetera.
Download available
here
.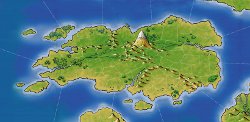 This version is fairly vanilla with no fixed starts or anything.
I intend to make a couple of other versions in due course: fixed starts, NI, and maybe a sort of scenario one where the feuding houses of the crumbling Realm are subjected to waves of invaders in the form of the Bull of the North, Mask of Winters, Locust Crusade and basically every other apocalyptic event that White Wolf feels like throwing at its characters for some reason.
The art is mainly from the official map, with some changes by
Stephenl
and by me. Province names and types were taken with a nigh-autistic level of detail from printed supplements.