Title: ` x men; dreams end }
laurie - xde mod - April 30, 2008 12:01 AM (GMT)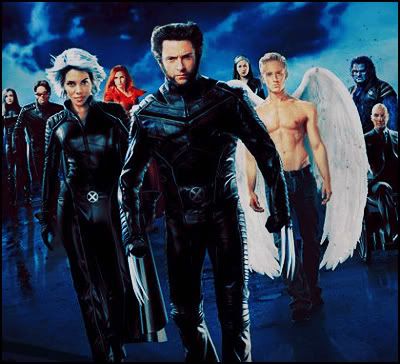 `` x men; dreams end }


'..for men were never meant to fly,
with wings across the velvet sky,
or read the thoughts of fellow man,
or do the things that mutants can…'

And that was just a sample of the 'purity singers', a group of anti-mutant singers in the ever increasing anti-mutant group called the Purifiers. Following the tragic events on Alcatraz Island last May, in which over a hundred U.S troops were killed by a group of mutant terrorists, anti-mutant tension has risen greatly across the United States. Coupled with the media frenzy over ex-mutant terrorist Raven Darkholme's trial several leading politicians have been calling for the re-introduction of the Mutant Registration Act originally petitioned by Senator John Kelly who has been missing for over a year. His disappearance has been widely speculated to be linked to the "Brotherhood of Mutants" who made themselves known prior to the incidents in Alcatraz.

In other news, stocks in Worthington Industries have fallen..."



-- Extract from CNN News 07-10-08



Following the deaths of their fellow X-Men and friends, the X-Men have become more of a school than a superhero team. Storm has taken on the pressure of running the school and is stressed, although Wolverine has been attempting to lighten the load whenever possible. Rogue, believing her powers finally gone, left the mansion and has gone seeing the rest of America as she always dreamed, not knowing how close her powers are to breaking out. Bobby, heartbroken after Rogue leaving has fallen into a depressed state, his ice form on permanently. Shadowcat has been trying to connect with Bobby but he keeps pushing her away. Beast visits the mansion whenever possible, caught up with his job as representative of the US to the UN. Colossus has returned to his native Russia upon hearing his sister Illyana has fallen ill.
The Brotherhood has fallen on hard times. After Magneto foolishly sacrificed most of his followers at Alcatraz he only has a handful of mutants at his disposable. He has become infatuated over Mystiques trial and is contemplating breaking her out of prison once her powers return.

Professor Charles Xavier died, but his consciousness didn't. As he tried to send his consciousness to another body the Phoenix's power disrupted it and it tore itself apart, sending itself towards people it felt comfort with – Magneto, Moira MacTaggert and the X-Men. However, apart from Moira, none of them know of what has happened. Moira is trying desperately to find the pieces of Charles consciousness and bring back to the Charles she once knew. The Purifiers have made themselves known as a media persona across the world and built up a reputable name for themselves. However now that it is trusted by the world around it, it will begin its retribution on mutants. The Purifiers had been building itself up for years, ever since mutant kind came into existence. They believe them "hellspawn" sent to destroy the Eden we live in. Until now however they have been unable to cause mutants too much damage, instead working with the facility formerly known as Weapon X in order to create anti-mutant weapons by empowering humans. With Weapon X's foremost scientist and commander, William Stryker dead, the Purifiers have prepared themselves for war under the leadership of Reverend Matthew Risman.

With no heroes left and a group of empowered humans prepared to wipe mutant kind out, what will we do?

* Hosted for free by InvisionFree