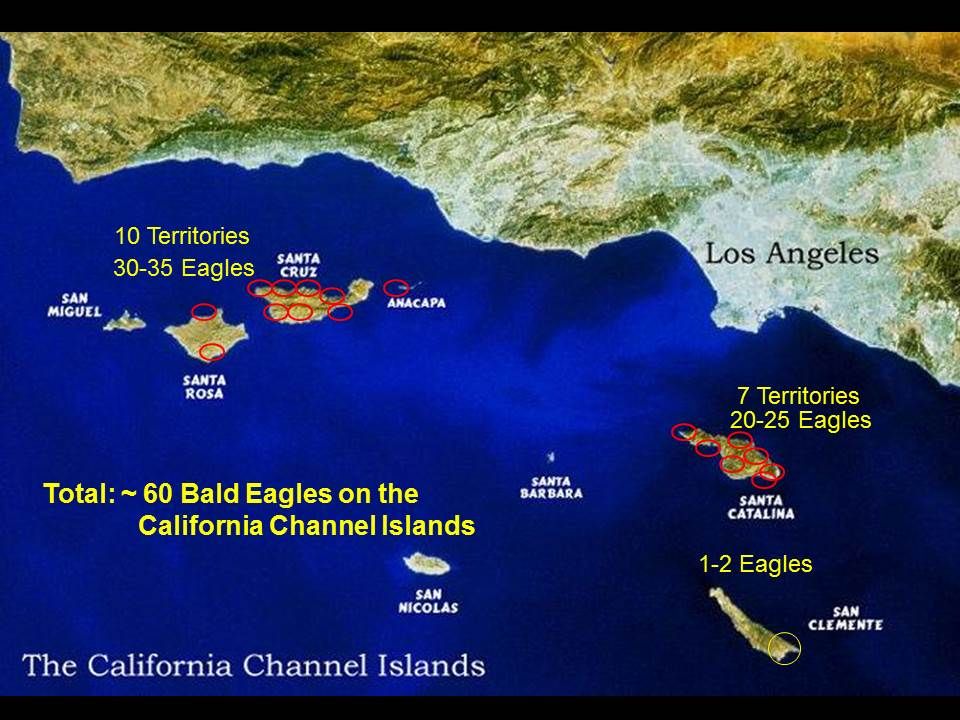 .......
"Bald Eagles on the Channel Islands - 2013" by Dr. Peter Sharpe.
All Eagles All The Time 2015/2016

is an Archival/History in
Videos
showing the various stages throughout the year in the lives of the Eagles ...

K-76/male & A-32/female ... on the BC - Bald Canyon Nest on San Clemente Island.


This pair have only been together since 2014.

Catalina Update: June 1-15, 2014. A-32 spotted on San Clemente Island, carrying nesting material to a new nest. Latest sighting she was seen with K-76.

They nested in 2015 and were successful .. 2 chicks .. banded May/15 (leg bands only) ... 5D & 5M.

Posted on the IWS Facebook Page June 8th, 2015: These two bald eagle nestlings were the first to be banded in a nest on San Clemente Island. The size of the nest suggests it has been used in prior years and these are likely not the first eaglets produced at this location.


The camera came online on April 12, 2016 after Dr. Sharpe spent a few hours working with Nicole on San Clemente Island via radio to set up a new antenna for the Bald Canyon eagle nest on San Clemente. This camera has no audio or night vision, but they do have two chicks that hatched on April 9 and 11.


Each day on the Daily Observations thread ... also known as Nest Watch ... the observers record through commentary, videos, stills and screen captures what is happening on the nests.

So please check there for more information.