Title: Introduction to Pimu & Pee'ech. New name: Pii' ich
Description: Educational Eagles in Training.
Cumbrian - August 12, 2008 04:44 AM (GMT)
Introduction to Pimu & Pee' ech .... originally known as Hyde.


Two permanently injured eagles are cared for by the IWS and it is hoped that they can be trained to be used for educational purposes in the near future.

One is a Bald Eagle ... her name is Pimu and the other is a Golden Eagle and his name was Hyde but he is now known as Pee' ech.

Pimu has lived alone in her avairy on Catalina Island for quite some time ... cared for by Dr Peter Sharpe and Steffani Jijón

......... but that is about to change!
Cumbrian - August 12, 2008 04:47 AM (GMT)
Meet Pimu
...................................
.................................................................
.............................................................................
Pimu with Dr Peter Sharpe.
.................................
...................................
Pimu: is a permanently injured Bald eagle cared for by the IWS and used for educational purposes.

Pimu was the original name for Santa Catalina Island given by the Gabrieleno/Tongva tribe, the aboriginal inhabitants of Catalina before the Europeans.

Pimu was born in 1996 and sustained multiple injuries to her right wing and shoulder when she was most likely hit by a car in Minnesota. She was found about two weeks after the accident with multiple broken bones in her right wing and body. Pimu was on rehab for 3 years but they decided she would never be able to fly well enough to make it in the wild.
The Institute received Pimu in 1999 after obtaining a permit from the US Fish and Wildlife Service.
Pimu is currently housed in an aviary and is being trained to accompany Institute biologist when presenting ecological programs to schools and civic groups.

January 15th 2007: Peter Sharpe - Institute for Wildlife Studies - Bald Eagle Restoration Program.
"We got Pimu in 1999 after she had been in rehab for 3 years. I spent 5 years training her to do education programs, but she was always a skittish bird and always tried to fly when she was perched on my arm. I gave up on the training a couple of years ago and she is now just on display for visitors.
She doesn't really like me and just vocalizes when I show up to feed her. She generally stays on the opposite side of the cage that I'm working on cleaning, etc.

Q - Is there someone that she is attached to? (Since you said that she doesn't like you.)
A- She is attached to nobody and seems to dislike everyone equally.

Q - Will Pimu be allowed to mate?
A - We could not let her mate because I don't know how we could develop a system to let a male in and out of her cage without Pimu leaving. If she raised chicks in the aviary, then they would likely be captive for life too because they would be too acclimated to people. It also takes additional permits to breed bald eagles.

Q - Is Pimu in any pain?
A -I don't think Pimu is in any pain. It is just that she is a wild animal who has had a lot of negative interactions with people during her three years of rehab. Rehab for wing injuries requires a lot of handling for stretching and working the wing and chasing the birds around large flight cages to make them exercise their wings.

Q - Do you have to keep Pima's wings clipped because one of them is bad?
A - We don't have to clip her wings. She has enough flight to fly back and forth in her aviary (it's about 35 feet long). She flaps hard to make it and I have never seen her glide, so I'm not sure she has that capability.

I'm hoping to primarily increase the height of the netting in her cage. She has some trees growing in her cage that are getting pretty large and I want to give her more space to move around them.
I'm also hoping to move our golden eagle, Hyde, from Santa Cruz to Catalina because he is tolerant enough of people to be used for educational programs.
I would build a cage next to Pimu's that could potentially be opened into one large cage if the two birds are tolerant of each other.




Aviary before

June 13/07: We finished Pimu's cage expansion and she seems to appreciate it.
The photo below shows her higher roof and we cut off four feet of the roof on the right and made a new perch, which she uses a lot."


Pimu drying off after taking a bath in her pond.
Cumbrian - August 12, 2008 04:59 AM (GMT)
July 2007: Steffani/eaglegal begins Pimu's training.


Steffani: "For the most part, she doesn't seem to mind me being in the cage with her so we figured we'd give it a shot. Right now I'm working on encouraging her to eat while I'm in there with her and be comfortable with me getting closer to her perch and feeding platform. It's a very slow process."


.............................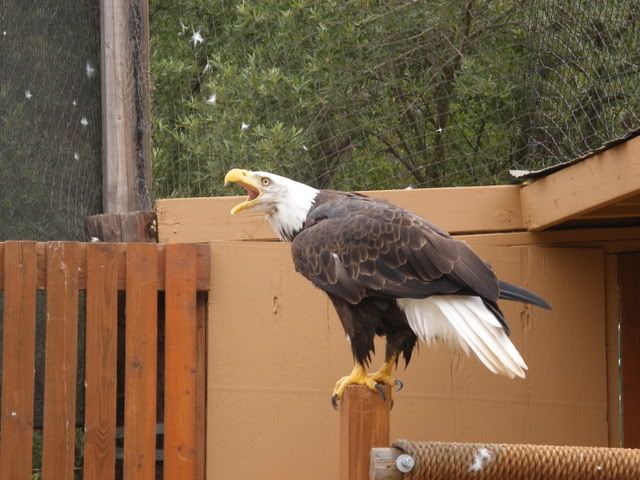 Pimu's favourite meal is fish ... and Steffani really enjoys fishing for Pimu and so do some of her friends.
They fish in the reservoir, using a small rowing boat, because there is a lot of grassy vegetation off the shore. Here is a sample of their catch.



..................................................................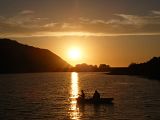 .....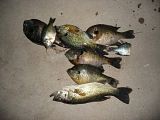 August 2007: Making Progress?

Steffani: "I clean her cage, stay in there watching her eat, sit around close to her and she doesn't seem to be bothered but I can't tell if we're actually making some progress or if she's just learned to ignore me…? "


................................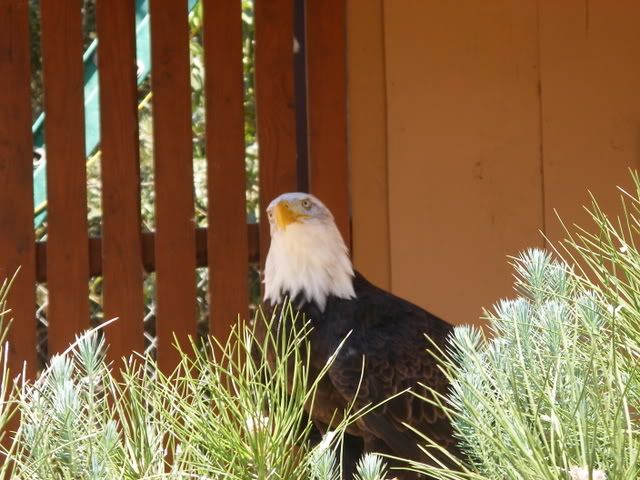 "I always put her food on the platforms and normally she'd eat them up there too. But lately she's been picking up her fish and flying over to her new perch and eating them there. I guess it feels more 'natural' to eat on a perch like she would in the wild. Either way she looks content while she feeds."


.................................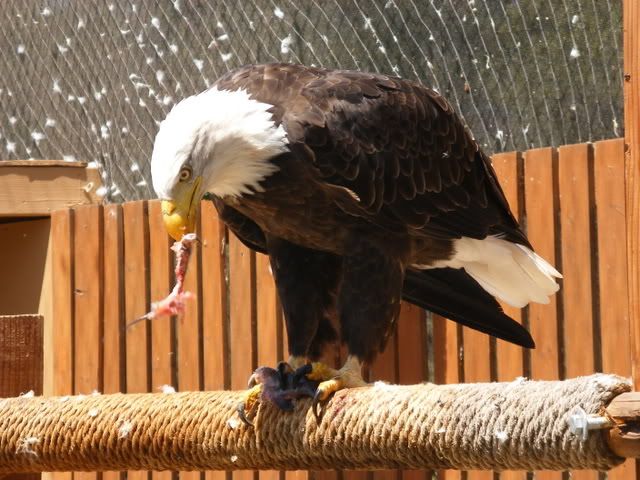 .........................................................

"You can tell she just ate just by looking at her full crop."


.................................
.....................................................................
(Click on thumbnails to see full size)
Cumbrian - August 12, 2008 05:03 AM (GMT)
August 2007 continued: Making Progress - Training Session.

Steffani "We have been making a lot of progress with Pimu.
The person who rented the apartment right above us went out fishing in the ocean all last week and was kind enough to give us the carcasses of very large fishes and about 10lbs. of yellowfin tuna.
I've been feeding her the filleted tuna piece by piece, placing it on a perch very close to her and watching here eat it from a close distance.


So this is how it goes: I place the fish on a lower perch right below her.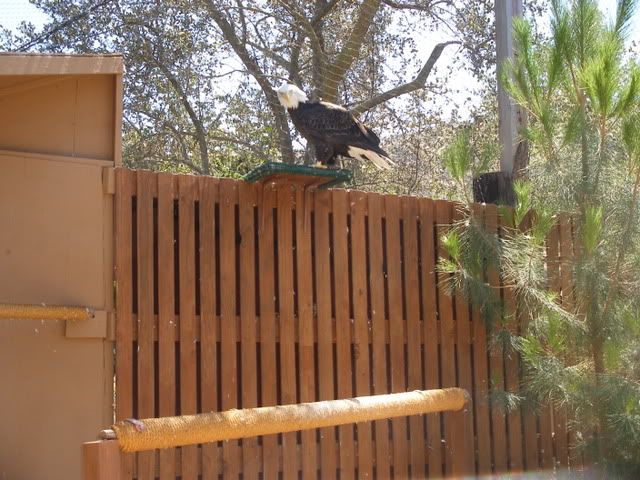 .... she comes down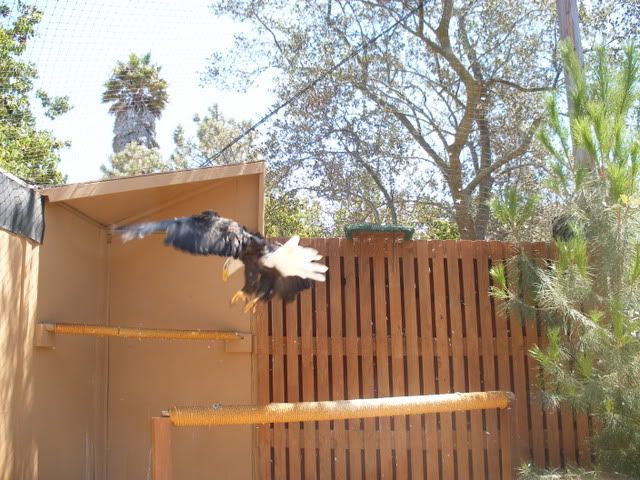 .... she eats it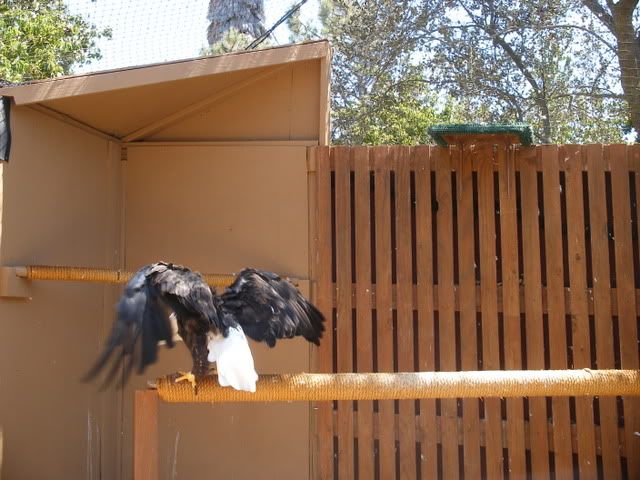 .... goes back on her platform and looks at me for more




.... after the 7th time she takes the 'longer route'. From platform to the higher perch




.... and then to the lower perch




.... then she turns around and goes back to the higher perch and then back to the platform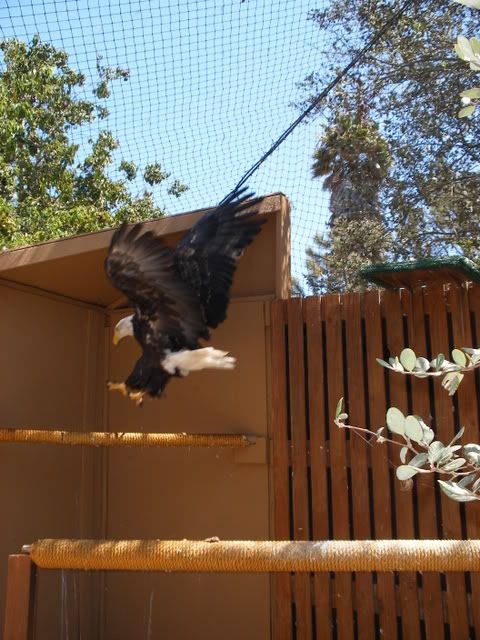 .... on the very last bite she stayed on the higher perch and looked at me like saying… is there any more of that fish???




.... then I put her one bluegill on the other platform and wait for her to eat that too.

Before I was just placing all of her food on the platform and watching her eat so this is a great improvement.
Soon I'll try putting the little chunks of fish on the glove and have her eat from there. Eventually, I'll wear the glove and see if she goes for it. "

Cumbrian - August 12, 2008 05:09 AM (GMT)
August 2007 continues: Getting ready for Hyde


Steffani: "We've been working on Hyde's enclosure putting up some perches, a source of water, adding more shade cloth, wrapping up the perches with some rope, etc., getting it ready for when Hyde comes.

Here's Darwin, Pete's dog, 'helping' us dig a hole to place the new perches



Pete will bring Hyde back next Wednesday, September 5th, so it'll be ready by then.

We're all very excited about bringing him to Catalina and see how he does in a much larger cage. I'll start his training soon after he arrives."

....... REWIND back to May 2007 .......

Hyde's new home

"We've been working hard on building a new enclosure for our golden eagle, Hyde, next to Pimu's cage (our bald eagle) and increasing the height of Pimu's area.

There is now net over both enclosures, we have waterproofed the wall dividing the cages and placed display windows and shaved off some of the gravel from Pimu's into Hyde's enclosure."




..........................

Here's some photos to show you Pete's other great skills.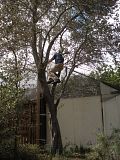 .....
.....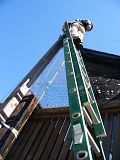 .....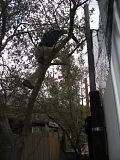 "Photo of some of the Americorps who fished for Pimu ....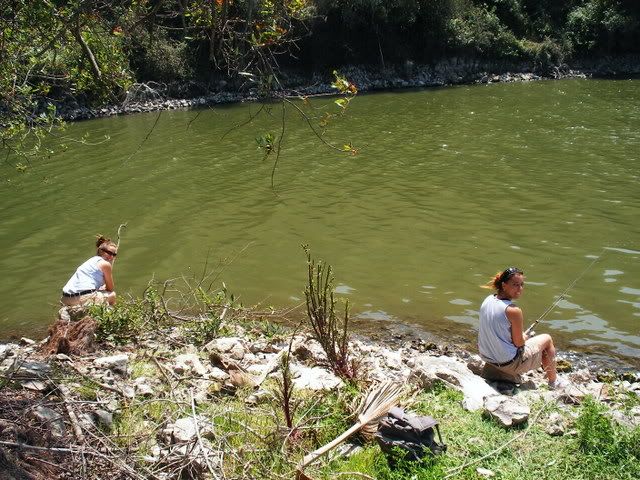 .... and then all 10 of them also worked on Hyde's cage for a full day which meant that the job got finished a lot sooner."
...........................................
(Click on thumbnails to see full size)
Cumbrian - August 12, 2008 05:12 AM (GMT)
Meet Hyde .... renamed .... Pee' ech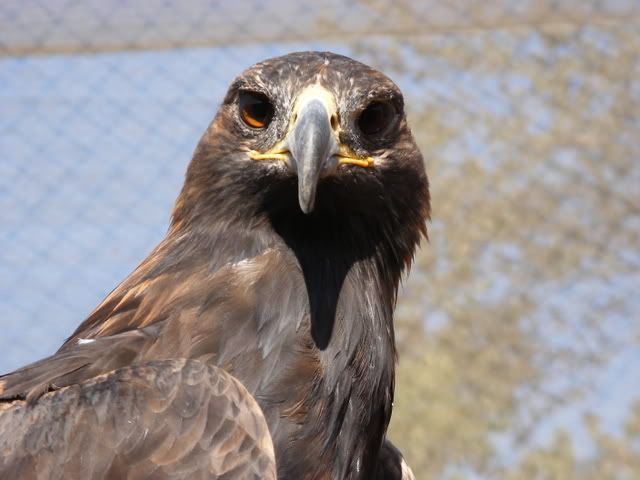 ....................
.....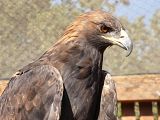 .....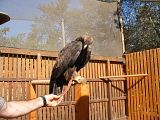 ...............................................

(Click on thumbnails to see full size)




Ne Pee' ech (pronounced Nay Pay etch) ... means 'My Little Brother'. We will be calling him Pee' ech ... for 'My Brother'.

Dr Sharpe and Steffani had asked some Tongva elders to come to Catalina on Saturday, July 19th, 2008 to meet Hyde. They asked them to give him a more appropriate local name .. so they renamed him Ne Pee' ech (pronounced Nay Pay etch), which means My Little Brother. Steff will be calling him Pee' ech for My Brother.

Steffani: "The Golden eagle is a very important figure in the Tongva community and in their culture.
Several years ago they named Pimu as well and we're very grateful they have given our lovely captive eagles more fitting names".


Pee' ech is a permanently injured Golden eagle.
He has an injured wing (not sure which one) and he's partially blind in his left eye; both conditions permanent therefore he will always be in captivity. He is about 5 years old and he lived on Santa Cruz where he was used to help remove territorial Golden eagles on that island as part of the Island Fox restoration project.

He arrived on Catalina Island on Wednesday, September 5th, 2007 ... and looked very happy in his new cage, he tried out pretty much every perch in the enclosure and he even took several drinks from his new tub.
Steffani: "Pete and I were very excited about bringing him out here. We're glad to see him exploring his new place and already enjoying his new home. The perches at his old place weren't nearly as high as the ones we put out for him so I'm sure he is discovering that he can 'fly' farther and higher now that he's been given a chance. I can't wait to begin training and have him up on the glove. I have the feeling he's going to be a great educational eagle. He already let us touch his jesses so catching him is not going to be a problem at all.

I'm still going to be training Pimu of course; we've been making so much progress so I have high hopes for her. She did seem a little distracted during her training today but it's understandable, she was very curious about the 'boy' next door. He didn't really vocalize a lot today so I don't know what he sounds like yet but Pimu gave a few calls and Hyde looked for the source of such strange noises."


Q's- Aren't Golden's and Bald eagles sorta enemies in nature? Or do they not bother each other?
I'm sure you wouldn't put him next to Pimu if there were any serious problems with that, but I'm just wondering how Golden and Bald's co-exist in nature and/or in captivity?
Do you think Pimu will be happy for the company?
I thought I recall reading that the Golden Eagles had to be removed from the Channel Islands (through the removal of the feral pigs). Wouldn't reintroducing even one possibly attract them back?
A's - Bald eagles and golden eagles generally don't coexist in the same areas.
Bald eagles are marine/fresh water oriented and Golden eagles tend to more more upland birds.
Pee' ech/Hyde, the Golden eagle, will be in a cage next to Pimu's, so they won't have direct contact with each other.
If they seem to get along there is a chance we could open up the cage and have them in the same cage, which has been done in other places.
There hasn't been a Golden eagle seen on Catalina since the 1980's, so I don't think there is a chance of a Golden eagle in a cage in the middle of the island attracting Golden eagles from the mainland.

Q - Would it be possible for Pimu and Pee' ech to mate if they ever got to be friends and were in the same enclosure?
A - Bald eagles and Golden eagles are in two entirely different genera (Haliaeetus and Aquila, respectively), so they can't successfully breed. I suppose they could try, although it would be a very confused bald eagle to try to mate with another bird without a white head and tail.

Q - What are Jesses?
A - Jesses are the leather straps we place on raptors' legs to tether them. They have a little slit at the end where we put a swivel thru and then attach it to a 'leash' or rope that we strap/attach to our belts to keep them safely close to our bodies even if they try to fly off our arms.


Cumbrian - August 12, 2008 05:16 AM (GMT)
September 2007 cont'd: How are Pimu and Pee' ech getting along?


Steffani: "Pee' ech is loving the place, he's picked his favorite perch already, which happens to be on the same side of the cage where Pimu's favorite spot is and they both face the same way and look at the cars coming on the road. He's been very good during training, he makes the cutest, most strange noises while he's on the glove, and he makes funny squeaks when we touch his feet or any part of his body.
Here's a close up of him, checking out the birds flying over the cage."




" As far as Pimu goes, she didn't like the change so much. The first few days she completely lost interest in me so we went right back to square one. She didn't want to eat the treats I normally offer to her, she didn't even eat her food for two whole days. She just stood on her perch vocalizing away.
She's back on her normal feeding schedule now (2 bluegill per day), I continue to offer her treats but she's still not interested. I think it's going to take some adjusting time before we can move forward with her training."

Sept 19/07

Steffani: "Pimu's training is coming along. She's back to eating a few pieces of pork off the perch here and there. We're feeding her less (just one fish) to encourage her to eat what we offer to her while we are there. But don't worry, she's getting enough nutrients in her diet, and it probably wouldn't hurt her to shed that extra pound or so.

Pee' ech has been great too. He gets pieces of pork (sprinkled with Vitahawk) while he's on the glove and he takes it right off our fingers. In the beginning we wore a small leather glove just in case but he is gentle enough for us to do it with our bare fingers. Here's a couple of shots of us working with him."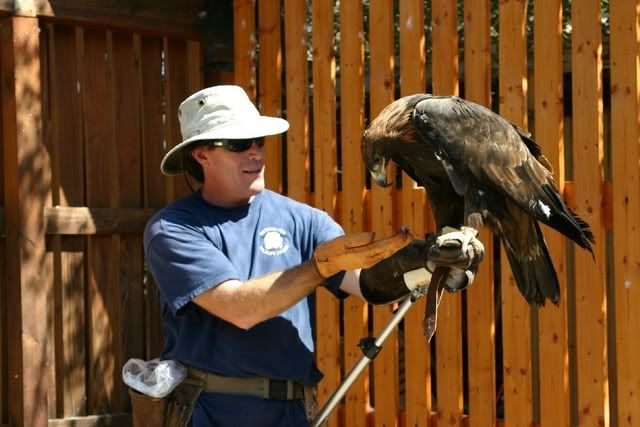 "You're probably noticing the special belt Pete is wearing. Well, since Pee' ech is so heavy, we need to rest our arm somewhere, so we use that 'arm-extension' for more support, otherwise we wouldn't be able to hold him for more than a couple of minutes."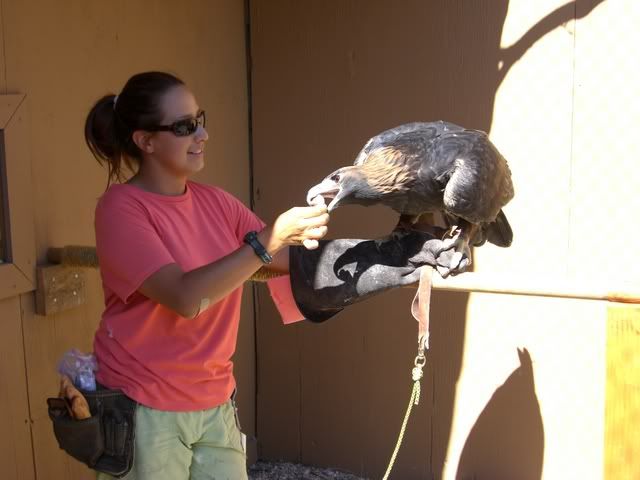 "Sometimes I just rest my arm on that lower perch, it keeps him more steady while he feeds.
I'd like to share a couple more shots of him. Here he was looking at the string of my camera and probably wondering why it moved so much."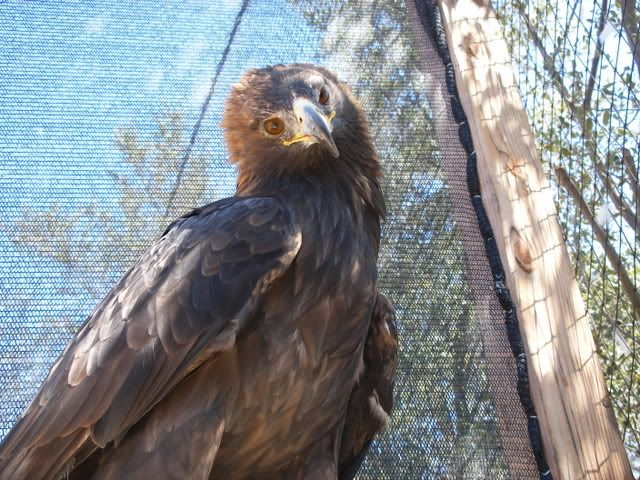 ..... and here he is showing off his nice 'golden' feathers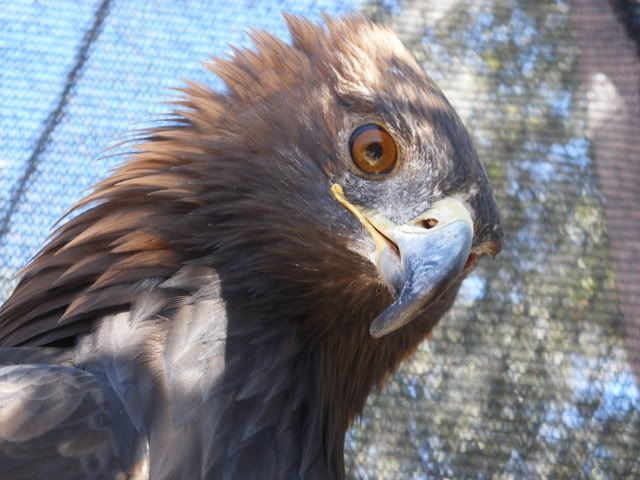 Cumbrian - August 12, 2008 05:19 AM (GMT)
October 2007: Watching Each Other!
This is both of them from Pee' ech's side of the cage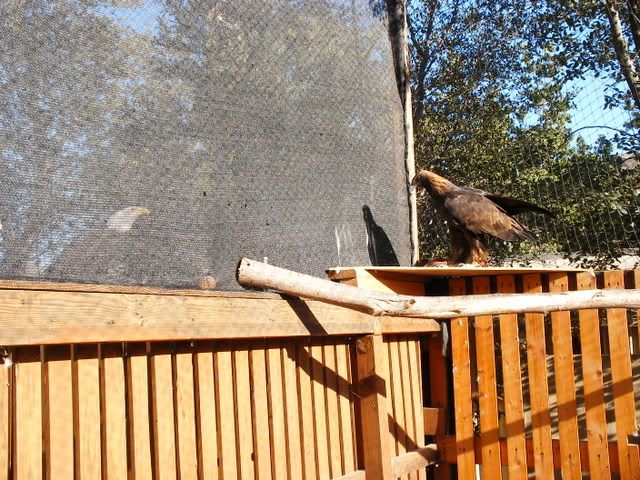 This is both of them from Pimu's side of the cage.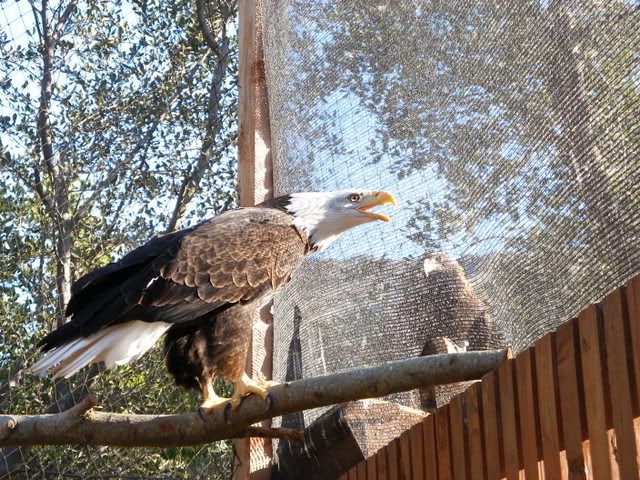 She doesn't normally perch here, only when she's really hungry she waits here and watches Steffani preparing the food outside of the cage.

Isn't she beautiful…perched above the water.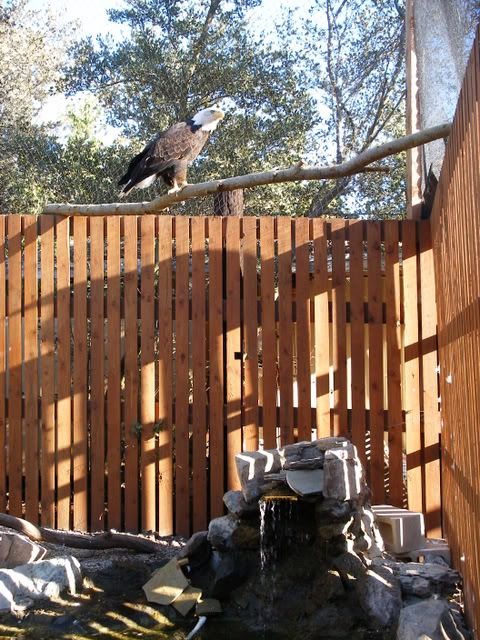 When Steffani comes in to feed her she takes off to her platforms or her training perch.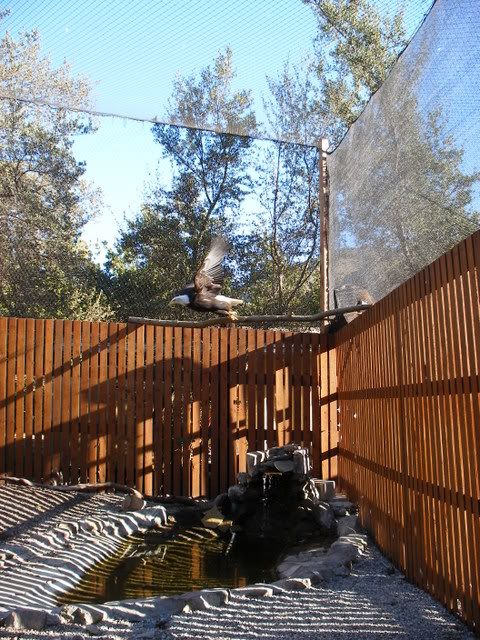 Pimu on her new/training perch.
.....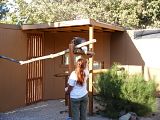 .....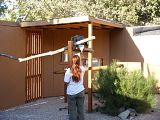 She's been eating her pieces of pork off Steffani's fingers every day now.
Her beak is huge but she is so gentle when she takes the food.
It reminds Steffani of how gentle the parents are when they feed their babies.
...................................
(Click on thumbnails to see full size)
Pee' ech's turn.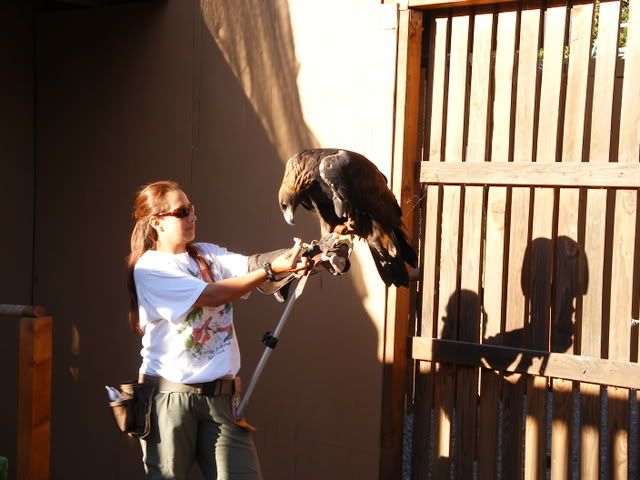 He has improved so much, now he flies over to a lower perch and steps up very quickly, he eats most of his pork by hand and then steps down. If Steffani wants to pick him up again he steps up even faster than the first time.
Cumbrian - August 12, 2008 06:08 AM (GMT)
October 2007 cont'd: Personalities!


Video by eaglegal: Feeding Pimu and Pee' ech

Oct 17/07
Things with Pee' ech are going very well. He eats most of his food while he's on the glove and hardly ever bates.
With Pimu… not so much. She's lost complete interest in the treats Steffani offers to her, for a while she lost interest in food all together. Now she's back to eating her usual bluegill (and the occasional rat) but she doesn't want to eat off Steffani's hands anymore. We'll see if she changes her mind again next week.


She greets Steffani when she arrives and when she speaks to her but she won't come down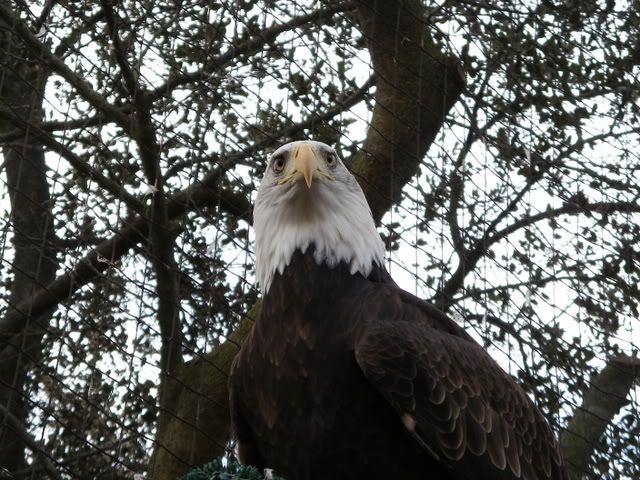 Oct 24/07
Training with Pimu and Pee' ech has improved this week.
He is calmer while on the glove and Pimu is back to eating her treats off the perches and occasionally lets Steffani feed her by hand.
The reason why they weren't eating .. and were very distracted during training .. was because there was a yellow jacket problem.
Traps were put out all over the areas where their food was but inevitably the wasps always found the food before the eagles got to it.

Young eagles are mainly scavengers and they have to deal with these insects all the time so even the captive eagles who "dine-in", experience the struggles of being a wild eagle.
Maybe both of them got stung at one point so that could be why they would hesitate to feed.
Now they've learned too eat right away rather than letting it sit for a few hours.

Oct 31/07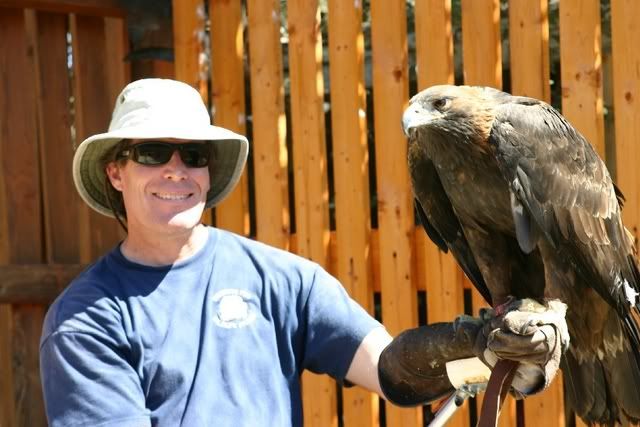 Steffani: "Training with our captive eagles is going well. Pimu is still a bit nervous around us and doesn't let me feed her by hand all the time but she's more tolerant of Pete's and my presence.

Pee' ech is so wonderful; I've been handling him several times every day, I pick him up whenever he gives me a chance so that he learns to be on the glove not only during feeding but any time we need him to. He has to be able to be up on the glove comfortably for at least 20-30 minutes during a presentation so that's what we'll work on next month."


Cumbrian - August 12, 2008 06:29 AM (GMT)
November 2007: Changes in Training!


Nov 14/07
Steffani: "This week I made a few changes in Pee' ech's training. I've been taking him out of the cage so that when he's done eating his pork on the glove he doesn't look around for a perch to fly to. The first time we went out of the cage he bated a couple of times and seemed a bit stressed out but after a while he calmed down and started enjoying the fence-free view and the nice breeze."
No photos ... Steffani is alone when she trains them.





...........................................................

Beautiful Pimu

Nov 21/07
"Pee' ech really enjoys going out of the cage, he looks around a lot, feels the breeze and is comfortable enough to eat his pork too. Sometimes he bates when we come back in but that's because I have to open the door myself and when it gets close to him he doesn't like it and tries to fly the other way. We'll work on that next week.
Pimu, on the other hand, doesn't eat for 2-3 days at the time, on the next day she's great and then goes back to not eating again. The days that she's not hungry she completely ignores me, but the days that she feels like eating I'm her 'best friend'. She's really something."

Nov 28/07
"Pimu and Pee' ech are doing great. Pimu has been eating her pork off the perches every day and Pee' ech seems to enjoy his time out of the cage more and more.
We spend about 25-35 minutes outside and I feed him most of his pork during this time so that he'll like it even more."

Pee' ech's food: Most of his food intake has been pork.
However, because his beak tends to overgrow and deforms his jaws a little bit he needs to feed on his own so that he can wear it down and also his talons as a wild eagle would do.
His beak has to be trimmed every couple of months but since the procedure is quite uncomfortable, Steffani will soon start to feed him a whole rat on the fist and hold it while he tears it up himself.
Apparently this is how he was used to be handfed in Santa Cruz so it's not something completely new to him. They will alternate with quail and some pork too.


Cumbrian - August 12, 2008 06:33 AM (GMT)
December 2007: Rain - Some Love it - Some Don't!
Pee' ech drying out on his low perch. Steffani didn't want to remove him from his sheltered spot so she fed him right there.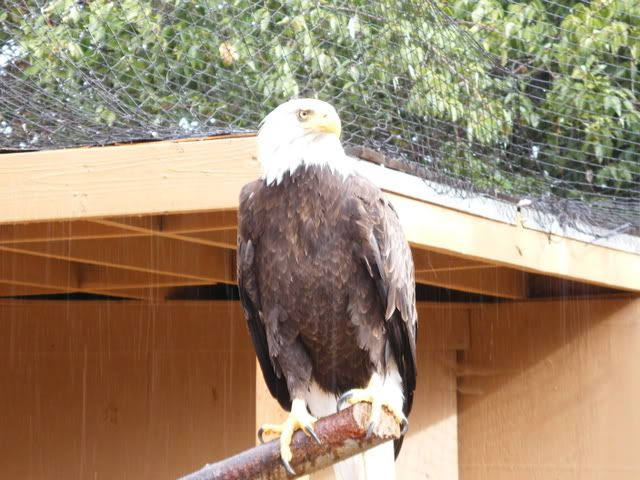 Pimu on the other hand loves the rain. She looked like she had been out in the rain the whole morning and even while Steffani fed her she didn't go to her sheltered perches. She's definitely a "water" eagle.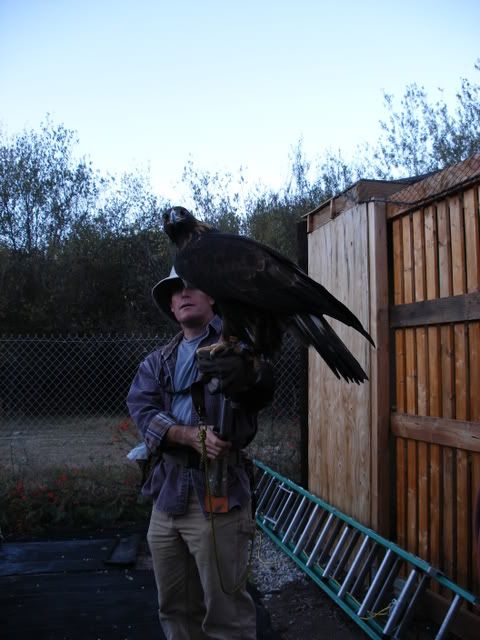 Pee' ech being held outside of the cage. He's been doing so much better going thru the gate.
Cumbrian - August 12, 2008 06:38 AM (GMT)
Conclusion


The information for this thread was found on the ....

..... IWS site

.... Catalina Updates.

.... Questions Forum


Please continue your journey of discovering more about Pimu & Pee' ech by reading the Catalina Updates which are posted on a weekly basis .. normally on a Wednesday .. by eaglegal/Steffani.


Further photos and information can also be found by checking through the Cruzer's Tours threads.
IWS Catalina Tours 2006/2007
IWS Catalina Tours 2007/2008
Thanks to Dr. Sharpe/Eagle Guy and Steffani/eaglegal for all their photos and videos used in this thread.
Cumbrian - May 5, 2009 02:51 PM (GMT)
Additional Information

Since completing this Introduction ... surprising information has come to light about Pee' ech ...

Steffani found an egg in the enclosure ... it could only have been laid by Pee' ech ... Yes folks ...




Pee' ech is a girl!
:clk:
Catalina Update: Wednesday, March 25, 2009
:clk:
Last week I was cleaning 'her' cage and I found the strangest thing on the ground right underneath her perch; it was a broken eagle egg!



I stared at it for a while trying to think of how the egg shells had gotten there and the most obvious answer just didn't make sense to me even though it was the most obvious answer so I looked at Pee' ech and said: well, I guess we need to find you a new name, again!
Pete was off the island so I needed to confirm it with him before I broke the news to everybody else. At first he thought I had found a quail egg (the quail we buy sometimes have eggs in them) but I knew it was an eagle egg so I waited until he got back. A couple of days later, he went up to the perch and found the rest of the eggshell.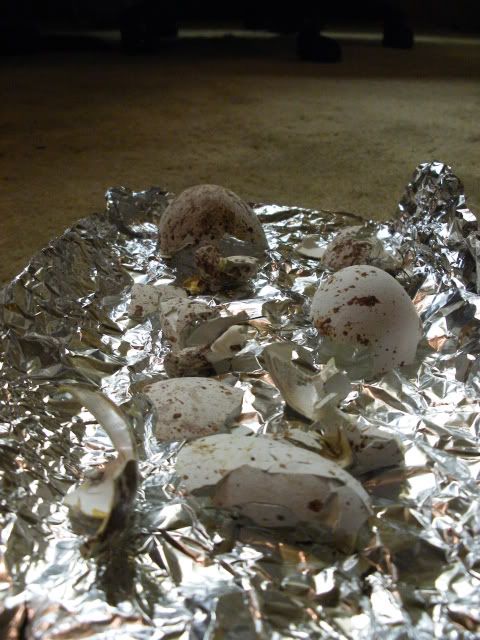 It isn't common for birds to lay unfertilized eggs in captivity but it can happen. (I guess Pee' ech got tired of being called a 'pretty boy' and that was her way of telling us)
We are going to have to ask the Tongva community to think of a more appropriate name for her since Pee' ech mean My Little Brother. In the meantime we have been unofficially calling her Heidi
(photo by Gary Hansen)
:clk:
Catalina Update: Wednesday, June 24, 2009
:clk:
Pimu

sure takes the prize for surprising every one of us ... click on Update to see why!
Pee'ech has a new name: Pii' ich
:clk:
Catalina Update: Wednesday, July 22, 2009
:clk:
Steffani & Pii' ich's very first eagle presentation at the Avalon Public Library.

The library had requested an hour-long program for kids K-6th and their parents ... and it went wonderfully!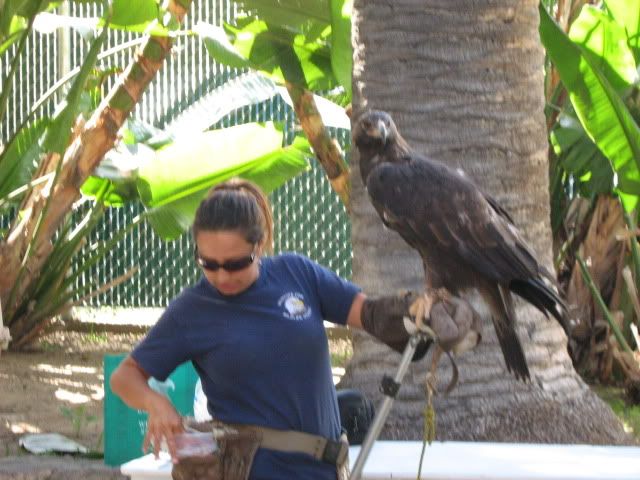 :clk:
Catalina Update: Wednesday, June 16, 2010
:clk:
Hydi, went with Peter and Steffani to the school library for her very first presentation at the school for the third grade.