Title: Build4Life4Kids
Description: Cf4Cf
cpi 111 - June 28, 2012 06:17 PM (GMT)
Hi all just to let you all know we are trying to sort this out over the weekend and will have news on friday evening or monday , it will be going ahead on our usually date last Sunday in August (26th) so keep you date free, Thanks Ger/Ken/John
zagamuffin - June 28, 2012 10:41 PM (GMT)
kenneth - June 29, 2012 02:05 PM (GMT)
cpi 111 - July 2, 2012 08:44 PM (GMT)
Just to let you know of the progress we had over the weekend . We meet with The Port Of Cork and had a meeting with them to discuss the use of the terminal building in Ringaskiddy and surounding car park for a Classic Ford show on the 26Aug . We are going to go down Saturday morning to get a lye of the place . This is a great place for a show all hard standing and we hope to put cars in side the building as well . The Port we very helpful and wished us well with the day , but like everything else this is only a sucess if we get as many cars as possible . So we are calling on all Classic Ford owners to come along and help our cause , More details to follow , Thanks Ger/Ken/John
zagamuffin - July 2, 2012 08:58 PM (GMT)
Great plan lads , behind ye all the way
cpi 111 - July 8, 2012 10:00 PM (GMT)
We went down tonight to have a look , there is loads of room all hard standing loads of parking for the general public and for anyone bringing a car on a trailer . We hope to put about 15/20 cars in the building itself and put the rest of the show cars in the car park in front of the terminal building . We need about 10 to 15 people to help show people where to park up so anyone willing to give a hand on the day get in touch . Next and most important we need cars so anyone with a blue oval or anyone who knows anyone with a blue oval get it down there on the day please if you can. This has the makings of a great show at a great location and all going well a yearly thing . I have been up at The Neal Egan Run and its great to see a few lads come together for a good cause and put on such a show . The south needs to do the same so heres our chance in the home of Ford . Thanks again Ger/Ken/John
zagamuffin - July 8, 2012 11:21 PM (GMT)
Have ye looked at public liability insurance to cover the event ?
PIO - July 9, 2012 12:35 PM (GMT)
Will be bringing PIO & Road Capri and will certainly help out for the day.

Well Done Guys, looking forward to this show.
saff cosworth - July 9, 2012 05:10 PM (GMT)
i defo be up for this.. as i have two nephews who has this disease..
have you sent an invite to all clubs..( Everyfordireland, Capri club, rs owners club, ect..) :up:

well done guys :up: :up:
cpi 111 - July 9, 2012 05:55 PM (GMT)
Insurance is covered by Port Of Cork , Spent most of today on the phone getting lads to attend and the feed back was very good , 90g is going to set up a facebook page about the show , capri club have been told , rs owners club will be told , its just a matter of spreading the word , we are getting signs and flyers made up too in the next few days , if anyone wants to contact me either pm or phone (0872772906) , thanks again , Ger/Ken/John
PIO - July 9, 2012 08:51 PM (GMT)
We'll make sure to get some of the RetroStock Cars their as well.

Was talking to Ken today, some great idea's floating around to make this a fantastic show...
90g - July 9, 2012 09:50 PM (GMT)
Alan G - July 10, 2012 12:26 AM (GMT)
Great idea as always gents and a great cause close to the heart of a lot of members! I'll have the flyers / posters made up before the weekend lads! I'll send them onto John.

I'll have the Anglia there - the mk1 won't quite be ready unfortunately!
james1 - July 10, 2012 12:59 PM (GMT)
Great cause will definatley be there.
might be worth putting it on Done Deal vintage and classic ads .
you could then give the password by pm so anyone that wants to could bump add up every couple of days or so?
kenneth - July 10, 2012 09:11 PM (GMT)
lads to tie in with the CF4CF show & run we have organised some track time at Kartworld in Watergrasshill for the Saturdy 25th on the night before the Show.
it will be 6pm until 9pm limited to 20 places

i'll start a list and once we have the twenty it'll be like previous watergrasshill days

for booking a place i suggest the 20 guys pay me the €25 then i will pay the total on the morning to Kartworld and all the 20 lads will have to do is sign on.
this should help if anyone is late we will have that place paid for and we can continue to begin at 10am as planned.

paypal is the best way to make a payment.
just "gift" me the €25 on paypal and note your name and contact number on the message.
my paypal address is. sewellkenneth@gmail.com.




Hope this suits everyone just let me know if ye have any questions.
my number is 0868523594


ON TRACK.

1. kenneth - 4dr MK2 escort
2. Michael Ring - mk1 capri
3. Padraig duane - mk1 capri
4. Declan Rafter - Mk2 escort


cpi 111 - July 10, 2012 10:50 PM (GMT)
Lads this is great , thanks again for all the help and good wishes , will be onto you kenneth about a slot for track season . We are in talks with Carragline Court Hotel to try and get a deal for people staying for the weekend as its only 10min for show venue , Ger/Ken/John
Alan G - July 14, 2012 09:03 AM (GMT)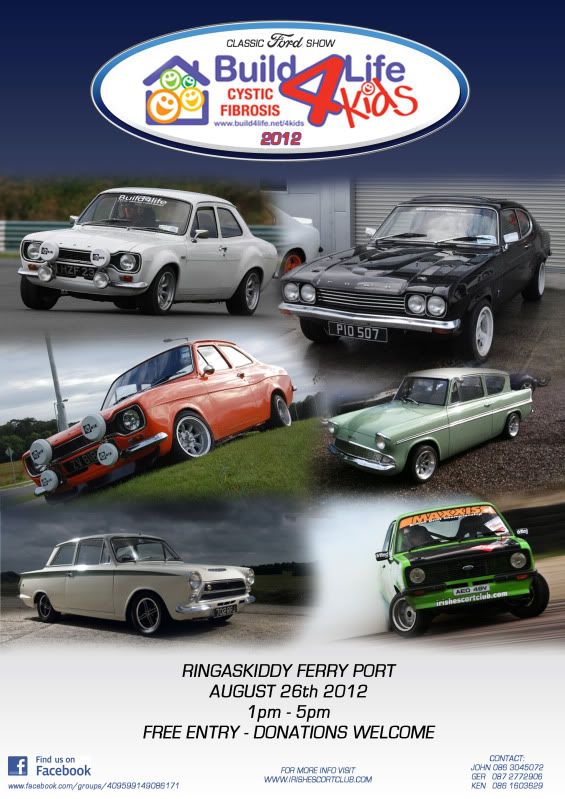 Spread the word guys... Get printing and load up yer cars with sellotape!
:up:
Rs-phil - July 14, 2012 10:36 AM (GMT)
Am working that weekend but I booked the Sunday off ,,,,count me in :up:
AULD 2000 - July 14, 2012 05:50 PM (GMT)
This will be class and a great cause :up:
Alan G - July 19, 2012 02:14 PM (GMT)
Hi lads,
We're on the lookout for some nice
Transits
to line the entrance into the show - be it your tow vehicle to the show or your daily company van... Get it to Ringaskiddy on the 26th of August!
A great opportunity to get some free advertising for your company!
Contact details can be found at the bottom of the poster, or just post here if you think you may be able to help!
:up:
kenneth - July 19, 2012 02:26 PM (GMT)
you can put my 07 transit down for that :up:
Alan G - July 19, 2012 02:33 PM (GMT)
Good man Kenneth,

1. Kenneth - lowflo.ie
cpi 111 - July 19, 2012 08:46 PM (GMT)
zv42475 - July 24, 2012 07:37 PM (GMT)
QUOTE (Alan G @ Jul 14 2012, 09:03 AM)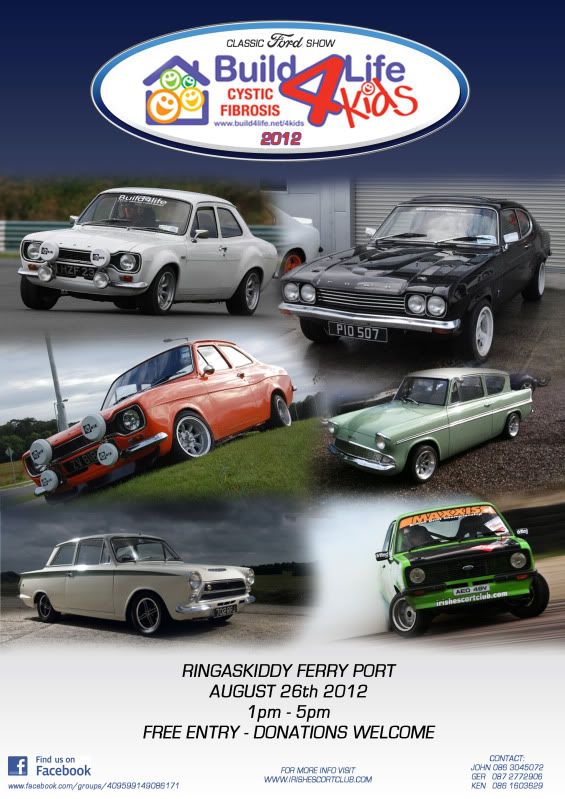 Spread the word guys... Get printing and load up yer cars with sellotape!

:up:

Can't seem to SHARE this on facebook...........did anyone send an e-mail to CLASSIC FORD,RETRO FORD OR IRISH VINTAGE mag's. Just thinking ahead as The Neil Egan Run and alot more are mentioned on these mags as a 'MUST SEE SHOW'. :up:
cpi 111 - July 26, 2012 08:58 AM (GMT)
We have made contact with Irish Ventage Secne to put it in next mag , we hope to build on this show and hopefuly make it an anual event , the hotel is almost sorted will put info up soon , things are going very well so far big thanks to sean for setting up facebook and kenneth for setting up track evening . There will be a short run starting from the Viaduct Inn in Bishopstown on the Sunday morning meeting for breskfest at 11 so if anyone want to meet up there and travel down with the lads doing a run , If anyone else has any news or can help out put up a post , thanks again Ger/Ken/John
Alan G - July 27, 2012 08:06 PM (GMT)
Carrigaline Court Hotel have agreed to do us a special rate of €45 each based on a sharing double room or alternatively €65 for a single room. This includes breakfast the next morning.
Quote Build4Life4Kids when booking!
http://www.carrigcourt.com/
Any further queries, contact John Howard @ john.howardy@gmail.com
:up:
cpi 111 - July 28, 2012 04:39 PM (GMT)
Top man alan will be booking in shortly , ger
escortmk2mad - August 1, 2012 11:29 AM (GMT)
i can bring a van Alan... can bring 5/6 if you want? :P hahah

2. Eric - CB Tool Hire & Sales
cpi 111 - August 11, 2012 09:39 PM (GMT)
Hi lads nearly there now just two weeks to go , got the mk2 tuned last week for track season (thanks colin) . we had a talk during the week to sort out a few things get signs made up etc . Anybody who wants to stay down for the night book into hotel and mention build4life and they will sort you out few of us staying down after track season . ken will be below in Ringaskiddy saturday evening for anyone who want to leave car/van below . We are still looking for Transits for the drive way in to the show so keep spreading the word . Again big thanks to everyone who is helping out , thanks Gre/Ken/John
cpi 111 - August 15, 2012 08:12 PM (GMT)
Booked into hotel for :cheers: :drink: :cheers: :driver: :cheers: :drink: :nutkick: :working: :cheers: :git: etc all in good sprits Cork style . Ger
cpi 111 - August 16, 2012 08:40 PM (GMT)
Just to let everyone know this show is 100% hard standing , show place , trailer park public car park etc all tarmac with loads of room , thanks again Ger/Ken/John
Alan G - August 16, 2012 09:39 PM (GMT)
Looking forward to this - only around the corner now lads! :up:




hillclimber - August 21, 2012 08:44 PM (GMT)
UPDATE 21AUG 12 ..
HI ALL JUST TO LET YOU ALL KNOW THE SP FOR THE CF4CF WKEND ANYONE WHO WANTS TO LEAVE THEIR CAR AND TRAILER IN THE PORT ON SATURDAY NIGHT CAN !! I WILL HAVE THE GATE TO THE FREIGHT YARD OPEN BETWEEN 20.30 AND 22.30 ON SATURDAY NIGHT YOU CAN CONTACT ME
@ 0861603629. THE SHOW WILL KICK OFF AT 1 ISH FOR THE PUBLIC SO IF YOU ARE COMMING WITH AN EXHIBIT CAR COME EARLY FROM 9.30 ON. LADS THIS PLACE IS UN-REAL ,TRY AND IMAGINE 1000 MUNSTER FANS WAITING TO GET ON A BOAT TO A MATCH IN WALES AND THAT IS JUST THE SHOW ROOM. IF IT RAINS COME INDOORS OUT OF IT SIT DOWN AND HAVE A CHAT. THE RUN WILL START WITH BREAKFAST IN THE VIADUCT AT 11 IT WILL BE A SHORTISH RUN THIS YR SO YOU ALL WILL BE AT THE SHOW SITE FOR ABOUT 12.30 THE WHOLE EVENT AREA IS HARD STAND. TRAILER PARKING NO PROBLEM, LOADING UNLOADING OF CARS NO PROBLEM. JUST 1 THING TO WATCH OUT FOR !!!! FORDS IRELAND HAVE GIVEN US THE FIRST LOOK AT THE BRAND NEW TRANSIT YOU WILL NOT HAVE SEEN THIS ANYWHERE ELSE IN IRELAND OR THE UK .IT WILL BE THERE ON SUNDAY. FOOD ON THE DAY WILL BE AVAILABLE ACROSS THE ROAD IN THE FERRYBOAT INN , OVERNIGHT ACCOMADATION IS AVAILABLE IN THE CARRIGALINE COURT HOTEL .THE DRIFT SESSION IS ON SATURDAY NIGHT 18.00 TOOOO 21.00.
SO COME ON ALL IRISH ESCORT CLUB MEMBERS TAKE THE CAR OUT ON SUNDAY OR SATURDAY . WE ORGANISED THE SHOW BUT WITHOUT YOUR CARS AND SUPPORT WE DONT HAVE A SHOW. MANY THANKS KEN
cpi 111 - August 21, 2012 09:13 PM (GMT)
Good man Ken i better start washing my lot , Ger
markmex - August 22, 2012 08:58 PM (GMT)
Ill be there with the transit. :up:
currafabford - August 23, 2012 10:00 PM (GMT)
Cheers Ken ,
that covers everything really, all we need now is all our good ford supporters to shine and show off their pride and joys!!
what a great venue and no need to worry about cleaning the blue oval after the show as all on hard stand.
What a great way to help kids to have a better chance to survive to see todays cars as classics just like we have!!!!!????????????????
skoda superb!!!!.
Thanks lads for the big effort and looking forward to Sunday, see ye all there.

john howard(currafabford)
currafabford - August 27, 2012 08:16 PM (GMT)
ALL,
WHAT A GREAT WEEKEND FOR CLASSIC FORD OWNERS!!!!!!!!
FIRSTLY THANKS KENNETH FOR SAT EVENING AND ALL THOSE WHO PUT ON A GREAT SHOW FOR US COWARDS WATCHING. TO MARK AND THE LADS FOR THEIR USUAL COMMITMENT TO WHAT THEY LOVE . CRAIC AND GOING SIDEWAYS!!!!!!
TO ALL THOSE WHO MADE A GREAT EFFORT IN ATTENDING OUR SHOW IN RINGASKIDDY THOSE WHO TRAVELED ,THOSE WHO WORKED AS MARCHALS AND OF COURCE THOSE WHO GAVE SO GENEROUSLY TO OUR CHARITY BUILD4LIFE4KIDS.
A BIG THANK YOU TO THE PORT OF CORK FOR A GREAT VENUE .
THANK YOU TO KEN GER JIM AND OUR BACKGROUND TEAM WHO WITHOUT THEM THIS SHOW COULD'NT HAPPEN.
FOR THOSE WHO MISSED THIS GREAT EVENT HOPEFULLY YOU'LL MAKE NEXT YEAR,SEE YE ALL THEN.

JOHN HOWARD
cpi 111 - September 13, 2012 08:12 PM (GMT)
Handing over the cheque tommoro night in the Ferry Port Inn at 9 if anyone wants to call down , Ger
AULD 2000 - September 13, 2012 10:47 PM (GMT)
The weekend was a credit to ye all :applause:

Loved it sat and sun :up: great cause and thanks for the craic :D