Name:
Miguel Facundo
Aliases:
Age:
44
Gender:
Male
Occupation:
captain of the smuggler ship "La Guajira"
Current Location:
The ship "La Guajira", having as home port Havana, Cuba
Character PB:
Iurie Darie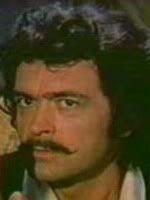 General appearance:
Don Miguel is medium built, not ugly, with a certain roguish charm. His hair is dark and curly, inherited from the Asturian ancestors, and his eyes are hazel. He dresses rather elegantly, because a captain of a... "merchant ship" should be imposing enough.
Personality:
A skilled sailor, a good fighter and a cunning man
History:
He had sailed in the Fleet of Indies in his youth, then he got with the smugglers, because so he could ensure a better life for his family. He has a wife and children in Havana.
Anything else:
The smugglers go to Tortuga to buy cheap the goods looted by pirates. Captain Miguel Facundo is carrying letters from the pirates' spy in Havana to Maribel Vargas in Basse Terre, Tortuga, with news meant to reach Captain Sol Picador.
"La Guajira" is a one-masted Bermuda sloop,with a stiff deep hull, made of cedar, which gives it superior seaworthiness. The fore-and-aft rig is particularly useful in manoeuvring upwind, to escape from larger men-of-war, which, with their square rigs, could not sail as closely to windward.
Such ships are renowned for their speed, maneuverability, and the expert seamanship of the highly skilled smugglers. It carries little fixed ballast, allowing for large cargo capacity, useful both for merchant ships and smugglers.Its main characteristics are:
•Length on deck: 86 feet
•Displacement (weight): 230,000 lbs
•Length including bowsprit: 112 feet
•Tonnage: 88 gross registered tons
•Height of the mast: 93 feet
•Beam (width): 23 feet
•Sail area: 4,437 square feet
Draft (depth): 9 foot 6 inches