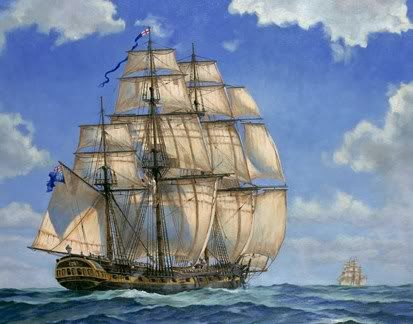 The frigate
HMS "Rose"
, brought by the new Governor of Bahamas from England, is a fifth-rate war ship, square-rigged on all three masts (full rigged). It has two decks, carrying 14 thirty six pound guns on the lower deck (the rest of the lower deck being used for row ports) and a full battery of 26 eighteen pound guns on the upper deck.
Other technical characteristics:
Length overall 179 feet
Length on deck 125 feet
Height of main mast 130 feet
Displacement 500 tons
Draft 13 feet
Beam 32 feet
Sail area 13,000 square feet
As a full rigged ship she can reach speeds of up to 13 knots with good wind. Her compliment consist of 500 men, 100 of which are marines. Its mission in West Indies is mainly as a scout vessel and a patrol ship.