Title: Smoke Screen
Description: Free Splice ; Waitress
Smoke Screen - July 31, 2010 12:08 AM (GMT)
IT'S A REVELATION, YEAH, IT'S A REVELATION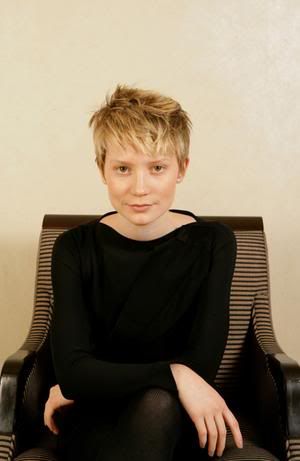 SMOKE SCREEN
I'll forgive and forget
Before I'm paralyzed
Do I have to keep up the pace
To keep you satisfied
i thought you were a lifesized paper doll
PROPPED UP IN THE HARDWARE STORE, WATCHING THE PARADE

FULL NAME
Codename "Smoke Murray"
Spilce name "Smoke Screen"
NICKNAMES
Known to most as "Smoke" or "Key"
AGE
1 year 6 months young. Human equivalent of 21.
GENDERSPECIESGENE SPLICE
Pygmy Possum - Burramys parvus
GENERATIONSOCCUPATION
Graveyard shift waitress at a 24 hour cafe.
SEXUAL ORIENTATIONFACE CLAIM
i didn't know what you were made of
THE COLOUR OF YOUR BLOOD OR WHAT YOU'RE AFRAID OF

OVERALL PERSONALITY
To put it bluntly, Key has never been one for mornings. Most of it has to with her genetics and spliced DNA but there are times when she believes that if she had been born into the world as a normal human she would have faced the same problems. To start it all off with her eyesight is diminished by about half of its night time ability and during the day her down right annoying side comes poking out.

Unfortunately, daytime is not the only time that Smoke is both highly irritable and annoying. She has often been described as a pest to those she comes into contact with. Mostly living as a boarder or crashing on the odd person's couch she is known for her tendency to move around and travel a lot. Like most Splices she lives her life in fear of her past or the Task Force catching up with her. Mostly, Smoke passes for close enough for human - that is when she doesn't take off her shirt or stares somebody in the eyes for too long. However, when caught in a good mood at night Smoke can be quite sweet and adorable while allowing her more maternal and playfully docile side to reveal itself.

Smoke's current lifestyle is less than ideal and often she regrets having not kept in direct contact with Gnarl but this error was mostly due to her own stubbornness and refusal to follow any orders that do not suit her. Despite her lacking ability to accept things as they are in her life and to follow plans that were put in place to protect her, Smoke has become quite accustomed and comfortable with her scavenging nature. She has found a plan that works for her despite the bane she can be and is on other people.

Much like her name there are quite a few people who believe that Smoke's hard headed nature is simply a defence mechanism from her more vulnerable self and that she puts up the act to cover her more instinctive, cowardly nature. While this statement holds quite a lot of water with Smoke it can only be said that she tries her hardest to fight herself as she feels a sense of self-hatred for her weaker, more vulnerable inner 'little voice'.
are you made of calcium or are you carbon based
AND IF YOU'RE MADE OF CALCIUM I'LL HAVE TO TAKE A TASTE
OVERALL HISTORY
you were in the ground in late november, when the leaves were down
AND I SURPRISED HER TO LEARN THAT YOU REALLY ARE MX MISSILE PROOF
ELLIE/ ELLIOT
18- FEMALE - NONE - lower.my.heartrate

your roleplay sample goes here, kids.
* Hosted for free by InvisionFree